Did someone say cake ?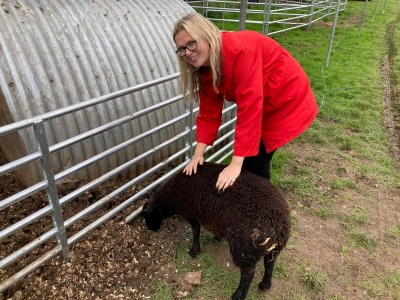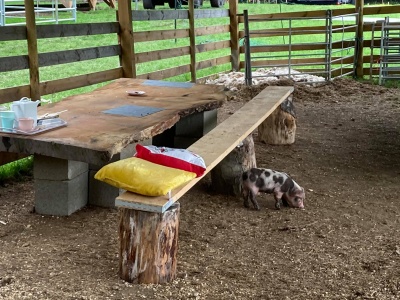 On Saturday 29th August 2020 we were invited along to sample Tea and Cake at Goldings Rare Breed estate in Hertford. The farm is not normally open to the public but has begun to open for pre-booked tea and tour experiences as well as wild camping. Goldings Rare Breeds was around a 12 minute drive from foxholes area of town and (according to my friend Kate an 8 minute walk from Sele Farm). You will find the entrance to the farm opposite Hertford Cemetery. Parking is free either inside the farm or on the road .
Now it is important to point out this is a working farm, so please don't expect a fancy reception desk, paths or the like. Goldings thrives on its simplicity, everything from the tables to the fences is made from reclaimed items and it really is rather wonderful. We were greeted by Morag who took us on a tour of the farm. Morag is hugely passionate about the estate and talked us through the history of the farm , which she has owned for 2 years, and was on hand to point out the various rare breed species at the farm. The animals are largely free ranging which due to the huge size of the farm (it is surrounded by 210 acres of agricultural land) it will not be possible to see all the animals during your visit (they have the freedom to occupy fields further afield than the immediate vicinity of the tea room),you can get some idea of the space via the picture of me and my boys below, because of this the tour can range from under 30 minutes to over an hour depending on what species are close by on the day. There are some pig pens close to the tea area however and some free ranging piglets, so you are guaranteed to see them. There's also a hand reared sheep called Rabbit, who is super friendly and likes to join guests for tea (he stole my sons juice so keep an eye on the little rascal!). Its a little chilly on the farm so wrap up warm and wellies or boots are advisable.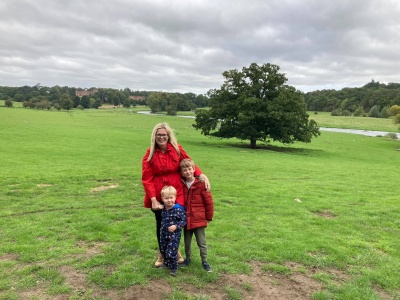 Goldings is super relaxed, unlimited tea and coffee and soft drinks are included in the £6 fee per person and they do not scrimp on the cake either, you can ask for additional slices and are actively encouraged to do so. Hot drinks are served in proper tea cups and saucers and tea pots which is a nice touch. There is an inside toilet and hand washing facilities.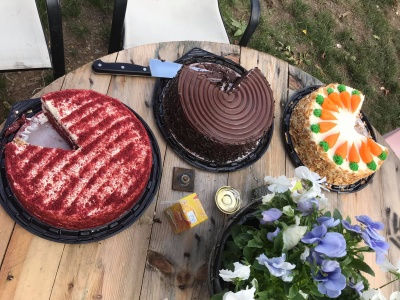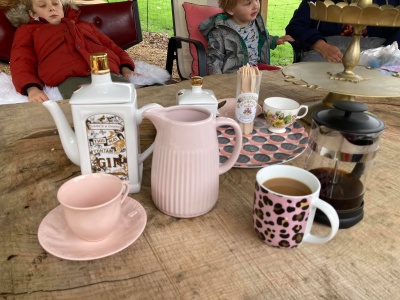 For me personally its often a struggle to find somewhere to catch up with friends and not have to worry about the children making a noise, Goldings estate was almost like a haven to me where my boys could run free without issue and I could enjoy cake, with added animals its a win win ! I loved it so much that whilst still eating my cake I messaged two of my best friends Sally and Hazel and told them I had found our new tea hang out (and we booked in for this weekend!).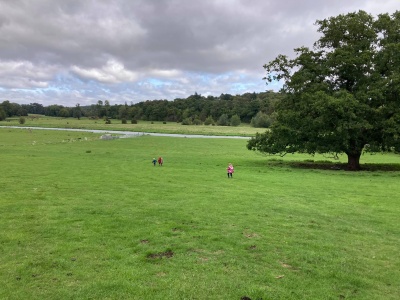 I look forward to following Goldings Estate with interest as they develop over the years. With Morag's passion and commitment to animal welfare and the local community I know more great things are coming! Did someone say Forest school!?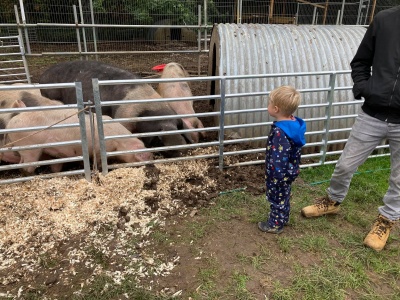 Tea and farm tour at Goldings Estate Rare Breeds Farm is just £6 pp (reduced fee for under 5's) more details here.
Please remember to pre-book.
Thanks for having us Morag and team and thanks for reading.
Lots of love
Kayleigh & The Boys
** We were invited along to this complementary experience free of charge however the contents of this review are my impartial opinions, all words and sentiments are my own**