A completely free day of activities in Hertford!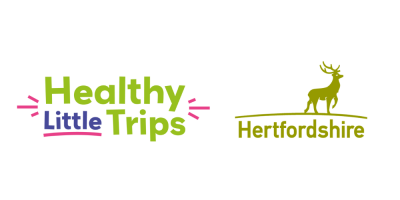 Hertfordshire County Council challenged us to have some thrifty adventures find out how we got on below.
A few weeks ago Hertfordshire County Council got in touch with us, they wanted to work in partnership with us to help highlight the amazing free and budget friendly options that are available for a day out locally so we planned an entire day out that wouldn't cost us a penny (except food which was already at home).
Getting Started
One of my top tips for getting the kids involved in a budget friendly day is to include them in the planning process. Its important to manage expectations. Explain that their challenge today is to spend no money, or to spend less than £5 etc etc. I find particularly older children are able to really adapt to this especially if you put them in charge of the budget. If your children are older you could even challenge them to find low cost things to do online and do the research themselves.
Food Glorious Food
The cost of food and snacks and drinks can really mount up, so when planning a thrifty day out failing to prepare is preparing to fail as they say. Take a packed lunch, it doesn't need to be anything fancy, just a sandwich if thats all you have in, bring your children's water bottles, why not stick a tea or a coffee in a flask for you too to stop the temptation to reach into your purse for a drink. If you take a metal water bottle with you, you can even put frozen ice lollies in there and they will stay frozen for up to 6 hours!! I save myself a bomb by doing this when we go out (the little miss molly ones from Tescos fit 4 perfectly inside a normal sized bottle fyi!).
Pack those bags
How many times have we had to buy something whilst out and about that we already owned because we forgot to pack it! A lot right? Or is that just me.
For the summer I stock my bag with lots of things i may need whilst out and about, these always include a lightweight picnic rug, some colouring and crayons and some small toys, I usually also have a frisbee in my bag, a small ball, hats, suncream, plasters! If it will fit i also take a lightweight towel, microfibre ones are great if you do have them if not even a tea towel is fine. I also bring some changes of clothes, in this case I brought shorts to change in to if it got warmer (it did) and some swimming bits as we had a paddle planned later .
A day out for FREE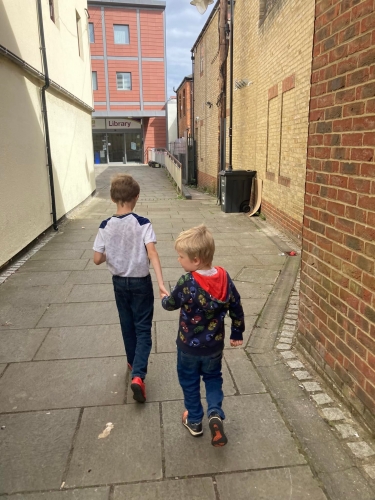 First stop Library
After packing those lunches and our back pack we set off on a thrifty adventure. Now because we were trying to not spend any money that day we didn't take the car and instead planned our visit around places we could easily walk to. It took us about 30 minutes to walk to town from where we live, you could however also travel via scooter or bike if you prefer or if budget allows you could always use the local bus services.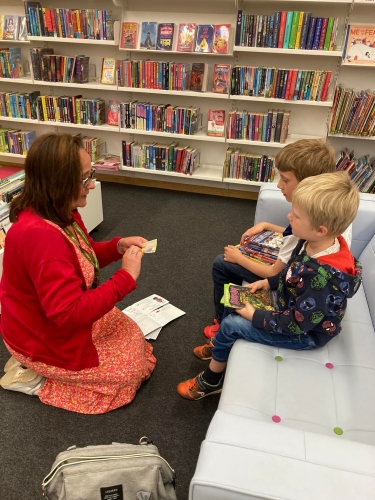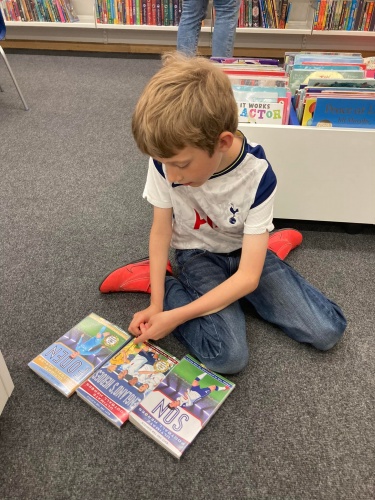 Our first port of call was the library! We love the library, especially Hertford Library because they are very child focused, have a fancy new childrens area, theres air con, a sofa and other seating areas and usually colouring in or lego etc to get involved with and of course it is totally free. The boys spent some time choosing their books and playing with some of the activities, they then signed up for the summer reading challenge and really enjoyed using the machine to check out their books themselves. They genuinely had a fab time and were excited to take our books home with us (my eldest is always amazed that they are free hehe!) We spent well over an hour in the library and it was a great chilled start to our day.
Charity shops
Now this is a slight deviation from the plan but the boys had a couple of pounds pocket money from a relative to spend that day and so when they asked to pop into the charity shop i was happy to oblige. The Football shirt my son is wearing in these photos actually came from a previous visit to the charity shop (it was £2.50)! today they spent a total of £3.50 using their own money buying a football game and a poo pong (boys eh!) game. Obviously you could easily omit this from your plans, but we always love a charity shop mooch about.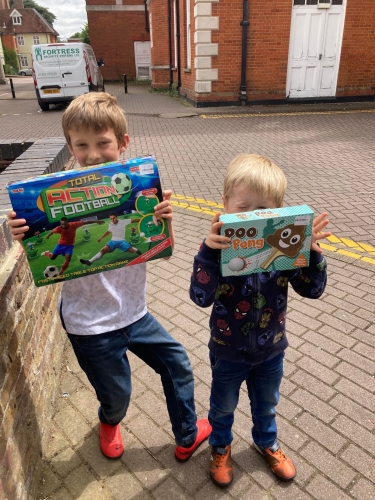 A quick snack
After this we walked up bull plain towards the bridge and took a seat by the ducks. Here was the perfect spot for a quick snack.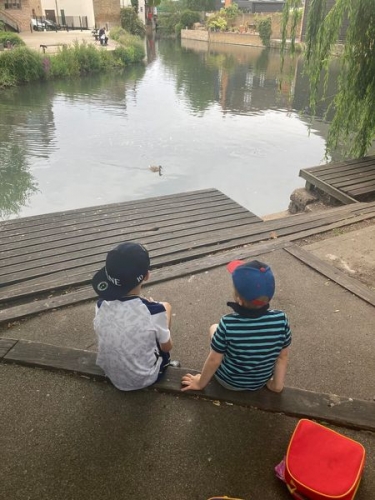 I enjoyed the coffee i had brought with me in my flask and the kids nibbled on some fruit. We had also brought some frozen peas (in a lunchbox) with us which we fed to the ducks whilst we had our drinks and snacks. Feeling suitably refreshed we heading back up Bull Plain and into Hertford Museum.
Museum fun
I recently did a survey amongst my followers and discovered that 55% of them had never visit Hertford Museum!!! What!?! This fantastic free resource is an absolute must do for local families.
It's totally free to visit, you can pick up a clip board and childrens trails from the entrance and it packed full of really cool stuff, and the garden is beautiful too.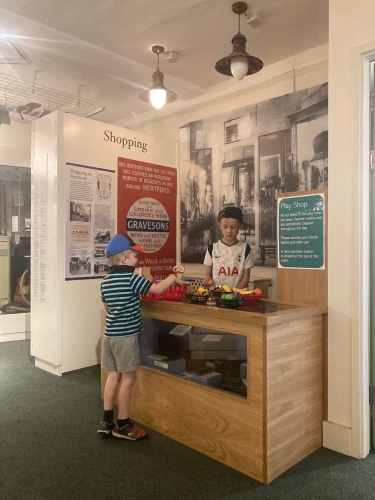 To our delight we had timed our visit with the free and stay and play that is the first weekend of the month and this meant there were toys and activities to do for free in the back room which only added to the fun. We easily spent well over an hour here that day, we were having way too much fun to accurately record the time but it was around that. I reminded the boys that we weren't spending any money today before we got to the gift shop, they were fine about it. On our way past we gave the brothership a wave and said hello to Emma. Both brothership stores are great for a quick pop in and the staff are great and love to show the kids the art etc, but today the boys were too hungry to stop by.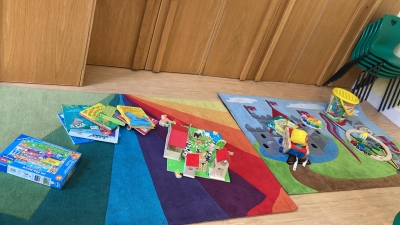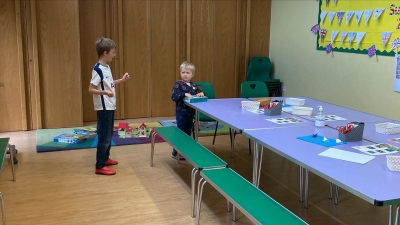 Lunch time!
Now it was time for lunch! We were torn between hartham park or castle park for lunch but decided upon Hertford Castle for lunch and headed there with our packed lunches and set up just in front of the castle. Hertford Castle really is a lovely picnic spot isnt it!? We ate and rested here for a while and I produced the amazing summer holiday activity packs from my bag which are a free download from local company the wonderden so we did a bit of colouring in the sunshine and then Jacob had a little go on pokemon go whilst we waited.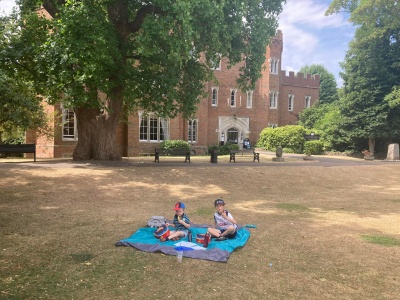 Park time
Now we headed to hartham park, we played a little bit with the frisbee I had brought with us and then played pooh sticks by the stream before a little paddle (this is where the towel came in handy) . I adore hartham park its a total hub of excitement and I love nothing more than watching the world go by there. Helped largely by the fantastic play park (I mean its so great you could probably spend an entire day in just the play park alone right?)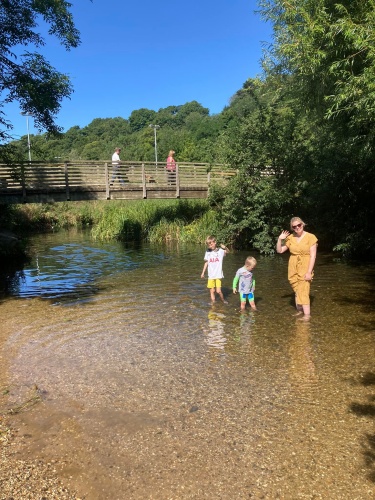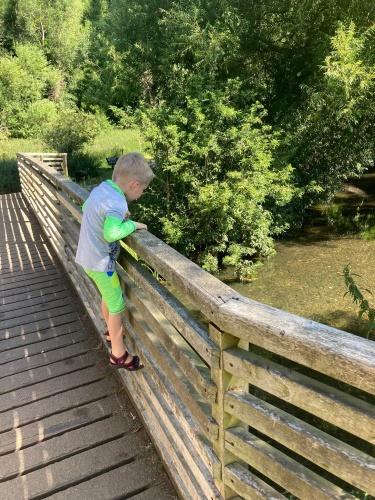 The kids had a great time playing in the park for a good hour and we bumped into some of their friends, after this they spotted the ice cream van and did ask for an ice cream, this was where I reminded them we weren't spending money today but produced the ice lollies I had stashed in my water bottle! Problem solved. We ate our ice lollies in the shade and had a little read of some of our library books.
Home time
By now it was around 4pm and we were all a little worn out, mindful that we still needed to walk home we set off on the way home the boys asked if they could have a quick play in another park near where we live so i relented and after a quick go on the zip wire we finally arrived home about 5pm tired but happy!
Challenge completed.
We had had a wonderful day in Hertford Town and bar £3.50 of the boys pocket money had not spent a single penny, we laughed, explored and learned new things and made lots of memories to treasure. "Can we do that again next week Mum?" Jacob asked and of course I agreed, after all we need to go and return those library books for the next part of the challenge.
Challenge extended
Later that evening after dinner the boys suggested another free activity, they wanted to visit the meads near our house and go wildlife spotting. I was impressed with their enthusiasm so agreed and so we added another free activity to our list. By this time the boys had been showered hence the change in clothes but with views like the below how could I say no?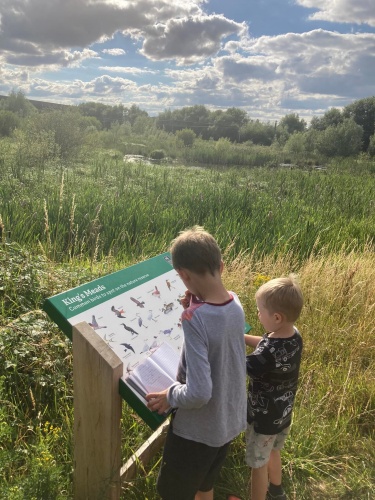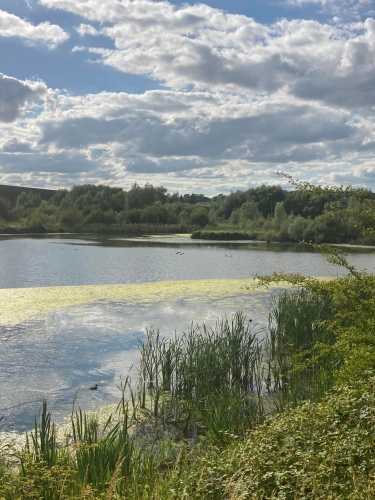 Not for you?
Now I am aware that the activities above may not be suited for all, I have based them around where we live, and the age and interests of my children. The point of this activity was to show just an example of what is on offer locally and prove that you don't always need to spend money to have a great day out. There are some fantastic free events on in Hertford town this summer. Hertford Castle Teddy Bears Picnic, Hertford Play Day, Rock at the Castle to name but a few, i Why not plan your day around a couple of those and see how you get on. Not free but Hertford Museum have some brilliant low cost craft sessions on over the summer too which are a brilliant thrifty alternative. You can always pop into the town and tourist information centre for more information and don't forget to check out the family centres timetables for summer.
This summer we challenge you to embrace your local town and to do as many thrifty things are you can.
Do tag us in your adventures.
Hertfordshire County Council have lots more ideas of thrify things to do this summer details here.
Or download this PDF and share with those looking for free and low cost things to do with the kids this summer: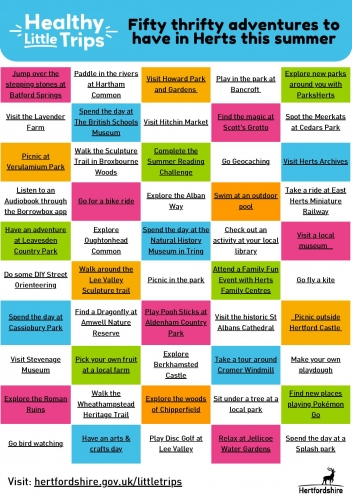 Thanks for Reading
Kayleigh & The Boys
Xxxx