"It's a Kind of Magic" Halloween Special at Audley End Miniature Railway
It's half term ! Although our team are not physically in the office during school holidays (owing to those little distractions named children) we have been busy blogging about some of our favourite tourist attractions local to Hertfordshire and giving you the low down on attractions with covid measures in place this October half term.
We know that the current climate can be an uncertain time for many. With many families longing to return to their favourite attractions and enjoy sunny summer days out as a family , however at the same time being nervous after such a long period of lockdown about doing so. I know from the many queries I get to my inbox that many of you are finding it a big dilemma. You worry whether you will still have fun, or whether you will be spending the whole day worrying and desperately trying to socially distance. You worry places wont be clean, you worry about the toilets etc etc. This is where Mum's Guide to Hertford comes in. We have been visiting these local attractions and aiming to give you all this information so you are empowered to make the right decision for your family.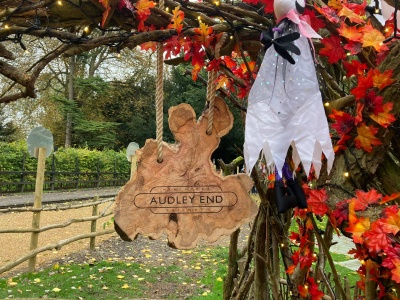 On Saturday 24th October we were invited along and given complementary passes to Audley End Miniature Railway.We last visited twice in the summer but had never visited during October half term before. We dressed up our two little goblins and started the journey to Audley End It took us around 30 minutes to drive from Hertford to Audley end and it was a pleasant drive with plenty of scenery along the route.
We had been gifted tickets for the 1:40pm train slot, all tickets must be booked in advance and a time slot chosen. Prior to arrival we were sent a very informative email outlining the covid measures in place and providing helpful hints and tips.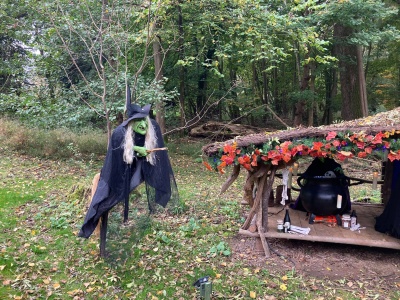 Given the current circumstances it is ESSENTIAL that you arrive 30 minutes before the train time you have booked. All cars MUST park in the overflow car park. On arrival to the overflow car park the attendant will ask you what time you are booked for and will then advise what time to start making your way to site. If you arrive earlier than 30 minutes before the time you have booked, you will kindly be asked to remain in your car until it is time to make your way to site. We arrived about 10 minutes before we were supposed to and were greeted by car parking attendants dressed up which really kick started the whole experience for us. I've said in previous blogs that Audley End really thrives on its customer service and the same was very true on their Halloween special.
Upon arrival at the ticket desk we were asked for our name and time slot and handed our activity packs with activities for the little ones to do whilst on the train and your bugs to tie onto the wishing web.
Once checked in you will have the chance to visit the Take Away Café to purchase any light refreshments you may want before your Train Ride. You will also have the opportunity to visit the restroom. (The next time you will be able to purchase food and drink will be an hour after your Train Ride time) so if your kids are like mine and require feeding constantly dont forget the snacks. This measure is only in place because of the current situation and the need to manage capacity in each area.
First stop was the toilets and you'll be delighted to know these were operating on a one in one out policy, were being cleaned every 30 minutes with cleaning spray and materials also left in the toilets should you wish to wipe services before touching them. The toilets were very clean.
You are asked to make your way to the train approximately 10 minutes before your allocated slot.
There were clear markings in the queue for social distancing .
Once boarded your journey will begin and last approx. 40 minutes. All of your other activities will follow on from your Train Ride in a one-way, fun, immersive experience.
One thing that clearly has had a lot of attention to detail is the decorations at Audley End Miniature Railway Halloween Special, it looks amazing and its throughly themed throughout! The attention to detail is second to none and we all loved it!! From the entrance to the train station to of course the woods, which are viewed on the train, every thing is just the right amount of spooky to have the wow factor without scaring the little ones. The eery music is a great addition too!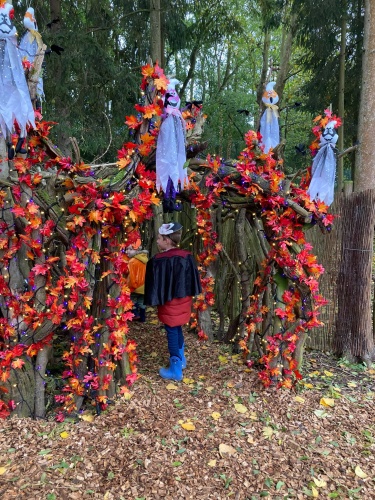 As we have come to expect from audley end the train ride is just magical. They have switched to the new larger carriages now with perspex inbetween , each carriage is cleaned between used. The train ride will delight your little witches and wizards and they journey to the witches house in the centre of the woodland. Here we were treated to a full action, all singing all dancing halloween spectacular with dancing pumpkins and funny witches who presented the children with a toy bat at the end of their presentation. They danced to "it's a kind of magic" and it really was, My two little ghouls were captivated.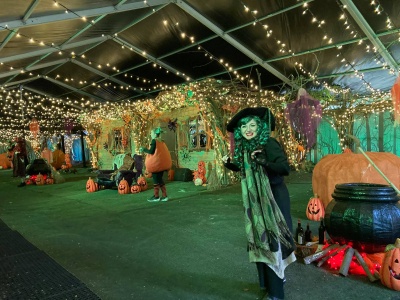 Once we had journeyed back to the main area of audley end we were asked to line up underneath our "bubble posts" and greeted by a run away pumpkin who was very funny! Then we were guided round to Herbert the funny, talking house before being freed to enjoy the play area, the magic wishing web and get some refreshments from the refreshment stands.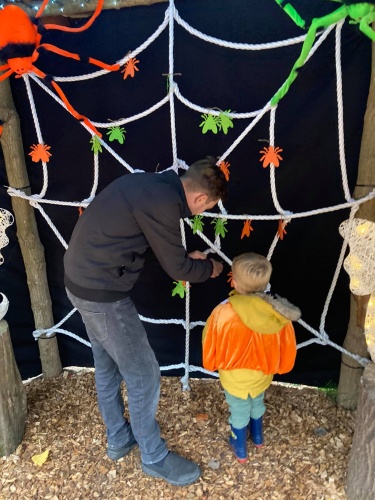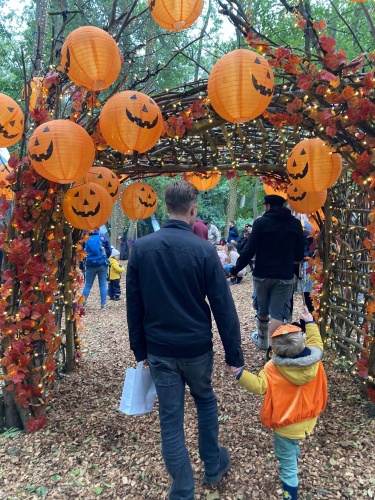 Audley end have enlisted a local teepee company to provide plenty of under cover seating should you need it with magical lights adding the the theme but do note the teepees are open sided so wrap up warm. We all enjoyed some hot chocolates (with whipped cream and marshmellows of course). The play area was, as always, a huge hit.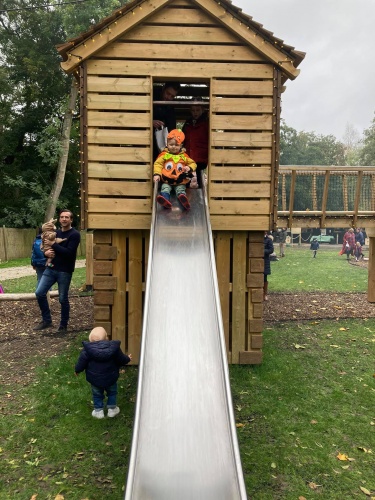 After an hour it was our time slot to visit William the Woodland Wizard who entertained the kids with some fun and dances. After this there was time for a quick toilet pit stop, a visit to the shop and then we walked back to the carpark full of Halloween joy and two very tired monsters.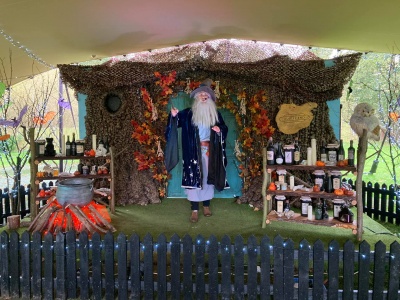 We cannot wait for the VIP Christmas Special in December which we are also attending and know that like all their other events Audley end will totally nail it. Bravo!
Thanks for Reading
Kayleigh & The Boys
XxxX
**We were gifted tickets in exchange for our blogging services however all words opinions and sentiments were my own**