Christmas has been an absolute whirlwind and we were all getting a little bit of cabin fever so we decided to go and blow some huge cobwebs away with a trip to the seaside and visit our favourite local aquarium- Sealife adventure Southend.
We have visited this aquarium since my eldest was small but hadn't been since my youngest was born.
Southend Sealife adventure is a little further afield than most of our tried and tested reviews but its still within an hour and is arguably our closest seaside town, popular with local families.
We drove to south end in around 50 minutes and were easily able to find a parking space right outside the aquarium on the seafront (this may obviously be more difficult in the warmer months).
Entry to the sealife centre isn't cheap, and we would recommend booking in advance to make the biggest savings ( a walk up adult price is £17.50 compared to £12.95 in advance) however when booked in advance a family of 4 is only £37.50 (which is very reasonable) **
You are given a wrist bank upon entry so can come and go as you chose , combining with fun on the seafront and nearby peer and amusements with the various talks and activities on offer.
Sealife adventure at South end has captivating exhibits and educational talks galore.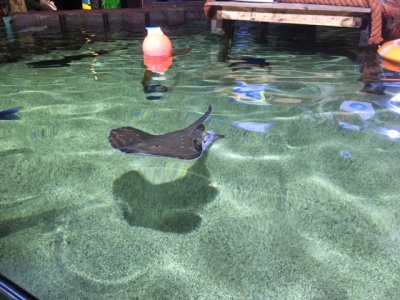 From sharks to seahorses, starfish to stingrays our little ones were absolutely mesmerised! Aside from the range of fish and marine life the sea life adventure also has a newly expanding range of penguins, otters, rats, mongoose, reptiles and macaques.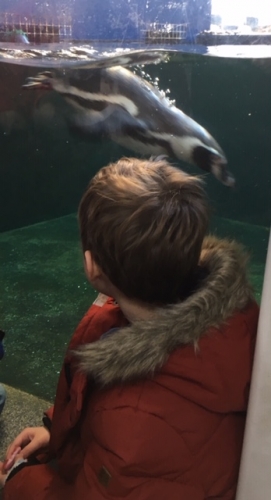 The attraction is planning to expand more with a dinosaur exhibit currently being built.
The attraction although small has plenty to occupy young minds (and old alike), my children loved the various quiz boards around the aquarium where they could push buttons to guess the right answer. They also loved the little fossil digging area, the chalk board table and the interactive sea scene projected on the floor.