Willows Activity Farm reopens its doors to members.
On Tuesday 7th July Willows Activity Farm reopened its doors after lockdown for pre booked member tickets. We have been members at Willows since my eldest was less than a year and it holds such special memories for us with many firsts for the boys happening at the farm. We know many of the staff on a first name basis and it really does hold a special place in our hearts.
Like all other farm parks Willows was forced to close its doors at the end of March and like many other leisure facilities the future remained uncertain as a result. However thanks to the easing in lockdown restrictions Willows was able to reopen its doors to members this week. At the time of visiting they were only open for members and member tickets must be booked in advance via the webpage. Kindly Willows Activity Farm are still not taking membership payments from its members (not until they can offer the full experience) so there is a booking fee of £2 per member per visit, which is more than reasonable.
You can now book non member tickets for the summer holidays for a whole day.
Yesterday, Saturday the 11th July, we finally got our Willows back. The children were excited, I was excited! You can now either book a morning 10-1 session or afternoon 2-5 session, (they close for cleaning in between sessions) we had morning tickets.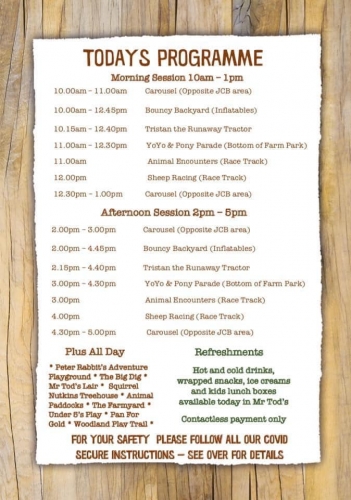 As we first saw the entrance my boys cheered! They were home! "Cheese-a-rabbit" my 2 year old called out (Peter Rabbit). We parked with ease and headed towards the entrance, it wasn't busy at all but the queues had been marked with to ensure social distancing was maintained, hand sanitiser was at the entrance to be used. Entrance was contact free as they just asked for our names and ticked us off. They handed us some wristbands and a schedule (no more hand stamping!) and in we went. It was lovely to see Dawn welcoming everyone as we went in (we missed her!).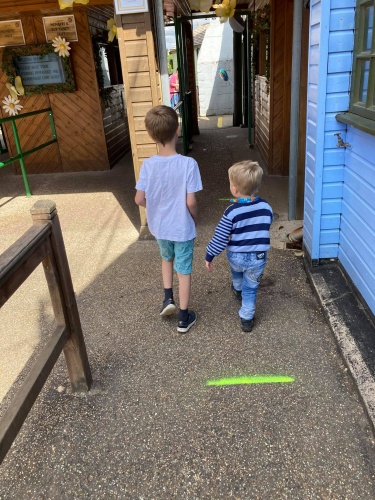 I will admit to becoming a little choked up when we walked in, a little silly perhaps, but for me this really did signal a return to relative normality (all be in a new normality).
On the back of our schedule was some information about the measures that had been put in place. The main one is the Willows now has a one way system in place and there are extra hygiene measures at the rides and social distancing measures in place. The inside play areas and soft play are currently closed and at present there are no Peter Rabbit meet and greets or shows.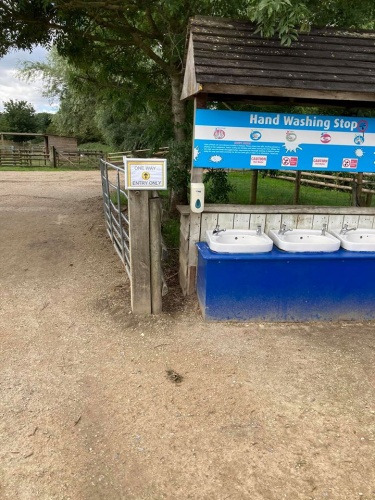 We were reliably informed prior to visiting that Willows had made some improvements whilst they were closed and boy have they!!
First stop was a new ride!!! " Pony Parade" ( we ended up going on this three times throughout the course of the morning!) again there were queue markings in place and in between rides the rides were being disinfected and the attendants all has visors and or masks. Even with the new cleaning routine we waited no longer than 5 minutes and had lots of fun. You can view a video of this here.
After this we followed the one way system down to Tristan the TRACTOR!! Boy had we missed him! Again there was extra cleaning going on here between rides and they were only taking 4 families at a time ( I am not sure how feasibly this will be when Willows open to larger audiences but it worked really well when we were there) lots of lambs in the fields to delight the children I got a bit emotional (again) as he set off and blamed it on my hayfever!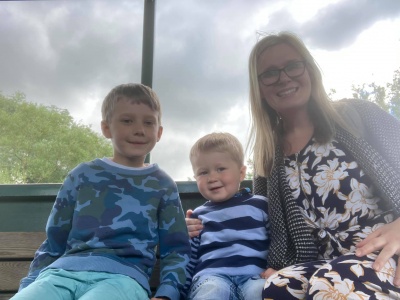 After this we continued to follow the one way system round and stopped for some animal spotting, the kids were very happy to spot a pig having a bath in mud and the Reindeers and goats.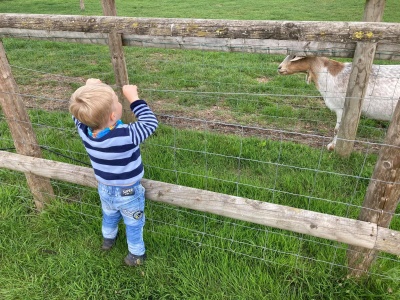 Then we stopped to see another of our faves Maria and the farm dog "Mishka" and listened to a little talk about him and saw him do a few tricks such as giving a kiss.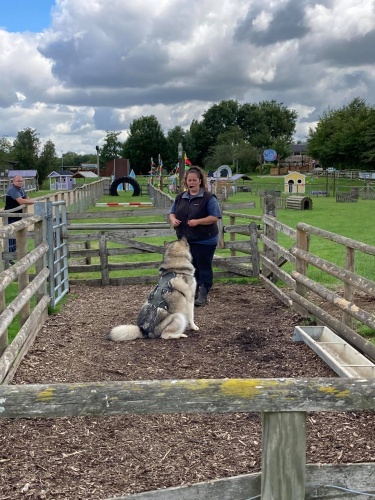 First toilet stop of the visit and I was delighted to see how clean the toilets were , these were being cleaned regularly.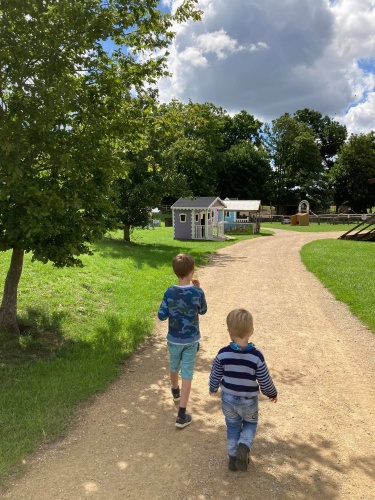 Then we ventured into The Peter Rabbit Play area, the first visit to any form of play area since lockdown for the boys. I was a little apprehensive about how social distancing would work but was pleased to see hand sanitiser at the entrance and relieved to see that parents were on the whole managing their children so that they could play whilst also maintaining social distancing. The smile on my eldest face as he came down the slide almost made me cry (again.) It was so nice to see them playing like before lockdown, I think I had underestimated the importance of playgrounds.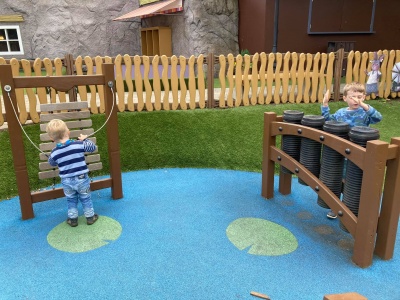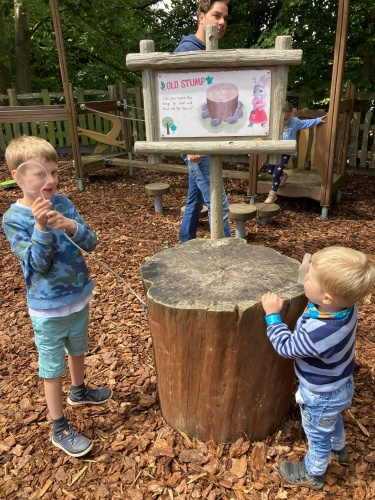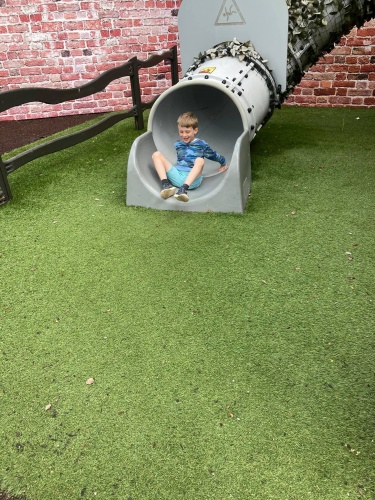 Then into the barn and we were so happy to be reunited with some of our favourites such as Bob the horse and Florence the cow. Unfortunately you cannot feed or pet the animals at present but it was just so nice to see them again. There is a one way system in place with clear floor markings.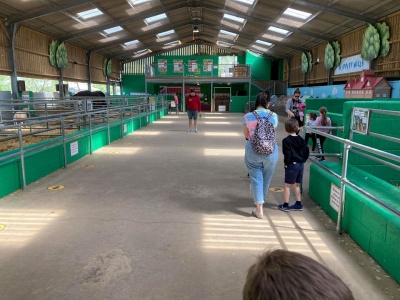 After this we paused for lunch and I was pleasantly surprised to see how many new picnic benches Willows had put in place during lockdown (obviously anticipating that the inside restaurants may be closed for a while). Mr Todds kiosk was open serving hot and cold drinks, ice creams and a selection of small snacks.
After lunch we ventured in the new "Bouncy Backyard" area which is down by where the lambing marquees are. The bouncy castles and bouncy slides have moved to this area alongside new trampolines. The trampolines were being cleaned in between uses and the bouncy castles and slide cleaned regularly. Only two children were permitted at a time on the bouncy castle and this was being diligently managed by a member of staff. Once again there were more picnic benches in this area, a welcome addition.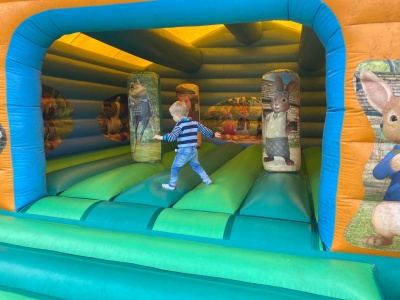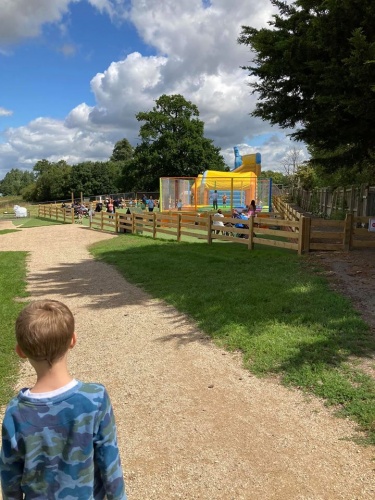 After this we headed to the sand pit area, be aware that due to covid they have had to remove all the buckets and spades and so ask you to bring your own (they also had them for sale at Mr Todd's Kiosk).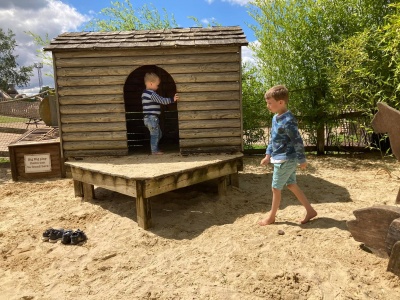 After this there was time for a ride on the yoyo ride , the new pony ride (again) and the carousel ( some of the rides on the carousel had been taped off to enable social distancing) and an ice cream before it was time to go.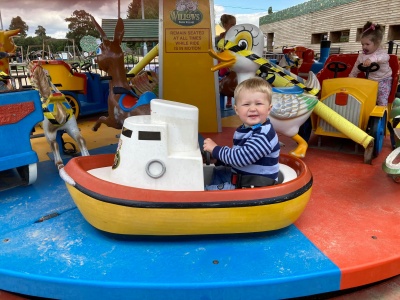 I have to say of all the places I have visited since lockdown it has been Willows who have so far impressed me the most. The place was spotless. Staff were totally on form and seemed to know exactly what they were doing, indeed there were staff members constantly walking around spraying and wiping railings and fences and gates which was hugely reassuring. There were hand sanitisers every where.
The normal exit and shop was not in place and so we exited through the turn styles that we entered through at the start of our visit. There was a little pop up shop to our right and the staff were there to check everything was ok and to bid us farewell. Both the boys cried when we had to leave.
This was the first visit anywhere since lockdown with just me and the boys. I have, like many of you been apprehensive about venturing for days out without my husband to assist with the boys in these unknown circumstances. However I knew I could rely on my trusty Willows to deliver and of course they did. We all felt safe, happy and relaxed and enjoyed our visit. At the moment you can only visit as a member, and even those tickets must be prebooked. Willows reopens to day visitors with the extra footfall its inevitable there will be longer waits for some of the more popular rides and the tractor but i'm sure Willows will be diligent in their efforts to make the day as normal as possible for you.
Bravo Willows- in the words of my 6 year old - you smashed it!
For more information about visiting Willows Activity Farm please see here.
Thanks for reading
Kayleigh & the boys
XxxX