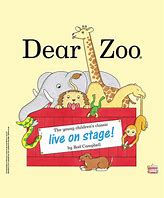 As you may be aware we love taking our children to the theatre, and you may have seen some of our reviews of children's productions in our tried and tested section previously.
So we jumped at the chance when we were invited to "Dear Zoo Live" at Hertford Theatre by Norwell Lapley Productions.
We actually were planning to go along earlier in the year, but like many others were disappointed when the the final leg of its spring tour was cancelled at the end of April due to the theft of its tour bus and set.
A combination of insurance and a generous donation from an anonymous donor meant a total rebuild of the production at great cost and "Dear Zoo Live" were able to make a return to theatres this autumn.... and what a triumphant return it was!!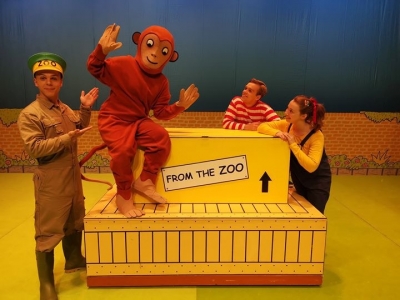 It can be a difficult decision as a parent as to whether to take your children to the theatre or not. Often tickets are, although reasonable, not cheap and many parents can be hesitant to spend their hard earn cash on something their children may not sit through. As a parent myself I know that sometimes the thought of trying something which requires your children to sit still can be daunting.
However...
(and I do not say this lightly) if you are considering taking your child to the theatre for the first time this show is perfect for you. In fact this show is just Perfect in general.
Hertford Theatre is very child friendly with regards to the nature of the venue, the helpfulness and understanding of the staff as well of the facilities but that coupled together with a truly engaging vibrant and joyous show such as "Dear Zoo" is a winning combination.
With all the elements and familiarity of the book that children adore, as well as some new additions, extra narrative, (for example we actually get to meet the zoo keeper who is delivering these animals), and each animal sings a delightful song. Children are actively encouraged to join in with the actions and shout out what the animal is and even join in with some of the songs. The set itself is both beautifully simplistic and captivating at the same time and the animals and the crates they are delivered in are easily recognisable from the book , causing much excitement as the children entered the theatre.
The show is approximately an hour in length with no interval also making it exceptionally child friendly.
My youngest who is 22 months had the best time! The excitement on his face as each animal appeared was priceless, and the reaction of all the children in the crowd was incredibly heart warming. At one stage I turned my head to look at the audience, and through out all the hundreds of parents, grandparents and children of various ages, I did not see one person not smiling or laughing or clapping along. My 6 year old although protested it was for babies when I told him we were going along, also absolutely loved it and was joining in with the songs.
If I was asked to sum at this production in one word it would be "joyous" . If you get the chance to go and see Dear Zoo Live at a local theatre to you I highly recommend that you do, I promise you will be grinning from ear to ear throughout. So if you are hesitant to try the theatre because you are worried your child may be as naughty as the monkey during the performance or as jumpy as the frog, with a production this child friendly you need not fear.
Did you go along too? Do let us know what you thought :)
Thanks for reading.
Kayleigh & The Boys