On Saturday 30th September we were lucky enough to be invited along to the opening of the 2023 Cammas Hall Pumpkin Patch.
We absolutely love Cammas Hall but had never been to their Pumpkin Patch before! Cammas Hall is around 25 minutes from Hertford by car and is an easy route to follow being just up the road from Harlow and there is plenty of free parking.
Entry to the Cammas Hall Pumpkin Patch must be prebooked and you will need a ticket for every member of your party, aged 2 and over and prices range from £4-£6 depending on date , this does not include a pumpkin, but pumpkins are sold by weight and are reasonably priced.
Before we even visited Cammas we did have some queries from followers on how scary the characters were and what actually was included in the entry fee as some of you were surprised that a pumpkin was not included.
Cammas have a whole range of pumpkins and squashes available. For example the affectionately named (by my son) "squid pumpkin" (which is actually a squash fyi!) that my son is holding below, was priced at £2 other pumpkins are sold by weight so by making the actual pumpkins pay by size it does make it a little bit fairer.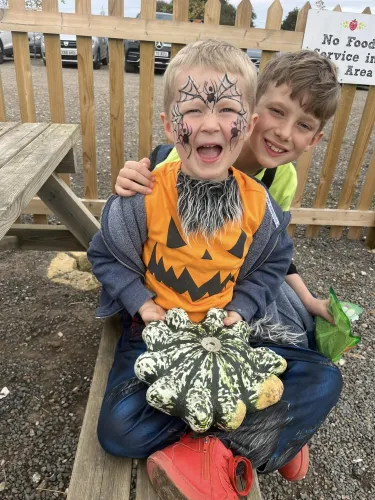 After being handed our special press pass for the day we entered to the right of the farm shop , immediately spotting the pumpkin field to our left, which looked AMAZING! More on this later but the work thats gone into this - outstanding!!
We entered via a spooky tunnel! Greeted by a spooky but not scary and very friendly Jojo the jester. What I must say is that Cammas have dealt with the character interaction exceptionally well, I watched each character gauge their reaction to the children depending on how confidence or forth coming each child was. My youngest is absolutely fearless and ran well ahead of and had a lot of fun with the characters, for those that are a tad more nervous there is a gate way that the Jester will let you through into the pumpkin patch if you don't fancy braving the tunnel.
The tunnel had lots of moving spooky models, such as ghosts and skeletons and a horseman, witches and more alongside a couple of characters, we met Victor the vampire who invited us to dinner! And Ellaween who was really lovely with my youngest, so much so we had to come back and see her twice! They didnt jump out at them or anything you could see them from a distance so they wouldn't take you by surprise and I didnt see any children that were concerned about the characters at all, every one was loving them! We spent about 30 minutes in the tunnel as my son was loving the interactions and having photos with the models.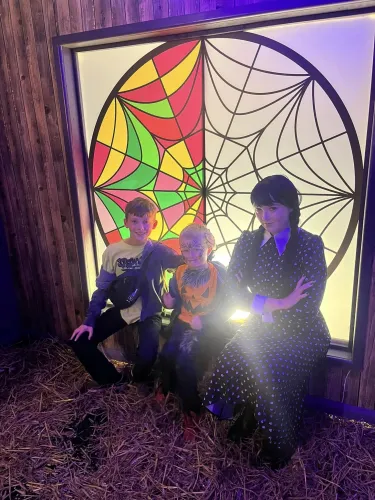 As we left the tunnel there is another tunnel to the right which is clearly signposted as being scarier and for ages 12+ for obvious reasons we did not go in as my children are 5 and 10.
This brings us to the pumpkin patch, complete with an amazing variety of pumpkins sorted into all different colours and sizes as well as pumpkin volcano that you can walk through that even erupts fire (in a safe way of course!) , it really was a total vibe, there was plenty of time to admire and explore all the pumpkins and plenty of photo opportunites and even a refreshment stand, in case you fancied a pumpkin biscuit or halloween hot chocolate whilst you explored the patch. There was also more character interaction here and we met Zarbie ( a zombie barbie), Wilfred the Wizard and Zak the pirate, again lots of fun lots of interaction and giggles which just made the whole experience wonderful. We spent a good 45 minutes in the pumpkin patch just having fun and taking photos before chosing a pumpkin (there are helpful trolleys located around to help you carry your pumpkins!).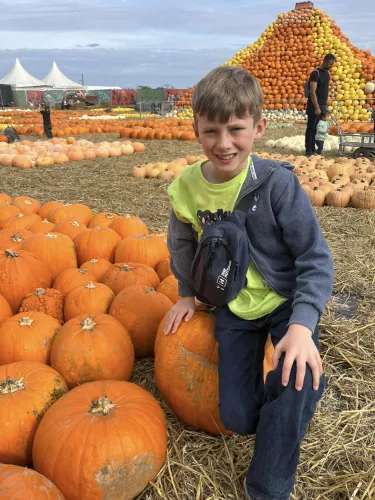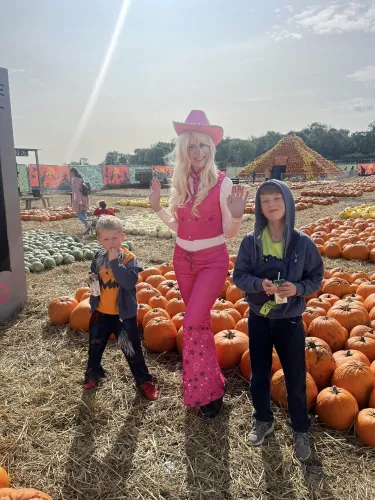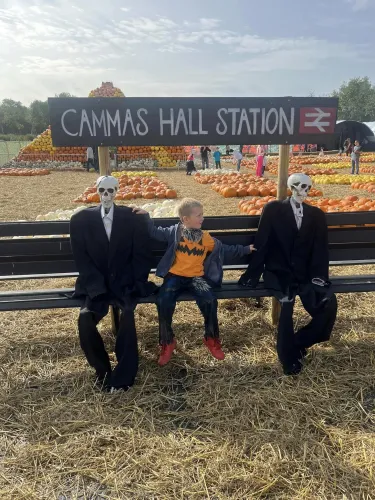 Pumpkin chosen and loaded into our car it was time for lunch. Lunch was provided complementary for us on this visit and we tried to order a variety to give an overall review. There are a couple of different options for food, you can order from the cafe which has things such as hot and cold drinks, cakes, jacket potatoes and sandwiches made to order and eat them in the restaurant which is festively themed with halloween balloons adoring the ceiling. Or you can venture outside and order food from the cabin, we ordered a made to order stone baked pizza and an adults hot dog, my youngest just wanted a sausage roll and some cake so we ordered his from inside and then came out to order ours and we all sampled the hot chocolates.
The food was genuinely delicious, some of the best food I have ever had on a day out at an attraction, no tasteless hot dog sausages here, the hot dog I had was so flavoursome that I was blown away and my son loved the pizza as you can see below. Cost wise the pizza (which could easily have served 1 adult and 1 child as there was so much my son ended up taking half home) and the hot dog and 3 hot chocolates would have been priced at £24. We were all happy and fed, there is plenty of under cover outside seating that over looks the play area if you do want to sit outside or of course you can eat in the restaurant , picnics are regretfully forbidden.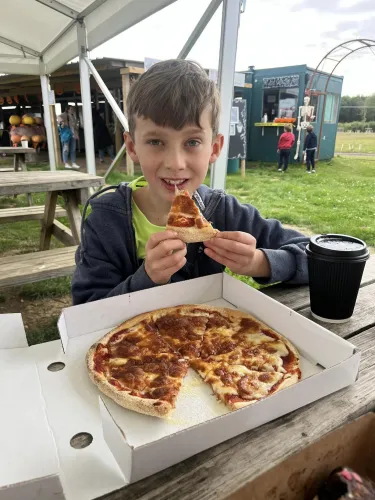 After we had eaten, my youngest wanted his face painted and this was priced at £5, they did a really fantastic job and just look at his happy face below. We spent around an hour eating, playing and having my youngest face painted.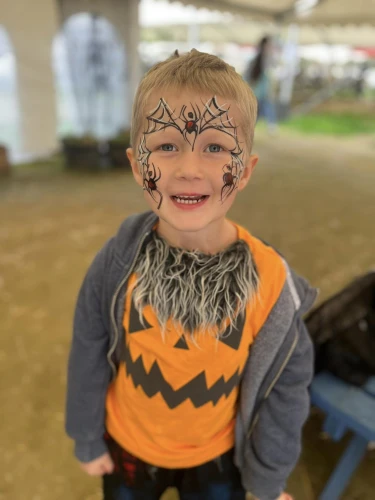 It was then time for The Monster Mayhem Show! This is an optional add on of £8 per child and £5 per adult. The show is inside a marquee just at the back of the play area and there are regular shows throughout the day that must be prebooked. The show was one of the highlights of our visit and lasted approximately 45 minutes. We all really enjoyed the show and the children were giggling throughout, it was brilliant for all ages and i'd highly recommend.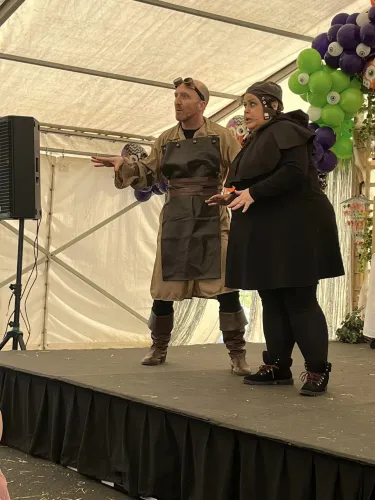 To the right of the Marquee there are some animals you can see that belong to one of our 2023 award finalists Gargs animal adventures. Garg kindly took us behind the scenes to meet some of his animals but you can see the owls and guinea pigs from general admission area.
After this we headed to the Maize maze! This is again an optional add on. There are two trails you can take part in we were advised that the longer trail can take longer than an hour so we did the shorter one which took us around 30 minutes (as my youngest was a tad tired at this point). The trail was fun, we had to find certain ingredients to help the wizard and the children then got a bag of sweets (from a selection at the end) they loved this!.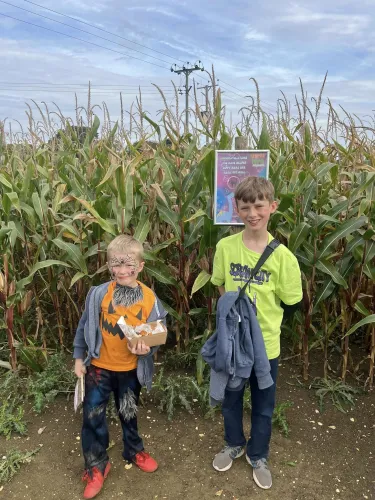 You can also add on an optional tractor ride which is £4 pp (under 2s FREE) we ran out of time to do this im afraid but i understand its a 20 minute ride which goes beyond the maize maze and to the pumpkin field.
After the Maize maze we headed back into the play area for a final play and a toilet stop before heading back to our car for the journey home.
We spent around 4.5 hours at Cammas (and this would have been longer had we not have missed the tractor!) . My children are at the age where it is difficult for us to find days out that are suitable for both ages but they both had a fantastic time and rated the day as 10/10.
When we first shared this years Cammas pumpkin patch we were met with comments about the cost as it does not include a pumpkin, and I do know that lots of you are really interested in value for money but Cammas Pumpkin Patch is much more than just a field of pumpkins and we feel that the spooky tunnel, character interactions, incredible pumpkin patch with so many photo opportunieis as well as the play area and general theming are well worth the £4-£6 pp (depending on date) in those areas alone we spent about 3 hours.
Full credit to the team behind Cammas Hall, there appears to be a lot of heart put into their events, they want their experience to be fantastic and every single member of staff we encountered was so friendly and helpful and just overall wonderful. We felt so welcome and are so thankful to have been invited along.
For more information on Cammas Hall and their Halloween events see here.
For those of your with slightly older children or for an adult only evening why not give Cammas Hall Resurrected a try with live bands and so much more!
If you'd like to learn more about our visit take a look at our reel here.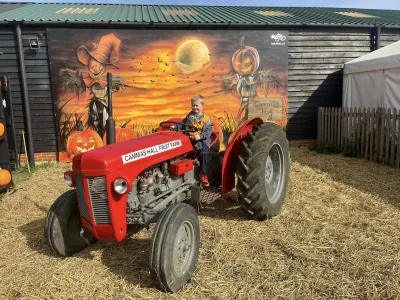 Thank you for having us Cammas Hall.
If you'd like to arrange a tried and tested review visit to your attraction please email us here for details.
Thanks for reading
Kayleigh & The boys
XxxX