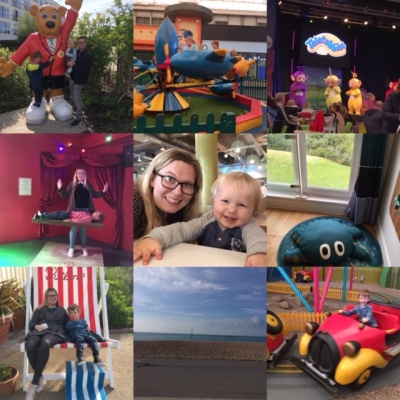 I have fond memories of visiting Butlins as a child with my parents and brother and now that I have two boys of my own I felt it was a perfect time to take my own little family along.
We were booked into the Shoreline Hotel (Billy Bears hotel) for 2 nights 3 days over the bank holiday weekend.
It took us around 2 hours to drive to Bognor Regis from Hertford, and thanks to the Bank Holiday we met little traffic enroute. We arrived on site at 10am and went straight to our hotel and although we couldn't check in until 1pm we were able to still use all the facilities.
The play park was our first stop and it was small but very cute .
We had packed a separate bag for swimming so next on our hit list was the brand new 40 million pound swimming pool and splash park.
There was a short delay here as lots of other people had the same idea as us but we were soon inside and into the new changing rooms. Under floor heating ensures no soggy socks here and they have different sized changing rooms including large family rooms which had a baby seat and fold down changing table.
The pool itself is seaside themed and is bright colourful and inviting. There's a medium normal swimming pool, with jacuzzies, toddler splash part complete with fountains and pirate ship. The worlds only helter skelter water slide, wave pool, stick of rock slides, family raft ride and the Rapids,it really is something rather special.
After this we got ourselves dry and headed for a picnic lunch and then finally checked into our hotel.
The Shoreline Hotel is something very special if you have young children. It looks like a ship from the outside and the corridors are lined with carpet with fish and port holes on to add to the theme. The rooms are large, modern and have all the amenities you could want for a hotel room. There's a separate nook room for children containing bunk beds, a tv and super cool treasure night light, its divided from the main room by a curtain which the kids can have fun with poking their head through to become a pirate. There's a play wall, an octopus bean bag and themed sofa too, and a mini fridge. best of all was a floor to ceiling glass window over looking the sea.... just beautiful.
We barely had time to settled in before it was time to watch the Teletubby show, Butlins is certainly action packed!!
The Teletubby show is inside the skyline. The skyline is pretty much like a giant (and I mean giant) circus tent which contains everything you could want to keep your family entertained! Stage Shows, Arcades, soft play, rides, a zoo!, Restaurants, Bars and so much more. Its big, bright, loud and fun.
The Teletubbies Big Play date show is adorable featuring full sized costume characters and a carefully choregraphed 20 minute show with singing, dancing and playing with a red coat playing host here. The children were enthralled and up on their feet dancing away.
After the show we had a wonder around the arcade to find out barings and tried our a few of the rides (rides and shows are included in the price which makes saying yes that much easier!).
After all this we were starving so headed off to the Diner for dinner. We had huge meals here including 3 scoop shakes. The kids meals were generous and included two veg sides and one carb side as well as a main and a drink and a dessert for just £6.95. All in All the 4 of us ate for £37 which I thought was very reasonable.
Then it was time to go and get changed for my personal highlight of the trip, "salute" the little mix tribute show! These shows usually take place in centre stage to which the entrance to is just to the left as you enter the skyline. Be warned you will need to queue here (unless you buy b line passes) for between 1 hour and 30 minutes before the show if you want a good seat. We settled our self down to the right of the stage on a table near the aisle as our 1 year old was asleep in his pram.
The salute show was really good which a cleverly designed set, backing dancers, and an incredibly talented main cast, who could really sing and dance and had all the charm of the real group themselves. The show lasted 45 minutes and included numerous costume changes. The cast and the red coats did a great job encouraging children to get up and sing and some of the raunchier lyrics were omitted for obvious reason.
After this show there was an Elton John show but we were too tired and headed off for bed at 8:15pm!!
Next day...
The next day we had booked a character breakfast, as we had a breakfast dining package included this was complementary. This took place at 8:15am in Papa Johns and was a buffet style (eat as much as you like full English and continental , juices and coffee etc all included) this really was adorable. The children got to meat Billy and Bonnie Bear, have photos taken and received a special gift card from them. Finishing with a dance around the restaurant. I have never seen my 1 year old so excited he visibly shook with excitement and was shouting " yeah!!!" across the restaurant.
The staff here and every where were an absolute credit to Butlins, nothing was too much trouble, and upon finding out the children's names they remembered them for the whole trip! Amazing!!
By 9am we were fed, watered and full of Billy Bear inspired joy so we headed to the skyline for some more arcade and ride fun followed by a trip around the small zoo.
We also managed to catch the Wake up show with Billy and Bonnie.
After this we hit the Fairground rides (again all included) and had numerous trips on the carousel, bumbers, various spinny rides , helter skelter, and large swing seat ride. The skyline gang much to the delight of everyone were wandering around and joining in the fun as were some of the red coats. Theres also a hall of mirrors and illusion.
We spent a couple of joyful hours here. Then my eldest was booked in for mini fun fencing (again included in the price) and as he headed off with daddy I got in the queue for the ticketed event (also included) Paddington at the seaside in the centre stage.
Paddington was absolutely fantastic and captivated even my 1 year old, it was easily as good a quality as seeing a theatre show.
After Paddington (I did warn you Butlins is NON STOP) we queued to Meet the Teletubbies. They have a professional photographer here but are happy for you to take your own photos too. (Prices for professional prints start from £10).
After this we headed off for Dinner and went to Papa Johns which was located next to the The Diner and between the Skyline and our Hotel. We loved that everything was less than 10 minutes walk away allowing us to nip between events with ease. We had the all you can eat buffet here which was delicious.
For our final evening my eldest and daddy headed off to the Arcade again and managed to win 400 tickets! We then settled down to watch the two skyline gang shows.
Now anyone who had been to Butlins with be familiar with The Skyline Gang, the all singing all dancing vibrant individuals bringing the stage to life as they sung and danced. The atmosphere was electric with children chanting for their favourite member and singing and dancing along (many of the children were in costumes).
After this we got back to our hotel just in time to put Billy Bear to bed. This is adorable and just another thoughtful added feature to make a Butlins treat truly special for young children. The children accompany Billy Bear to his special bedroom and tuck him in and sing him to sleep before giving him a kiss goodnight.
We headed off for bed around 9pm exhausted but with lots of happy memories of our trip.
The following morning we had breakfast and headed off for the hotel exclusive swim (this is just for hotel guests and was a lot quieter than before) there was enough time for one last trip on the rides after this before grabbing some chips from Butlins fish and chip shop and heading home. My 5 year old cried when we left, he had the absolute best time of his life.
So much so that we have booked to go again the following April!!
Thank you for having us Butlins
Kayleigh & the Boys