This afternoon we were lucky enough to attend John Lawson's Circus at Van Hage Great Amwell.
We love John Lawsons and actually usually visit every august on my eldest's birthday every year. We love the circus, its bright, vibrant, fun and at only around an hour is perfect for the little ones.
With the weather a bit hit and miss this February half term we headed along with my 6 and 2 year old (daddy was at work so I was solo parenting today) to trusty John Lawson's circus in the hope of being entertained for an hour and boy entertained we were.
I think this may be my favourite ever production of the circus at Van Hage. The new ring master is funny and engaging , the clown is a traditional clown and lots of fun. The acts were, just wow.
From tried and tested acts we see every year like the Diablo and the lasso to new acts such as a quick change duo (which my eldest was captivated with) "How do they do that mummy?" .
The Garcia sisters , one of whom had already performed a very impressed aerial act solo,performed a very impressive mermaid inspired acrobatics act with water which was unlike anything I had ever seen before.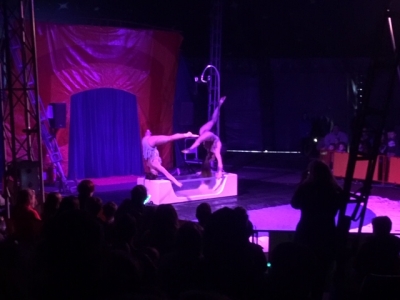 And Salvatore ( a big hit with the mums) completed an incredible aerial act which literally made my heart jump in places as it really had that danger factor.
John Lawsons circus is at Van Hage Great Amwell until Sunday 23rd February. Although they usually return each Easter and summer as well so keep an eye on our Whats on guide for further dates, Its £6.50 per person and under 2's are free.
You can find more details of how to book here:
Thanks for having us John Lawsons and thanks for reading.
Lots of Love
Kayleigh & The Boys
Xxxx