On Easter Sunday we set off on an adventure. Our first official blogging trip of 2021 to the beautiful and historic Hatfield House. We set off by car and the journey took us around 20 minutes , there is ample and free parking at Hatfield.
Due to covid restrictions the house itself is closed but the formal gardens, woodland trails and parklands are open. I am a huge lover of tudor history and I even had my hen do at Hatfield House, however I realised, much to my surprise, that I had never taken the boys here.
As we arrived yesterday my first impressions werehow organised the parking was, secondly how "unbusy" everything felt and how friendly the staff were. As soon as we got out the car, we were welcomed, wished a happy Easter and asked if we had been before, followed by some top tips.
Our first port of call (always) is the toilets! And we were pleased to find them clean (we visited several times during the day and they were always spotless so I assume they were being cleaned regularly). Covid measures were in place but I was very satisified with the cleanliness of the toilets. due to current restrictions many of the shops in this courtyard area were closed but there was a cafe serving take away refreshments. As we showed our tickets to enter the formal gardens and grounds the children were giving nature explorer sheets to tick off any wildlife they may see enroute and we were given maps for the woodland.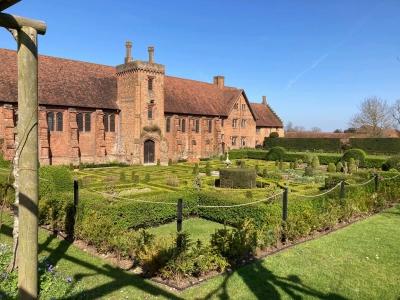 We headed to the formal gardens and my goodness they were breathtaking.Like stepping back in time, I almost had a pinch me moment as my youngest (3) was running through the gardens giggling at a fountain as the sun shone throw and basked us all in a warm glow. There were helpful staff dotted around who were super friendly and enjoyed telling us little facts about the palace. My oldest loved to hear about the royal children growing up at Hatfield House and imagined them running around the gardens just as he had. There were ample benches to sit and reflect and lots of wildlife to keep the little ones attention.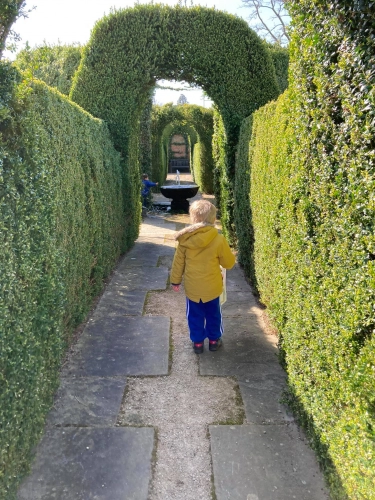 The formal gardens lead us out to a stunning field full of daffodils and brightly coloured plants and trees (I am no expert so couldnt name what they were but I loved the pink tree!) and with a break in the hedge where we could spot the deer, birdsong filled the air and it was honestly just joyful.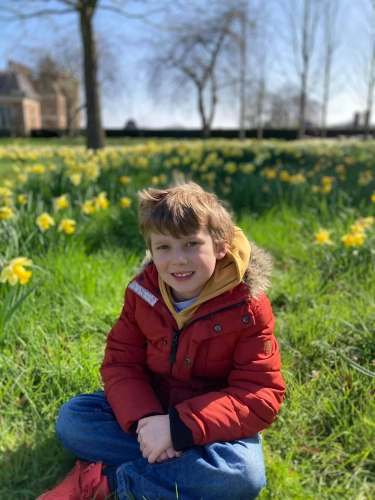 By this point the children were hungry (you cannot picnic in the formal grounds) so we headed out to the parkland and woodland area to have a snack and a drink, there was an ice cream van here too. The sight I saw in front of my almost brought tears to my eyes, people, lots of people though no over crowding. Youngsters playing with newly reunited grandparents, giggling, laughing and enjoying an ice cream. People were very respectful of each other allowing ample room between picnic spots (one thing the ground is not lacking is space!).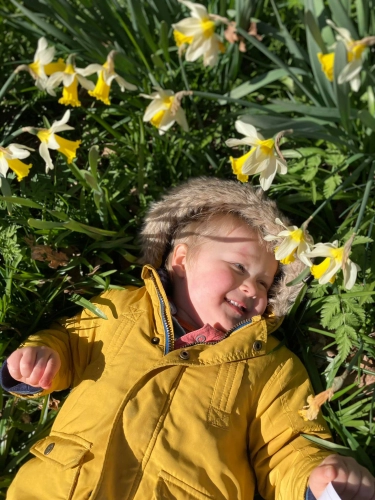 We paused, ate and played for a while before deciding to head into the woodland area, there are several trails marked out ranging from 40 minutes to 90 minutes. Two members of staff had recommended heading down to the river so we followed the blue trail to take us there. The woodland was a hive of information and different trees and plants with helpful signs highlighting what each tree was how it was used. We were delighted to come across two large grass snakes as we walked too. We collected sticks (its a toddler thing) chatted, wildlife spotted and eventually found the river. This was every bit as beautiful as the staff had told us and we paused a while to take in its beauty.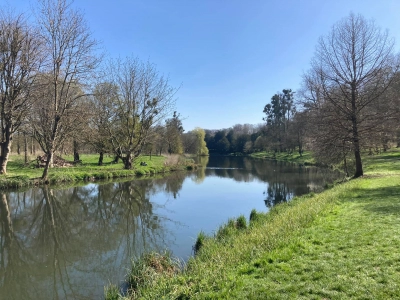 As I was posting on my social media yesterday I was inundated with messages asking if they had "anything on" for Easter? Now if by "on" you mean an Easter trail or anything like that the answer is no. But I would like to say if you are overlooking an attraction simply because nothing is "on" the you may wish to think again. History is always on, nature is always on, wildlife is always on (we saw butterflies, deers, birds and ever two grass snakes!), stunning gardens with historic backdrops is always on and woodlands that span for miles and miles offer an abundance of opportunities to play, learn and explore. I would go so far to say that my children were more engaged at hatfield house that many other attractions.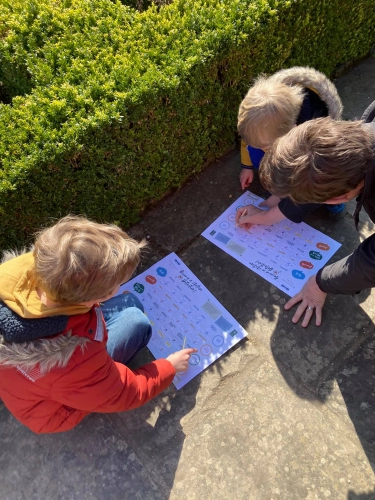 They didnt ask for my phone to play a game on, they didn't moan that there was "nothing to do" and this was because nature gives us so much to engage the senses and creates a wonderful playground of its own full of imagination and opportunities if we only open our eyes to see them. This is something I often learn from my youngest in particular, he can find so much enjoyment from playing with just sticks and stones, he can imagine entire worlds from the simpliest of trees and it really is remarkable to pause and see the world through their eyes for a moment.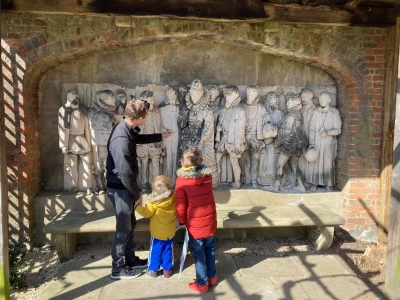 We carried on our blue route out of the woodland taking in the sights and sounds as we went and as we arrived back at the house were amazed that we have spent over 4 hours on site in total. By now my two boys were tiring and I was mindful that I needed to cook a roast dinner. However we all agreed it had been the most wonderful day and one we intended to repeat in the summer .
Our top tips would include sensible footwear, bring a picnic and be mindful that the toilets are located in the courtyard area so go before you go into the woodland.
Thank you Hatfield House for having us, we can't wait to return to your little slice of paradise.
If you'd like to watch our video of our adventure you can see it here.
The great news is Hatfield House park and gardens still have space for this Easter Holidays for more information and to book see here.
Thanks for reading
Kayleigh & the Boys
Xxxx
All words, thoughts and sentiments are my own.
To enquire about booking Mum's Guide to Hertford to review your attraction see here.