Today we set off on an Adventure to Audley End Railway to meet the Easter Bunny.
For 4 of us this would have cost £36 ( 2 adults, 1 child and 1 under 2) so I was a little apprehensive of the cost at first and not having been to Audley for several years was unsure what to expect. Car parking was free.
I need not have worried it was absolutely magical.
We pre booked our tickets (which I would highly recommend) which meant we received priority boarding and were guaranteed a slot on the train time we booked.
The staff are all very friendly here and happily chatted to us as we boarded. It was a bit of a tight squeeze with 4 of us in a cabin but not uncomfortable. And so began our 30 minute journey through the woods, this really is magical for little people as they spot the teddys and statues along the way. I don't want give you too may spoilers here so haven't included any photos of the actual train ride (though you can find some on my social media channels)
The actual woodland itself is beautiful , we spotted a peacock and a pheasant roaming around and went through numerous tunnels until we reach the Easter Bunny's home.
Now this area has come on leaps and bounds since we last visited and I can only describe what happened as an actual Show now with the Easter Bunny and his friends engaging with the passengers and playing, singing and dancing to our delight as a soundtrack narrates what is happening. Then each child (including under 2s) are given a plastic egg which you can place in water at home and watch a chick hatch out. As the Rabbits waved us off we headed back to the station, you exit through the shop here.
However this was not the end of our adventure....
After a quick snack and a mini play in the play area we embarked on the Easter Trail (outside of Easter this is known as Fairy walk) , children are given a spotters sheet and encouraged to tick off different things they may see and look out for letters to make an anagram.
Again this was enchanting with things to explore around every corner and my two boys were captivated (as was I). The Easter Trail took us around 40 minutes to complete at an unhurried pace (and you could go through it as many times as you liked)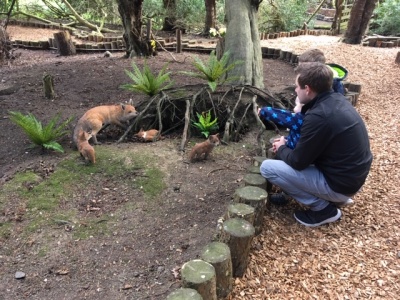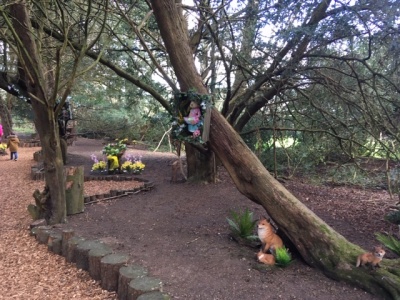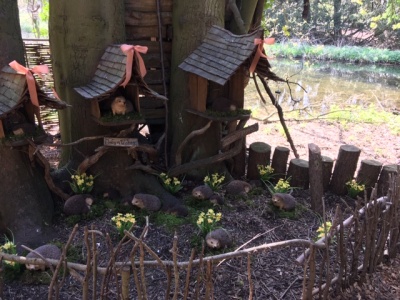 After this we stopped for a picnic (they do sell food there as well) and we sat on one of the numerous picnic benches. Then we headed over to the craft tent, again this was included in the ticket price, and children could make a bunny ears hat which was very well received by my boys.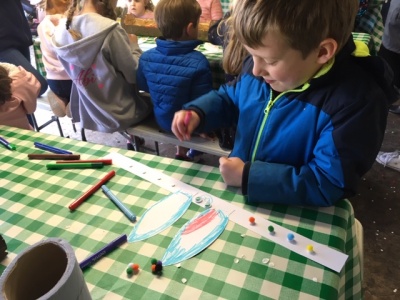 Here is also where you handed in your completed spotters sheet and received a full bag of sweets!
We finished off our day with another play in the play area and soaked up the sights and sounds of happy children basking in the spring sunshine and giddy with Easter excitement.
There was also a bouncy castle and swing boats area this was an additional £2 per person but included entry all day.
The atmosphere at Audley end Railway is really rather special, as each train passes throughout the day all the children stop to wave and all the staff are super friendly. We spent a wonderful 4 hours here and could have stayed longer if my littlest wasn't over tired at this point.
I would highly recommend. You can find all the details of how to book here
Hope you've found this useful if you are considering a visit.
Many thanks
Kayleigh & The Boys