Yesterday (21/12/19) we were invited along to Aldenham Country Park to experience their Festive Farm experience and Santas Grotto.
Sadly my husband was working so we enlisted Auntie Amber to come along with us and set off on our journey to Elstree. Aldenham is around 35 minutes by car from Hertford.
They have recently had a huge flood which does mean there are a lot of puddles everywhere. It also means some of the toilets have been replaced by portoloos. You will need wellies!!
Aldenham Country Park is a not-for-profit farming, food, Rural Care and education enterprise.
They are open everyday from 9.00am except 25th December. Visit 100 acres of beautiful countryside Enjoy the scenery, lakeside walks, explore the farm and feed the animals, playgrounds, pony rides and 100 Aker Wood, home of Pooh Bear and friends.
This year we have been overwhelmed by the number of events myself and my boys (aged 6 and nearly 2) have been invited along to, this is actually our forth santa visit this year (with a very hesitant toddler). Unsure what to expect I was absolutely blown away by the subtle charm of Aldenhams grotto.
The grotto is fairly modest compared to some other attractions however this only adds to its charm. You won't find huge queues for the grotto here at Aldenham, instead the grotto must be prebooked with a time slot and unlike some of the larger tourist attractions there aren't multiple Santa rooms. There's one grotto and one Santa (the real one obviously). We were led into the grotto by a cheerful elf (pictured below).
She greeted the children by name and then asked them to ring a special bell to let Santa know we were here.
As they did they heard a booming "Ho Ho Ho" from behind the door and were invited into the grotto. Here they found Santa , very happy to see them and busy reading through Santa letters. Aldenhams Santa was absolutely charm personified , he was funny, friendly and truly magical. Miraculously within a few moments he had managed to charm my nearly 2 year old into coming over and happily having a photo and high fiving Santa.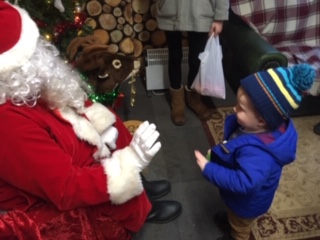 We were not rushed at all and felt the experience was truly personable. You can see from our photo below we are genuinely laughing at our funny Santa and that's real joy on all our faces.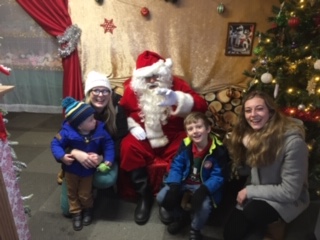 We then were taken by the elves into the toy room to chose a gift. The room was small but well stocked with a good range of quality gifts including some branded ones (Frozen 2 for example). My two chose a toy dragon and a dominos game. Santa even came into the toy room with us to chat to the children about what they were choosing which again was exactly the personable service that Aldenham really thrives on.
After this we were kindly taken around the farm by one of the managers, Nick. He wanted to show us what Aldenham had to offer local families and excitedly explained all about the farms plans.
We had a great time feeding the animals and viewing the petting areas and the egg collection area. There are plans to introduce a walk through chicken area, a barrel ride and a soft play area. We can't wait to see how the place progresses.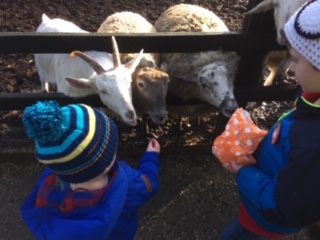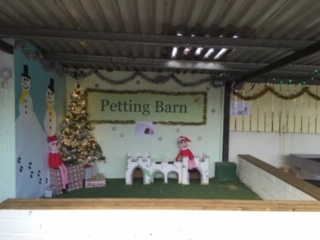 Aldenham is a traditional working farm, its rustic and compared to some other larger farms has a no frills approach but comes with a lot of heart.
Next we were escorted to view SEND which is a purpose built playground and sensory rooms especially for children and young people with special needs. The playground has special accessible sessions in the morning but is available for all to use (subject to a small fee after 11am).
The facilities are open to families, groups, schools or other organisations to make use of.
After this we entered the café for some lunch. Now the café is very small and yesterday did have a limited but satisfying menu of baguettes, toasted sandwiches, cakes , hot and cold drinks and crisps. We were very pleased with our meals. The café is however very small. There is another kiosk nearer to the farm and lots of picnic benches about as well which would be lovely in the warmer months. Nick explained there are plans to build a new, larger, café which will be a welcome addition.
Unfortunately the wet weather meant we did not attempt a visit to the 100 Aker Wood, the home of Pooh and all his friends. You can play "Pooh Sticks" at Pooh Bridge, get inside Eeyore's Gloomy Place, post a letter and even make it all the way to the North Pole! This is top of our list to visit next time however! 100 Aker wood is free to visit. During weekends and school holidays you can even meet Pooh at 2pm!
Aldeham also offers camping, exclusive glamping and facilities for families with SEND children.
We finished our visit with another look round the farm and a good bounce in the playbarn (which has a bouncy castle picture below and a few other pieces of play equipment).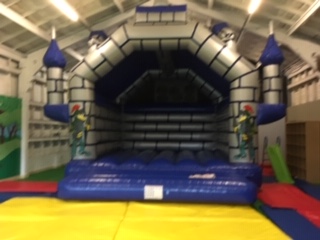 Entry to the farm is £4.50 a child and £5 an adult and there is an addition fee of £9 if you wish to see Santa (do check availability before travelling for Santa to avoid disappointment). Entry to the farm includes a free gingerbread person for children, an elf hunt and animal bingo.
There is a £4.50 Car Parking fee payable on exit.
We left the farm full of festive cheer and determined to visit again in drier conditions.
You will need your wellies if you are planning on visiting Aldenham any time soon.
Thank you so much for inviting us along Aldenham.
Thanks for reading
Kayleigh & The Boys
Xxxx
Disclaimer: we were gifted this experience in exchange for an honest review of Aldenham and the facilities , all words and sentiment are my own.