On Good Friday my husband and I were kindly invited along to be the very first couple to test out the brand new Jacuzzi spa at Stina Payne salon in Stevenage.
Now although spa packages in Hertfordshire are not unusual what is unsual about this particular venture is that they offering children friendly packages, meaning that you can enjoy mummy and me mini spa packages, birthday parties or even just family get togethers at this amazing venue.
This is a totally secluded 8 seater hydrotherapy pool alongside a very luxurious salon offering a range of treatments. Stina was very keen to also appeal to body conscious mothers who may not feel confident enough to attend a larger spa where there may be lots of people. As a mother of two myself I absolutely related to this.
Upon arrival Stina had our gowns and slippers ready and showed us around her salon, treatments start from just £6 and include waxing, nails, massages and more. We were then shown how to use the pool, turn the temperature up and down and how to work the different pumps. We were also able to connect our phone to the speakers of the jacuzzi to allow our own music to play. Stina provides soft drinks for participants although on this occasion gifted us a bottle of prosecco. Then we were left alone for 2 blissful hours. As busy working parents I cant remember the last time we enjoyed such a relaxing time, listing to music, sipping prosecco and watching the sun go down. There are some photos of our experience below.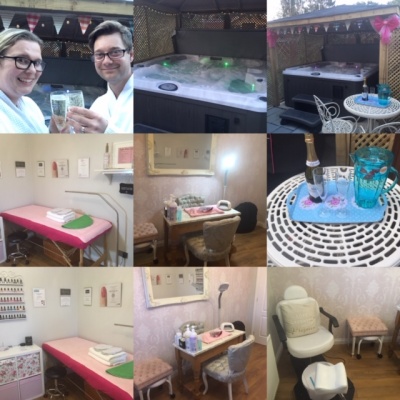 Stina had had lots of Easter parties use the facility over the last week and provides floats etc to add to the experience for children.
As a little girl this type of experience would have been my dream come true and I am sure there are lots of little ones in Hertfordshire who would enjoy some pampering alongside their mummies or friends.
I could see the appeal of having a jacuzzi party with your friends and their children, each taking it in turns to have treatments in the salon. Also perfect for teenagers to have a mini spa experience or perhaps pre prom treatments.
I think this is a very exciting and novel concept and we will certainly be returning.
With packages starting from just £10 per person its extremely affordable as well .
Stina can be contacted via [email protected] or via 07949529789.
Thanks for reading!
Kayleigh