Harry Kane - I want to play football - a tale of hardwork, self- belief and never giving up.
In the tuesday of May half term we took the train into london to visit The Harry Kane exhibition " I want to play football" at the Museum of London.
Its no secret that my little boy LOVES football and spurs and Harry Kane so when i spotted this free exhibiton it was the obvious choice for some little brother free time (he stayed with nanny.)
The exhibition celebrates Harry Kane's career from grassroots football to playing in the World Cup and aims to inspire children.
Now I have to say when i posted on instagram that we were off to visit the exhibition we got some negative comments from "football fans" who jumped on Harrys lack of club trophies but trophies or not Harry Kane is undoubtedly a legend and a hero to many including my little 8 year old who adores him. and hopefully after reading the below they would see that Harry Kane has achieved something far greater than a trophy.
The exhibition includes exclusive items of sporting history memorabilia such as:
Shirts from England, Leyton Orient, Millwall and Tottenham Hotspur, the 2018 World Cup Golden Boot. (Kane is one of only two British players to receive a Golden Boot at a World Cup competition, where he was named Man of the Match three times.)
Kane's MBE, awarded in March 2019 for 'services to sport' after leading England to the semi-finals of the 2018 World Cup and winning a golden boot award.
Kane's debut England shirt, where he scored against Lithuania just 79 seconds after coming on the pitch and so much more.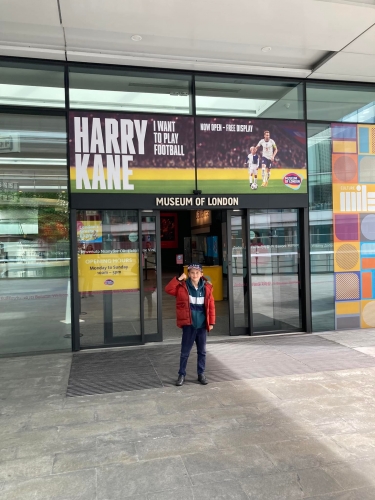 We arrived just as the musuem opened , which was a smart move as for a while we had the exhibition to ourselves. The exhibition is free and included in entry (also free) but you are advised to book for peak times.
Jacob was beyond excited and struggled to know what to look at first ( a kid in a candy store comes to mind. ) He absolutely loved sitting in the mock changing room area and listening to Harry Kanes playlist ( he was super happy it contained some Ed Sheeran- another of his favourites), theres even the chance to try on some of Kanes boots! There was a huge screen showing some of Kanes most iconic goals. Signed shirts, Hatrick balls and golden boots galore!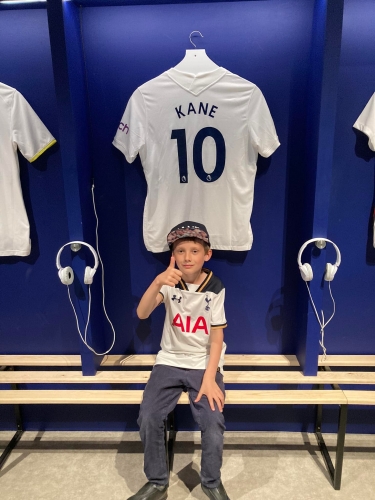 What i found most interesting was Harry Kanes story and just how many times he was knocked back or overlooked during his early career. Harry Kane: I want to play football looks at the life of the Kane and the work and resilience he required to reach the top. It really is rather lovely and inspirational for our little ones. The display features pictures of Harry Kane as a youngster and throughout his career as well personal photos and insights from his close family.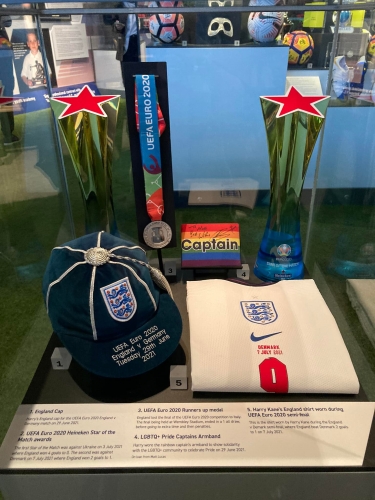 We spent about 45 minutes in the exhibition before venturing into the rest of the musuem (which we were really impressed with!) - we did make two further visits back to the exhibition throughout the day at Jacobs insistence! Spending a total of around 4 hours in the museum before venturing off into london to do other things.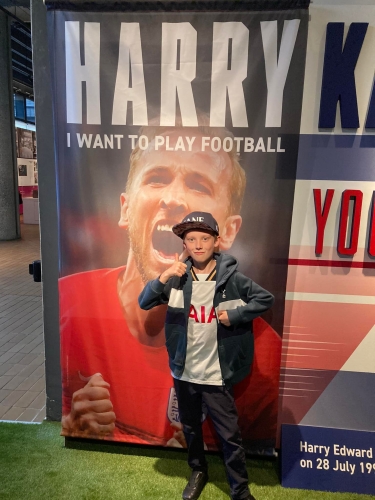 As a parent I think its important for our children to have role models, both those close to them like family and friends but also others such as sporting heros etc to look up to. There is a large poster on the wall of the exhibition with a photo of Harry Kane as a youngster and a quote which brought a lump to my throat " When you are young you will have people who doubt you but thats when self-belief can take you to a level no one else thought was possible. " . I snapped a photo of Jacob sitting in front of that sign reading it and hoped that it was a message that would stay with him, one that translates to a far greater meaning than just football, a message of hard work and never giving up and above all to always believe in yourself.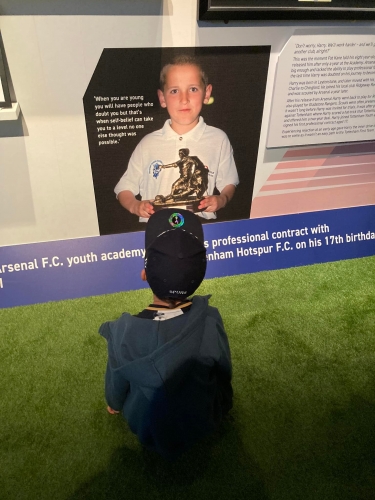 For further information on Harry Kane: I want to play football see here.
Thank you for reading
Kayleigh & the boys
XxxX