As you will know we have been busy blogging about some of our favourite tourist attractions local to Hertfordshire and giving you the low down on the new covid measures that are in place. We know that the current climate can be an uncertain time for many. With many families longing to return to their favourite attractions and enjoy sunny summer days out as a family , however at the same time being nervous after such a long period of lockdown about doing so. I know from the many queries I get to my inbox that many of you are finding it a big dilemma. You worry whether you will still have fun, or whether you will be spending the whole day worrying and desperately trying to socially distance. You worry places wont be clean, you worry about the toilets etc etc. This is where Mum's Guide to Hertford comes in. We have been visiting these local attractions and aiming to give you all this information so you are empowered to make the right decision for your family.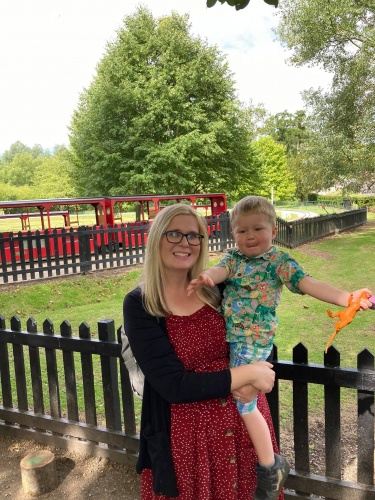 On Monday 13th July we were invited along and given complementary passes to Audley End Miniature Railway. We love Audley End and have visited many times before and so leapt at the chance to visit once more. My eldest was at school and so just myself, my husband and our 2 year old set off on an adventure. It took us around 30 minutes to drive from Hertford to Audley end and it was a pleasant drive with plenty of scenery along the route.
We had been gifted tickets for the 10am train slot, all tickets must be booked in advance and a time slot chosen , although you are welcome to enjoy the new play area and facilities outside of this time.
Upon arrival the first change we noticed was we were directed to the overflow (second) car park which is just a few moments walk from the first one. Here we were greeted by a super friendly car parking attendant who reminded us about social distancing and asked us to follow the gravel path to the railway and asked us to follow the grass path back at the end of our visit. One thing you will notice here is the staff are exceptionally friendly and genuinely delighted to have visitors back again and this sets a very positive mood for the whole experience.
Upon arrival at the ticket desk we were asked for our name and time slot and handed our activity packs with activities for the little ones to do whilst on the train and in the fairy walk.
First stop was the toilets and you'll be delighted to know these were operating on a one in one out policy, were being cleaned every 30 minutes with cleaning spray and materials also left in the toilets should you wish to wipe services before touching them. The toilets were very clean.
Audley End Miniature Railway is operating on one third capacity at the moment and therefore you won't find the facilities over crowded.
Whilst walking to the train, I spotted the new play area and was very impressed even at first glance! Wow! (More on this later).
You are asked to arrive at the train roughly ten minutes before your slot. Upon arriving at the "Choo Choo" (in the words of my 2 year old) we were greeted by the very charasmatic station master and met Kellie the business development manager (who had invited us along). There were clear markings in the queue for social distancing and reminders that the fairies and elves were also socially distancing.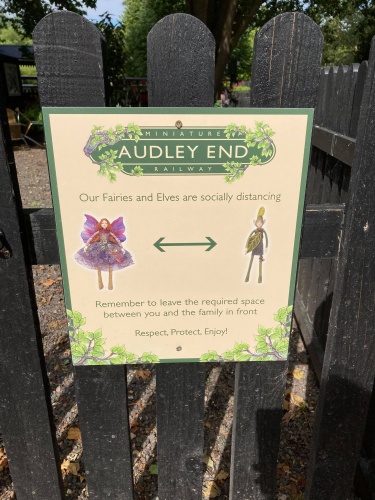 Due to the new measures that have been implemented only every other carriage was filled and you were only permitted onto the platform once the family in front was seated.
Kellie explained that the trains had been treated with an industrial strength cleaner (the same one used by the London transport system) which remained on services for 30 days and in addition carriages were thoroughly disinfected between rides.
As you will be aware, if you've visited before, the station staff are always happy to take a photo of you in your train carriage on your phone. I was delighted to see they were still happy to do this and were changing gloves each time they took a photo it is these tiny touches of normality that really makes them shine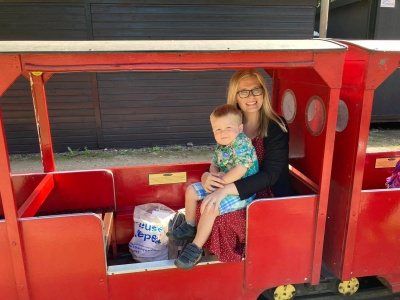 Riders with push chairs were informed that their buggies would be moved during the ride to the main field by the entrance to the fairy walk as the train would now exit there.
As we set off the staff and the fairies waved to us which was a lovely touch.
For the duration of that train ride I forgot about covid, we were safe in our clean carriage and enjoyed spotting the teddy bears along the route with Audley End having all of its usual charm and charisma . In the middle of the ride we were greeted by a smoke breathing (but friendly) dragon and a delightful unicorn. Usually on this area there is some form of performance but this does not take place at the moment. Instead there is an interactive show in the stage area later on in the visit.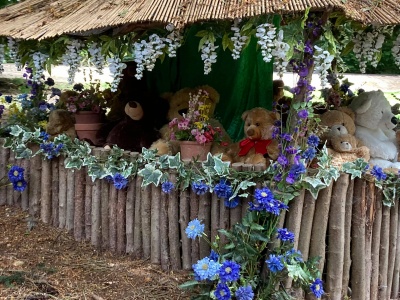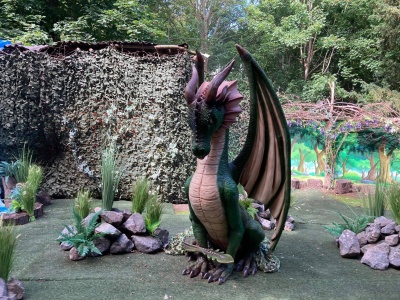 As mentioned earlier visitors now exit the train in a slightly different place and instead of going back to the original platform are taken to an area just next to the entrance to the fairy garden. Here you are greeted by two fairies and handed a craft pack to make a magical wand and make a magical wish to hang on the wishing tree. This is a stroke of genius on Audley Ends behalf by handing out the craft packs individually instead of hosting their usual craft tables they seamlessly overcame the issue of social distancing as you could take your craft activity and do it any where you liked (even take it home if you wanted to). By handing the craft packs out individually to the families it also resulted in a suitable gap between each family as they entered the fairy trail again seamlessly overcoming any potential social distancing challenges. I was very impressed.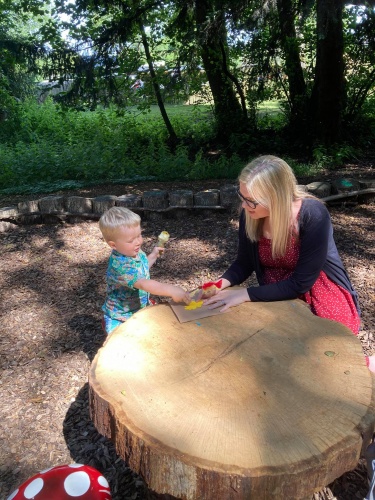 You will notice that the railway is operating on a smaller number of staff, the fairies handing out the craft packs are the same fairies also cleaning the picnic tables for example (if anyone knows where I can get myself a cleaning fairy please do email me!). The staff are incredible, friendly, approachable, efficient and evidently hard working.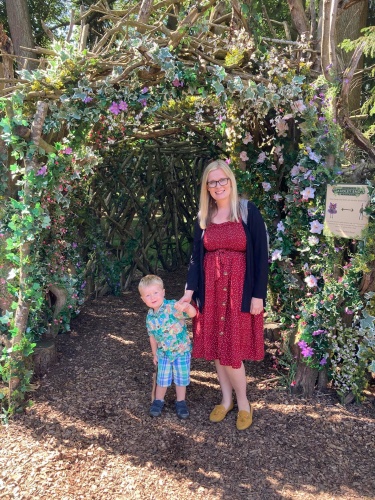 Those of you that know me will know that I adore anything pink, fluffy, sparkly and magical and so if you were able to look directly into my soul you would probably see Audley End Miniature Railway fairy trail reflected right back at you all! I love it! Every thing about it. The attention to detail is second to none and the children had a wonderful time exploring all the different fairy houses, the toadstools , the trolls and the various resin animals dotted around.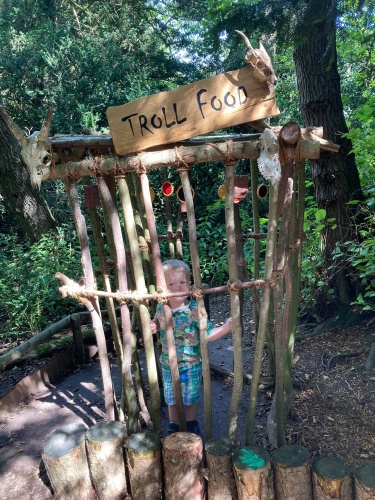 I really would describe it as an immersive experience for families one that sparks the imagination and encourages creative play. There are no time limits here you can wonder at your own pace.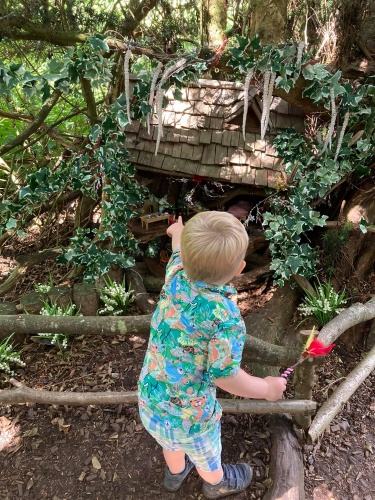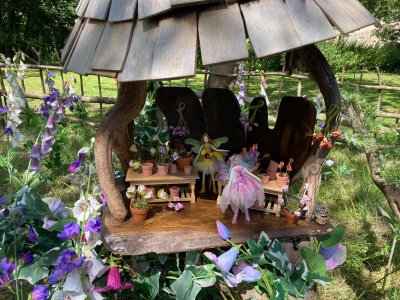 The trail eventually leads you back out to the main field which gives out distinct festival vibes.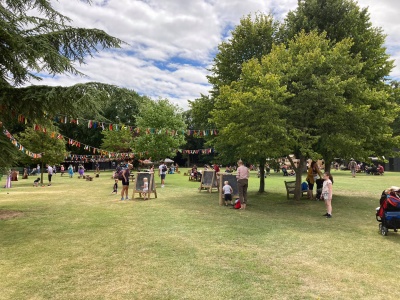 With covered areas to provide shelter, ribbon decorations and a variety of fun carnival activities to keep the children busy. There is a covered stage area pictured below with timed interactive presentations on. My 2 year old absolutely loved the tale about Humpfrey the dragon who couldn't roar and joined in with all the actions and was really captivated.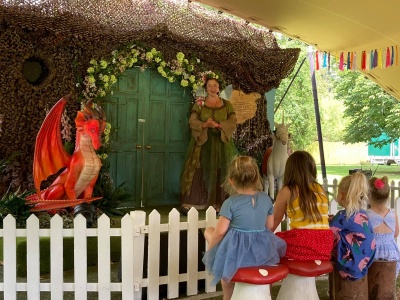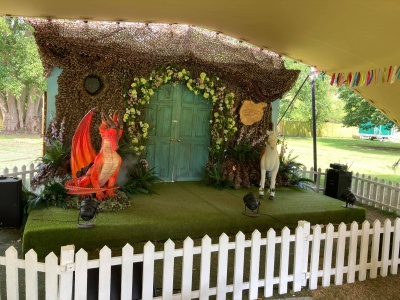 Audley End Railway really has hit the nail on the head here and has created something rather beautiful from a fairly simplistic idea. From the hoopla to the slingshot to the drawing boards or the rather ingenious 3 in a row which my little one loved (see below) there is so much to keep the little ones busy here .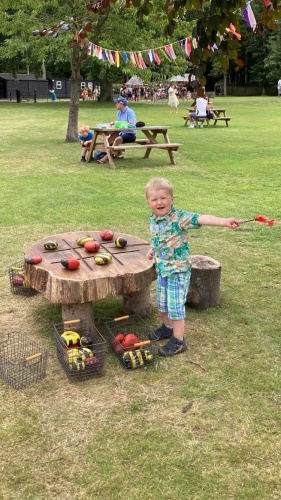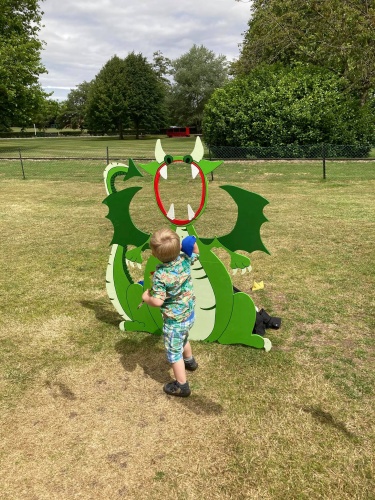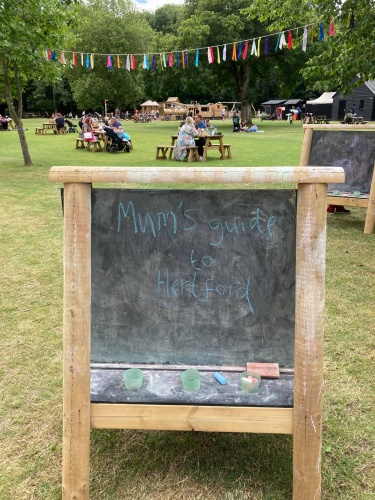 There are extra toilet facilities now on this field, and an outdoor hand washing station. There is also a food and drink kiosk serving hot and cold drinks, food and snacks as well as ice creams (unicorn ice cream anyone?) as well as a small stall selling a few souvenirs, plenty of picnic areas too.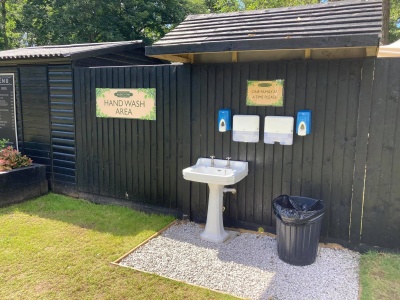 Then of course last but not least was the new play area!!!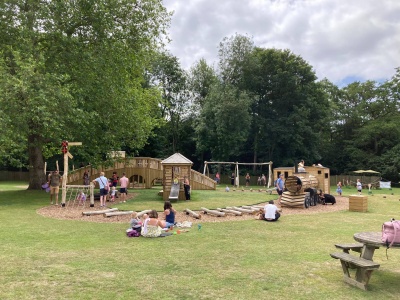 Now I know this is one area that parents may well be hesitant to visit due to social distancing concerns, however I was delighted to see that through careful management by staff here and by parents cooperation social distancing was being implemented really well. I was delighted to see how much thought had gone into not only creating this amazing new play area, but also into hygiene here. Alongside regular cleaning from the staff, there were hand sanitiser stations on each activity and there was spray and cleaning equipment to clean things such as the swings before your child got in (should you so wish). This play ground is the stuff of kids dreams. With slides and wooden trains to play on, bouncy surfaces, bridges to run over and happiness on the face of every child that I saw there, with the overwhelming sound here being the sound of laughter and after so long of our children being kept away from play areas this was music to my ears.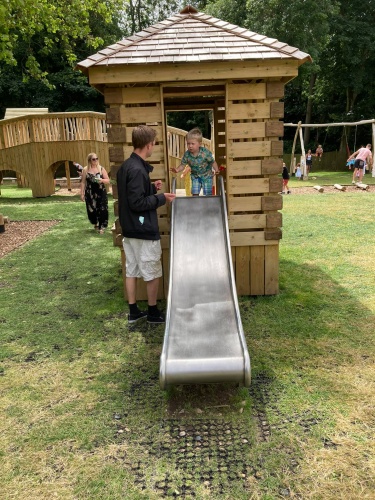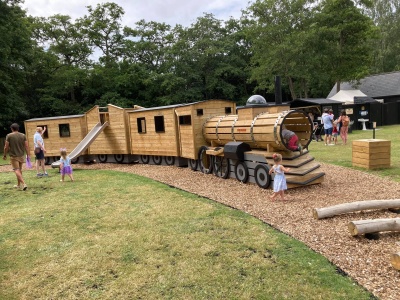 We spent approximately 3 hours at Audley End Miniature Railway and were having such a good time we would have spend even longer but we needed to return home to allow our 2 year old to have a nap and to collect our eldest from school.
My husband and I were super impressed in fact as we headed to the car park my husband commented on how this had seemed just like a normal day out, we didn't feel our fun had been compromised by the Covid measures in place as all and we had enjoyed a blissful fun filled family day out "I needed that" my husband said as we headed back to our car. "Me too" I smiled feeling refreshed by the welcome dose of normality.
As we reached the car the same car parking attendant from earlier was keen to know how our visit went and thanked us for visiting when really the pleasure was all ours.
Thank you to Audley End Miniature Railway for inviting us along if you'd like to visit the railway for yourselves you can find more information on that here.
Thanks for Reading
Kayleigh & The Boys