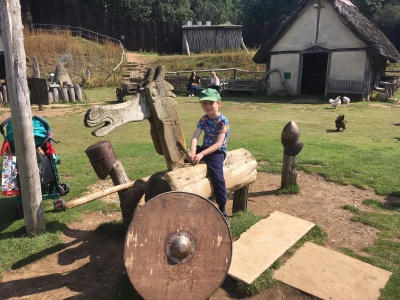 So we are midway through the summer holidays and finally with a bit of sun we packed a picnic and headed off to Mountfitchet Castle and Toy Museum.
We haven't been to Mountfitchet for quite a few years and with the promise of Giant catapult firing we egerly set off on an adventure. With the added bonus that entry includes admission to The Toy Museum on the Hill and my son's summer homework task was to research old toys (killing two birds with one stone and all that).
It takes around 40 minutes to get to from Hertford and there is a pay and display carpark just outside (with parking attendant to guide you) it cost us around £2 to park for 4 hours. There is also a co-op right outside so if you have forgotten anything for the picnic you can grab it from there.
It costs £12 for adults and £10 for children to enter both attractions (under 3's are FREE), children (during school holidays) are also given a little guide where they can find all the stamps around both sites and hand that in at the end for a medal and a prize (be aware some of these are very well hidden so keep your eyes peeled).
What we love most about Mountfitchet Castle is that its unique and totally unlike anywhere else we have been.
Mountfitchet Castle is a reconstruction of a Norman Motte and Bailey Castle and Village. "It is the only wooden Motte and Bailey castle to be reconstructed on its original site in the world " (Source https://mountfitchetcastle.com/your-visit/).
There are many different buildings, siege weapons and different things to explore.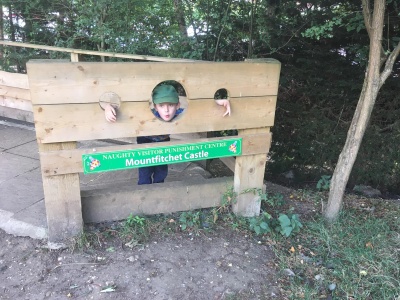 Far from being a traditional museum experience it enables children to roam freely around the outside Norman Village exhibits and truly be immersed in doomsday England. With the smoke from the various fires and the livestock roaming freely only adding to this before being able to explore the castle.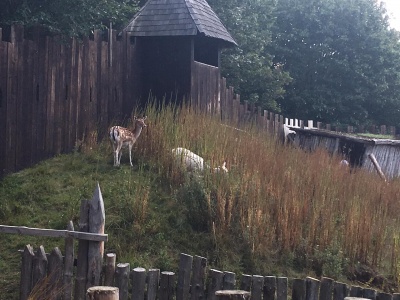 One of the highlights for us (particularly the toddler) was that you get to meet and hand feed the tame Fallow deer and other rescued animals that roam freely throughout the 10 acre site.
(You can buy a bag of food at the entrance for £1 so you can feed the animals ).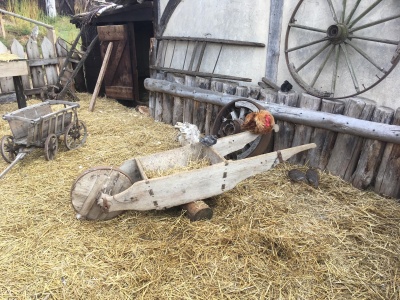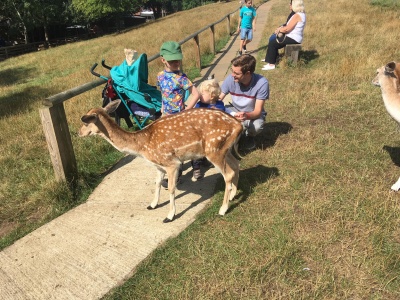 There is a warning sign outside warning that as it is based on the traditional site access for buggys and wheelchairs is limited, this is very true. We had our toddler in a stroller but did struggle in parts . If you have a baby carrier it may be a good idea to bring it with you.
A slight word of warning, some of the exhibits are on the gruesome side (there is a model of a man with his leg trapped in a man trap and a gallows exhibit which shows a man hanging).
Those exhibits serve a purpose (the gallows one is part of an exhibit about crime and punishment in Norman times) but if you have a child of a sensitive nature you may wish to be aware of this before you arrive. But I did not observe any children being upset or distressed about this whilst we were there and my two did not seem to pay any particular attention to those parts.
During the summer holidays at 12 and 2pm staff fire the giant catapult and let all the children who want to, have a go. It fires water bombs and is so much fun!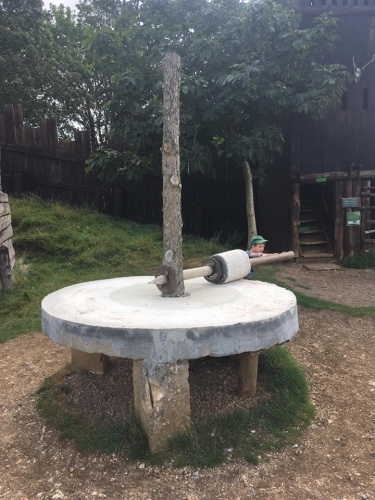 After this we headed back up towards the entrance to eat our picnic. There are ample picnic tables including many under cover. There is a small café inside, serving a selection of hot and cold drinks, ice creams and sandwiches although we didn't use it on this occasion.
Once we had finished and carried out the obligatory toilet stop and nappy change we headed to The Toy Musuem.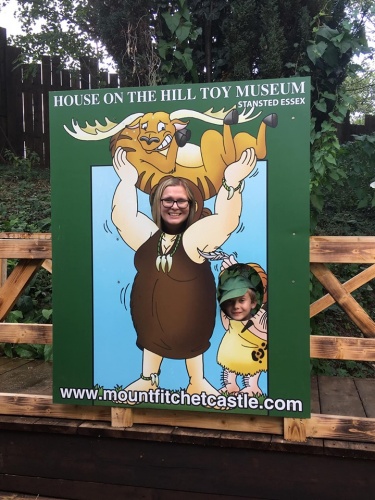 You will have to pass the Dinosaur models on your way to the Toy Museum (be careful they spit!) You can also dig for fossils in a small elevated sandpit outside the museum.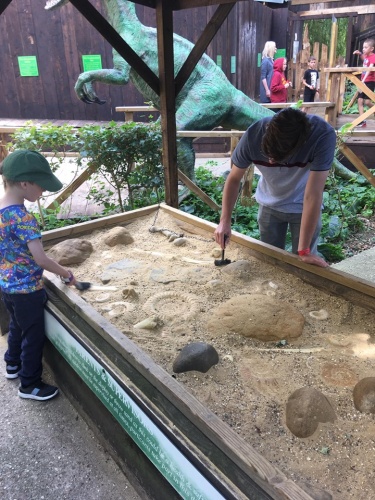 The Toy Museum is rammed packed with 80,000 toys dating from the Victorian times up to recent times. There are a few hands on bits and pieces around the museum to try as well including a puppet theatre, lego and Brio tables and helmets and masks from the world wars to try on. You can also purchase old pennys from the front desk to use in the old slot machines which are lots of fun. Its a good idea to leave any buggies outside as there are steps inside the museum.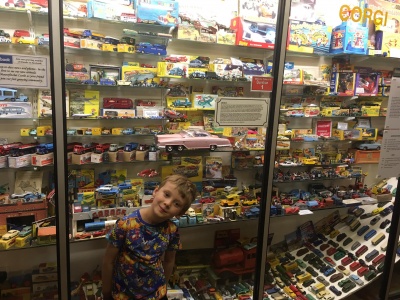 The is an opportunity to enter the haunted manor in the toy museum for the extra cost of £1 per person. We didn't do this on this occasion.
After nearly 5 hours our two were getting tired and grumpy and so we decided to call it a day and exited through the small gift shop.
Mountfitchet has a lot of charm and we love its uniqueness and feel it has a lot of educational appeal. Its not modern or shiny and polished but that only adds to how quirky it is and we wouldn't want it any other way. It was a fabulous addition to our summer and we had a wonderful day in the sunshine.
Many thanks for having us!
Have you been to Mountfitchet Castle? Do let us know what you thought. If youd like to find out more about Mountfitchet Castle you can do so here.
Wishing you a wonderful rest of the summer
Lots of Love
Kayleigh & the boys
Xxxx