Tring Natural History Museum- Small but Perfectly Formed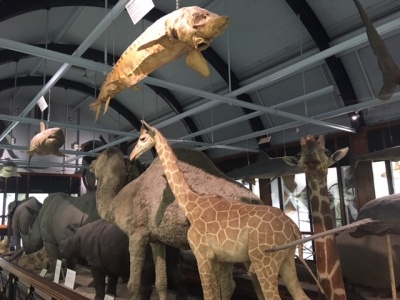 Yesterday as gale force winds hit Hertfordshire we needed something fun to do inside, that would appeal to both our children (aged 18 months and nearly 6) and that was budget friendly.
Luckily I knew just the place and we packed our picnic and headed off to Tring !
Tring is around 50 minutes drive from Hertford (but its worth it I promise!).
Tring does have its own carpark directly outside, but its often full and so we parked in the public carpark which was just slightly further down the high street (its clearly sign posted) and we paid £1.50 to park for 4 hours.
Its around a 5 minute walk to the museum from here and its clearly sign posted.
Top Mum's Guide to Hertford Tip! There are stairs to the entrance if you have a buggy or are indeed in a wheelchair you can enter by the Little Bugs Café (take a left at the black gates before the entrance and its past the toilets on your right) . They have a lift in there which will take you straight up. There is also a buggy store to the right before you enter the first gallery.
The museum is FREE to enter, but they do welcome donations.
If you've never been to Tring before you should prepare yourself that it is much smaller than its London counter part, but it is packed to the rafters with specimens, making for a really engaging site for young children. There are 3 floors accessible to visitors. With a whole host a taxidermy animals, from dogs, to elephants, gorillas to mice, fish to snakes so much to see.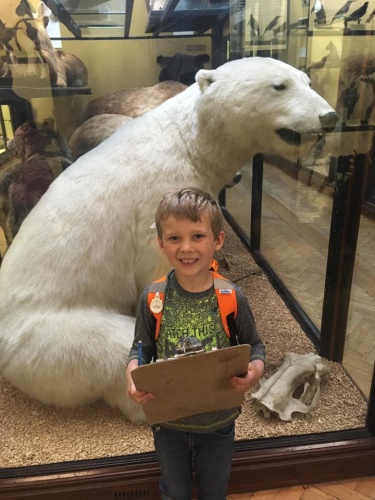 You may have to go round several times to notice everything.
My toddler appeared to be on a sponsored walk yesterday and literally ran everywhere shouting "bird" and roaring at the Big Cats. He let our a loud "Wow " when we entered and he saw a big polar bear.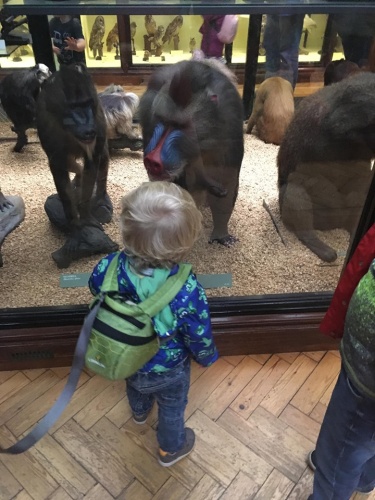 Children can purchase activity sheets to complete if they wish for £1 from reception and there are clipboards which can also be used to aid the experience.
Currently just off of the first gallery they have the British Dinosaurs Exhibition a small but perfectly formed exhibition about Dinosaurs found on British shores, including small specimens. My eldest was fascinated to find he was exactly the same high as a Iguanodons leg bone!!
The top floor gallery is my favourite and there is a taxidermy lizard children can stroke if they wish and a video showing how taxidermy is carried out (for the older ones).
They are also currently hosting create-a-saurus activities in this gallery which is also free.
They have a small and well stocked gift shop.
There are plenty of picnic tables by the exit or you can cross the road to the nature reserve and enjoy a picnic there (but please take your waste home with you.)
If you don't fancy a picnic the museum has its own café (as previously mentioned) with kids meal boxes starting from just £3.49 .
Or you can wander down the high street and find a variety of restaurants to eat in including Prezzo's.
All in all always a great budget friendly day, we spent around 3 hours at Tring including the walk to and from the car, a quick coffee stop and a picnic for a total cost of just £6 (including the parking and the coffees).
Have you been to Tring? Do let us know what you thought.
Keep an eye for more review this summer.
Lots of Love
Kayleigh & The Boys