During the Covid 19 pandemic we, like all families, have been on the look out for more local areas to explore to keep the children entertained (and hopefuly run off some of that excess energy!).
A few weeks ago we randomly decided to get in the car (which is in itself a treat for the children these days) and drive 15 minutes, or so, down the road to Broxbourne Woods.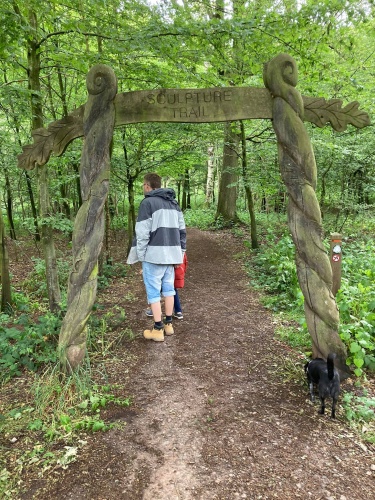 Now Broxbourne woods are not unfamiliar to us, both myself and my husband worked at Paradise Wildlife Park for a number of years and lived in Broxbourne for 5 years. However owing to the fact we now live in Hertford and are surrounded by lots of beautiful places here, we had (until recently) only visited the sculpture trail once in about 5 years.
This has all changed in recent weeks.
What I love most about Broxbourne woods is the escapism it makes me feel, looking around you its not hard to imagine you are in the Scottish highlands or even with a bit more imagination in Canada, as the prospect of a holiday any time soon is remote i'll take any form of escapism I can get.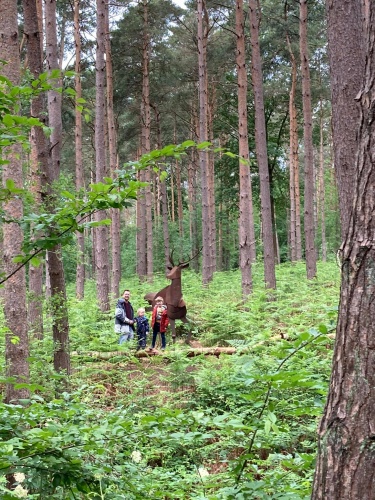 Unlike a lot of local parks the trail, on the occasions we have visited, seems less busy and less crowded. In fact even on a boiling hot may half term day we encountered only a few people and did not have an issue around the figures. If you do encounter people coming towards you its easy to step off the path to enable them to pass safety whilst maining social distancing. The trail itself is around 1 mile long, in a circular route, however there are plenty of opportunities to go off grid (so to speak). Theres a field at the top (which looks a bit like something from jurassic park) which currently has highland cattle in which we enjoyed a ramble in yesterday. We also went off the path to explore the dens which have been built in the woods and to look for animal tracks (of which we found plenty).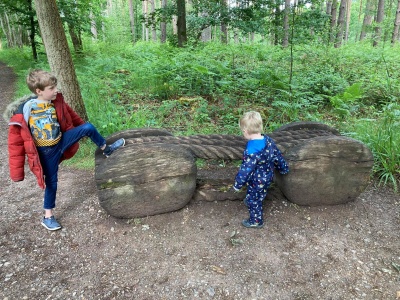 The car parks (there are two I believe and owing to the circular route of the trail it doesn't matter which one you park in) are small and free but we've never had an issue finding a space. Unfortunately on both occassions we have visited, in the far corner of the car park, I have seen evidence of previous drug use (small shiney metal gas cannisters laying on the floor) but these are very much confined to one corner of the car park and I saw no evidence of any such activity on the trail itself.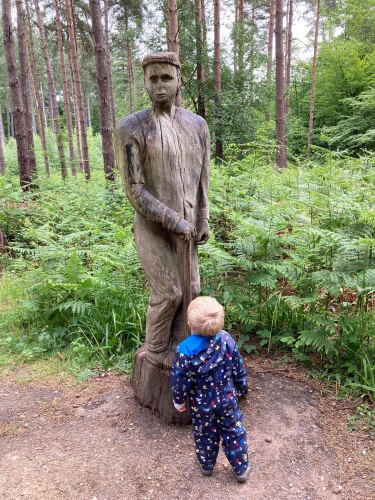 The trail is a little bit rough and ready (shall we say), some of the figures are weathered (understandably) but I feel this only adds to the charm.
I've included some pictures from our most recent visit to the woods for your interest.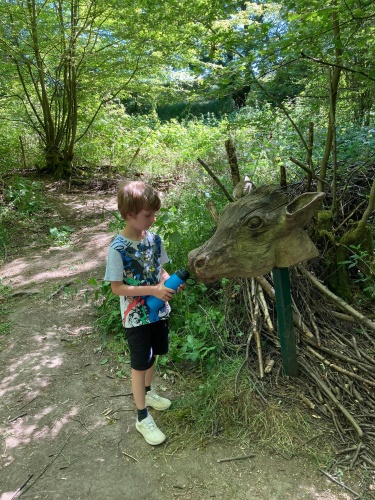 You can find out more about The Sculpture Trail in Broxbourne here.
Do let us know if you decide to visit the trail and let us know what you think.
Thanks for Reading
Lots of love
Kayleigh & The Boys
PS: For those Pokémon go lovers there are a lot of pokemon in the woods to catch and a pokegym!