We'll be Sticking around at the Stick Man Trail!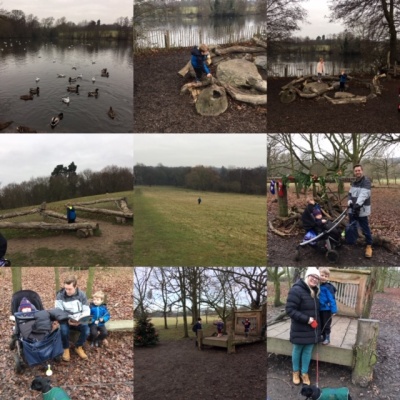 In a bid to ward off the post Christmas blues we headed off to The Stickman Trail at Weald country park.
We are a big fan of the Julia Donaldson books in our family and have previously visited the Gruffalo trail and the Stickman trail and loved them both.
The Stick Man play trail is designed by leading natural play specialists and brings to life the popular Julia Donaldson story Stick Man.
The trail has been designed to maintain the integrity of the historic parkland and its stunning views throughout; with the hope that the trail will help children and their families enjoy challenging and imaginative play.
A massive pro and reason for us going to the stick man trail today was cost! Its free! If like us you are watching the purse strings after Christmas then this will be hugely appealing to you! There is a car park fee and maps for the trail are 50p but even a bag of food for the deer's is free so it really is a budget friendly option.
So we donned the wellies (its very muddy this time of year) packed a leftovers picnic and headed off.
There are two car parks to Weald country park head for the second one as its the closest to the visitor center.
The visitor center is where you can collect your map, deer food, visit the café or (very important with small people) the toilets (with baby change).
Then begin your stick man trail !
The trail focuses around 7 pieces of natural play areas/equipment all themed around various aspects of the Stickman story. A highlight being the stickman house in the middle which is so quaint and lovely, we always take along our own story of the stick man trail to read here as there's something rather special about sitting here and reading the story. This time they had hung stockings for the " stick children three" on the mantle place and put a Christmas tree up which was so cute!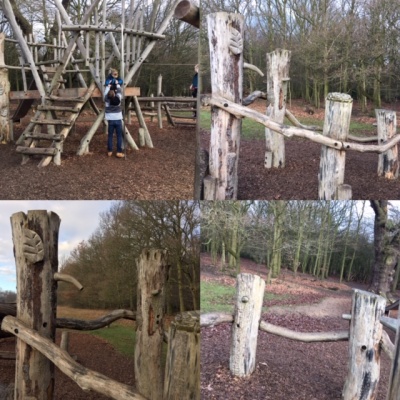 If you take a picnic (or eat in the café) and allow your children time to freely enjoy each play area and feed the deer's and ducks you are easily looking at a good 3 hours of adventure.
We are going to come back in the summer when its a little less muddy, but for now don your wellies, grab your stickman book and your imaginations and go make some memories.
There's a little sign at the entrance to the trail which states " Warning Memory making may lead to dirty and tired children who can be easily restored with soap, water and sleep" and I feel that perfectly sums up this attraction. Good, wholesome, cost effective fun.
<div style="width:165px;padding:0px;margin:0px;border:0px;line-height:0px;"><a target="_blank" href="https://www.tots100.co.uk" title="TOTS 100 - UK Parent Blogs" rel="nofollow"><img style="width:165px;height:110px;border:0px;margin:0px;padding:0px;" title="TOTS100 - UK Parent Blogs" alt="TOTS100 - UK Parent Blogs" src="https://www.tots100.co.uk/top/badge-10351-2.gif" /></a><br /><a target="_blank" href="https://www.tots100.co.uk/top/sponsor.html" title="TOTS100" rel="nofollow"><img style="width:165px;height:56px;border:0px;margin:0px;padding:0px;" title="TOTS100" alt="TOTS100" src="https://www.tots100.co.uk/top/sponsor.gif" /></a></div>