Its Pumpkin Festival time at Willows Activity Time once more !
The Pumpkin Festival at Willows Activity farm is an annual tradition in our household. As a blogger we are fortunate enough to be invited along to lots of Pumpkin Picking events and Halloween days out , despite the number of events we attend this time of year Willows Activity Farm year after year remains one of our favourites.
Now its important to point out that a day out at Willows farm doesn't come cheap with tickets costing £24 each!! If its just a pumpkin patch you are interested in there are obviously numerous pumpkin patches located in and around hertfordshire which are significantly cheaper to attend (some ideas here).
However of course Willows Activity Farm is not just a pumpkin patch, you are paying for a full day out at an attraction. We've included the schedule below to give you a better idea of everything that Pumpkin Festival has on offer.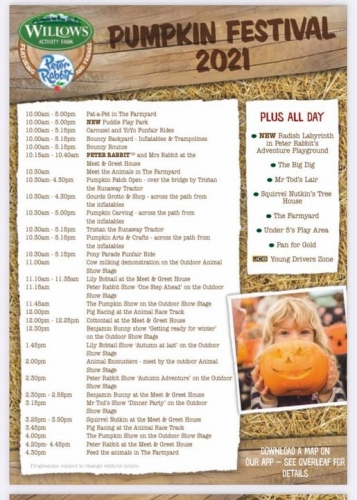 Upon arrival you will be handed a scratch off Halloween Trail to complete during your visit (don't forget to collect your badge before you leave) , a schedule (same as above) and tickets for the pumpkin patch .
As usual Pumpkin Festival sees the farm transformed into a Halloween paradise, with Gourds Grotto (which remains the prettiest and most Instagram worthy Halloween display I have ever seen!)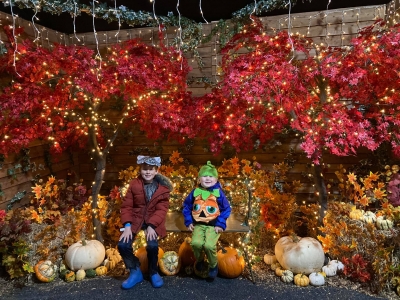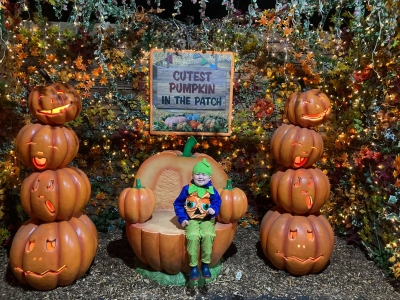 Honestly the photos above do not due it justice at all!!
Theres also Halloween arts and crafts which are included in your admission (collect from the refreshment stand outside Gourds Grotto.) Patch The Pumpkin also returns for her rather sweet Pumpkin show on the outside stage.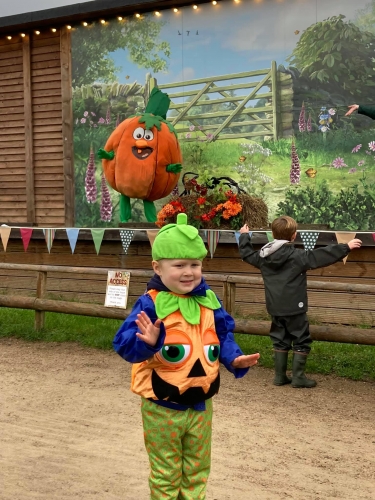 And the woodland (that you access via Tristan the Tractor) has also had a halloween makeover.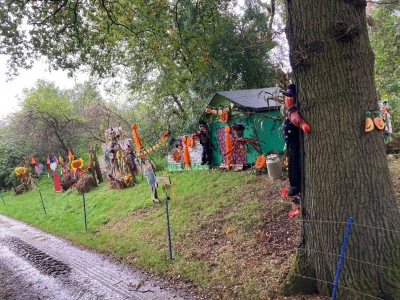 And of course The Pumpkin Patch is open! Do wear wellies and water proofs because you will get muddy. On arrival you are given a token which you exchange for one pumpkin per child at the pumpkin patch. This year Willows have more pumpkins that I have ever ever seen. They just seemed to go on and on and your children can roam the pumpkin patch to find their perfect pumpkin.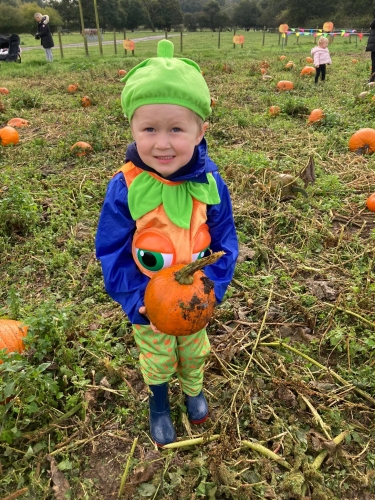 Top tip- collect your pumpkins as the very last thing you do all day or you have to carry them around all day!
Theres also a pumpkin carving area, if you'd rather carve your pumpkins on site (and leave the mess there!)
Of course alongside all of the halloween activities this half term there is everything else willows has to offer, animals, rides, character meet and greets, bouncy pillows and inflatables, jcb play area, brand new splash area (probably a little chilly for that though) and play areas galore, the peter rabbit play area really is rather special, pig racing, cow milking demonstation and so much more, enough to easily fill a full day there. There is a selection of hot and cold food to purchase, baby change in nearly every cubicle, and lots of under covered picnic seating too.
At present there are still tickets available for pumpkin festival at Willows Activity Farm (with arrival slots from 11:30 onwards) for more details and to book see here.
Willows- as always it was a pleasure.
If you'd like to view our instagram reel of our visit you can do so here.
Thanks for reading
Kayleigh & The Boys
Xxxx