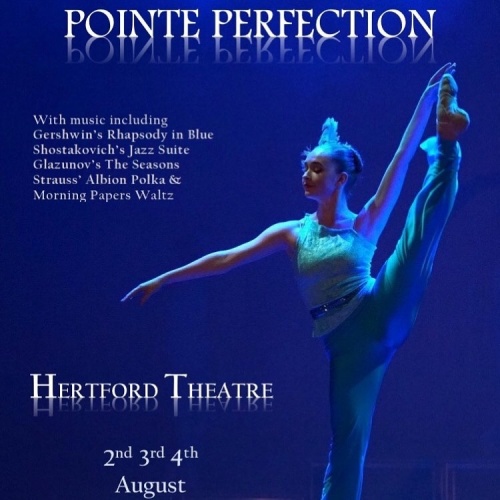 Yesterday my eldest son and I were kindly invited along to view the Matinee performance of the Three Counties Youth Ballet at Hertford Theatre.
The performers ranged in age from age 8-16.
Originally created by Miss Sharon Shakespeare the Three Counties Youth Ballet was relaunched by two former members to give a new generation of young talent an amazing performance experience, and what an amazing performance it was!
To give a little back ground to this review Georgina Pay School of Dancing has been one of our highlighted listings since the very start of Mum's Guide to Hertford and many of the young performers in this production were Georgina Pay Students.
We are total ballet novices (apart from the annual ballet that cbeebies puts on) and my son being nearly 6 years old and having shown no interest in Ballet, I was unsure how he would find the performance. But as a parent I am always keen to expose him to different activities to widen his knowledge of the world.
I need not have worried at all! He loved it!
As soon as the curtain lifted and the music for the Grand Defile began (which had been specially written especially for the Three Counties Youth Ballet) he was captivated. It was dramatic and atmospheric and simply stunning.
There were 2 intervals of 20 minutes each which was ideal for younger audiences as it gave them an opportunity to have a toilet break and stretch their legs!
The Performance of Seasons in Act 2 was my favourite, the scenery and the costumes were simple beautiful with particular praise for Ruby S-M (Mother Nature) who at just 16 was exceptional, every single movement, even the subtle, had a grace far beyond her years I am sure she is a star of the future and will be following her career with interest. And Isla M as Blue Bird who was my little boy's favourite.
I had no idea what to expect prior to this performance but the scenery, lighting and set design are exceptional.
Act 3 began with "Just A Walk in the Park" which again was a beautiful example of storytelling through dance and as an introduction to the Arts for my son was a great opportunity for him to interpret what was happening on the stage. Particular praise here for the Ribbon Waltz which was breath-taking to watch and the Boats and Planes performers who were simply adorable (there were audible Awwws from the audience at this point).
The Show ended with a specially choreographed signature waltz which was quite frankly exquisite or in the words of my nearly 6 year old "really really good" and the show ended to rapturous applause. There were many of the children's parents in the audience who were fit the burst with pride (as they should!)
What is every more remarkable here is that this young cast had only 11 days to rehearse before the first performance!
So there you have it something a little bit different for us this time, If you've never seen a ballet then do keep an eye out for future performances by the Three Counties Youth Ballet.
I promise you wont regret it and you'll be transported through dance to a different world which was beautiful.
To all the young performers who took part a huge congratulations you were incredible! Congratulations !
Thanks for Reading
Kayleigh & The Boys