Lee Valley Animal Adventure Park (formally lee valley park farms) recently reopened after being closed since March 2020 under new management having been taking over by the amazing team behind Marsh Farm. As a result there has been some changes to the farm , the old soft play has been replaced by an indoor theatre and there are many changes underfoot. Currently there are a few less animals at the farm than you would probably expect however this is likely to change as the farm develops and rebuilds after such a tough time.
Kidsfest promised to be "like Glastonbury" for kids and we were delighted to be invited along on opening day to review the experience for our followers. Lee Valley Animal Adventure Park is just a 20 minute drive from Hertford and carparking is free and ample. Booking in advance is required.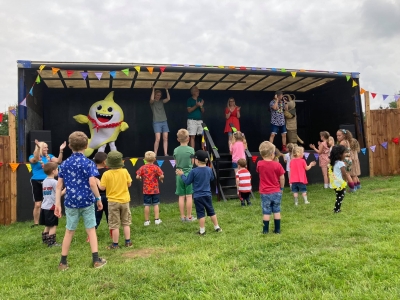 One thing that immeadiately struck me as soon as we arrived was the friendliness of the staff, all of them, from the lady who greeted us at reception and explained about what was going on, to the very excitable glitter station team, the team on the bouncy castles who engaged with my children and encouraged them to play in a way that no one else ever has (and I have visited a lot of attractions and events since Mums Guide to started nearly 3 years ago)! I was literally blown away, I felt instantly welcome and at home.
The main part of kidsfest is on its own field (just behind the Meerkats) and i loved that everything was mostly in one place, it meant that there wasnt the constant slog of walking from one end of an attraction to another to take part in activities, the vast majority of the events and activities at kidsfest took place on that field. From teacups, to arts and crafts, glitter station, live shows, princesses, superheros, dancing, costume characters (we loved baby shark and Monty the Meerkat) and more inflatables than my kids could have even imagined it was all there. Plus a handy refreshment stand and fun photo prop area (I had way too much fun here).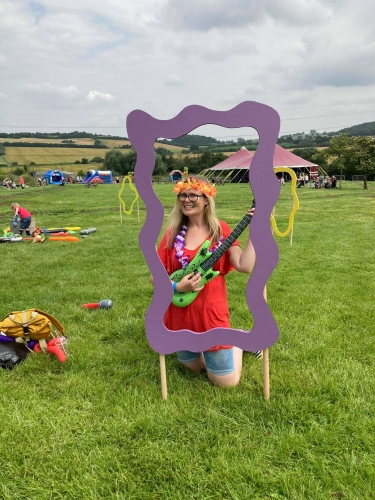 There was also a little car race track and even a foam party area (bring swimwear and towels!)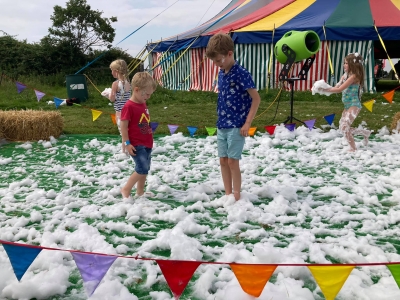 Between the hours of 10am and 4:15pm there was constantly something going on. Between the first princess show and the superhero training we took 5 minutes to sit and have a snack ( why do they always need a snack!?!) and as an example of the exceptional service we received yesterday a lady appeared and offered to make the boys balloon swords (also included). I also understand that it was many of the teams very first day yesterday and all I can say is wow!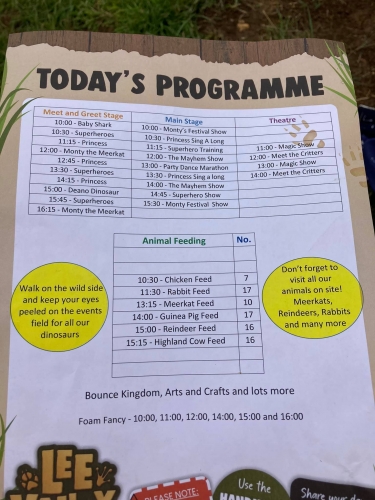 I had to laugh at the map which mentioned "Don't forget to visit all the animals on site" because with all the excitement of full of festival fever, I had totally forgotten to look around the rest of the farm, but we did head off for a wander and enjoyed seeing some the animal residents as well. We also met Deano the Dinosaur on our travels who was very friendly.
There was also bouncy pillows and a fun play area to explore and a sandpit that was next to the Meerkats.
Because we were gifted yesterdays tickets I actually had to double check the price when I was told as it seemed too reasonable to be true. Children and adults aged 2+ were just £12.99 and children aged 6 months to 2 years were just £4.99 and under 6 months were free. Now when you take into account this included all the shows, the glitter station, arts and crafts and the foam party and inflatables as well as all the rest the farm had to offer I feel that is comparatively to other attractions very reasonable. Special shout out to Scittleman who was absolutely hilarious.
Our experience was utterly joyful and gave us a taste of freedom to forget all that had happened in the past 18 months, even if just for a little while , don our glitter and party on.
You can more information on kids fest here.
We look forward to watching Lee Valley Animal Adventure Park grow and develop over the next year and look forward to visiting more events with them in the future. For more information and video footage see our instagram reel here. <
Thanks for reading
Kayleigh & The Boys XxxX