Please note that since this article was written a small charge for soft play has been introduced.
Half term has nearly come to an end and we were on the hunt for something to do this Saturday.
The great thing about being a blogger is we get invited along to some amazing things but as a result we were all pretty tired.
Yesterday we stayed home and just played games and made pizza (recipe here) but by 9am the boys were going stir crazy and it was pretty obvious they weren't happy to have another home day. We had things we needed to be doing this afternoon (homework we'd left until the last minute, washing, never ending washing, so we only needed something to fill a few hours. Opening up the cupboards I realised the boys had also eaten me out of house and home this half term (tell me I'm not the only one !?!) so the activity we chose had to include lunch of some kind.
Being a mummy blogger I am very rarely stumped for things to do, as its my job to know exactly what's on in Hertfordshire for children. But today here I was absolutely stumped and exhausted! This was when I suddenly remembered that our sister site, Mum's Guide to St Albans, had recently written a blog about all the things they loved about St Albans.
In this article (which I've hyperlinked above for you to have a nose of) they mentioned Maidenhead Aquatics. They stated that it had a café ( lunch- tick) , Free soft play (another massive tick) and that you could feed the fish for £1 (my youngest has a fascination with feeding fish!) perfect I thought!!
It took us around 30 minutes to drive to Maidenhead aquatics , its literally the next turning from Ayletts nursery (another lovely free activity- they have a free butterfly house in the summer!) but is fairly easy to miss if you aren't looking for it. Carparking is free for 3 hours.
Upon entering the children's faces lit up, to a child this place literally is like an Aladdins cave. I ushered them to the back of the centre to the café and found a table, deshoed the children (is that a word?) and set them free on the soft play whilst I ordered us some lunch. I ordered three meal deals or a sandwich, crisps and a drink each which came to just over £10. The staff were friendly and brought the food to the table for me. There are high chairs should you need them.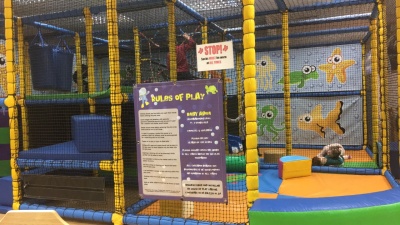 The soft play is small but perfectly suitable for half hour or so of play. The children ate and then played for a further 30 minutes whilst I drank my coffee at the table and observed the boys playing, occasionally intervening as my two year old has no fear and wanted to go down the slide on his head!!!
After this we decided to go and see some fish! Next to the toilet (there is a baby change as well!) we entered a side room full literally floor to ceiling with fish. My children were amazed!! They spent a good thirty minutes looking at all the different types of fish whilst my two year old gave a running commentary " orange fishy" "green one" "big fish" "baby shark" (to clarify there were no sharks) "Dory!!!" they were having a whale (excuse the pun) of a time!!