"I loved it, can we go again?" Jacob aged 8
Its a 10/10 from us!

On Thursday 16 th December we were kindly invited along to the gala performace of "Under the frozen moon" at Southern Maltings.
Those of you have have been to a christmas production organised by Hertford Theatre before will know that these are no ordinary productions, with full on immersive displays created meaning your experience begins the second you set foot inside the theatre. As you will know Hertford Theatre is closed for refurbishment but has found a new temporary home in The Southern Maltings Ware. This is a very different type of show to the all singing all dancing big productions Hertford Theatre usually put on and they have enlisted award winning company half a string to bring an immersive, theatrical frozen-folktale for local families this Christmas!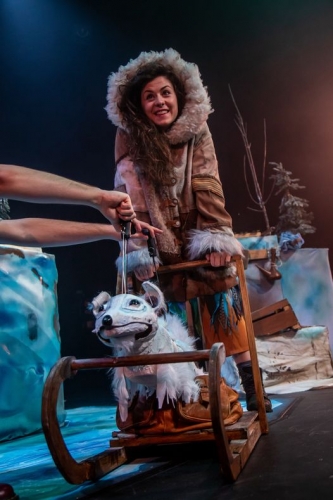 Your Under the Frozen Moon experience begins as you push open the door to Southern Maltings and you enter a sparkling, magical world of ice and adventure. You are invited to be a day visitor to Lunavik; where even the moon is frozen! Hertford Theatre is always a theatre with a (excuse the pun) lot of Heart, and although they are away from their usual venue during its refurbishment they have brought all of their enthusaism, love and care to this new production. From the incredible immersive displays as you enter to the one thousand handmade mini bobble hats hanging from the ceiling (all made by the volunteers!). The Hertford Theatre team are just immense! The Hertford Theatre Christmas shows are always legendary and even last year they did manage to have a christmas show of sorts in the form of the very hungry caterpillar show with dream snow which we managed to see just before lock down last year. They knew that what ever production they put on this year would have to be special and so around a year ago they discovered the creative genius that is half a string.
I met Peter earlier this week to interview him ahead of the launch (which you can read here) after interviewing him I knew the show was going to be special, but I dont think I could have anticipated just how special it would be.
After journeying through Lunavik, grabbing some refreshments and some crafts packs (available to purchase ) made by The Wonderden, we headed via Amkas cottage into the auditorium. Hertford Theatre have managed to create a mini theatre with tiered seating within The Southern Maltings. The stage area is flat on the floor and surrounded by seats from all sides. The performers use all the space so no matter where you are sitting you will enjoy the performance and watch the story come to life all around you.
Obviously I do not want to give too much away but what I will say is the story engages you and pulls you in right from the start, you feel invested in Amka and her journey and I honestly had to wipe away a teeny tear at the end.
Its inspired by a lot of themes around the winter and Christmas and gift giving and friendship and family ,a folktale of how the moon became unfrozen and the world started to turn again.
The puppets are astonishingly detailed, i've never seen puppets seem so expressionate before, even interacting at times with the audience, my children let our audible gasps at points. The set itself is very clever and ingenius with props and puppets popping up from everywhere it seemed.
Special mention must go to the music! Incredible! Live loop pedal, live instruments, enchanting lyrics and beautiful vocals. Amelia Gabriel is an absolute superstar and a true master of her craft . Peter is a creative genius, its astonishing that he makes most of the set and puppets himself, outstanding.
Its an experience that the whole family can enjoy with a message of love, friendship and hope that I feel we can all relate to in these troubling times. For those 55 minutes I forgot all about the worries going on in the outside world and just embrace the story unfolding around me.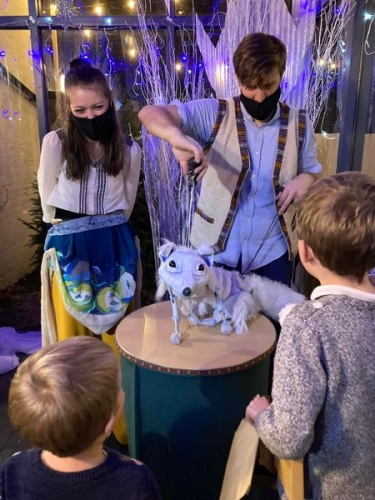 The show is approximately 55 minutes in length (so not too long for little bottoms to sit still, although there are some relaxed performances as well) and you are advised to arrive 30 minutes before the performance to fully enjoy the experience. My children are 8 and (nearly) 4 and both enjoyed it, some concepts of the story went a little over my smallests head but he loved it anyway and was enthralled by the puppets.
After the show the boys were able to meet one of the puppets and were given a "gift from Lunavik" which was a gorgeous touch.
Under the Frozen moon is showing now up until January the 3rd to book your tickets see here.
Thank you for reading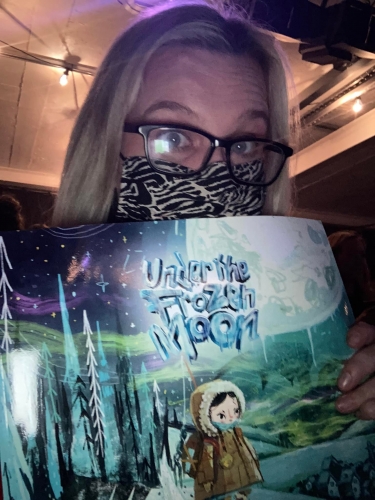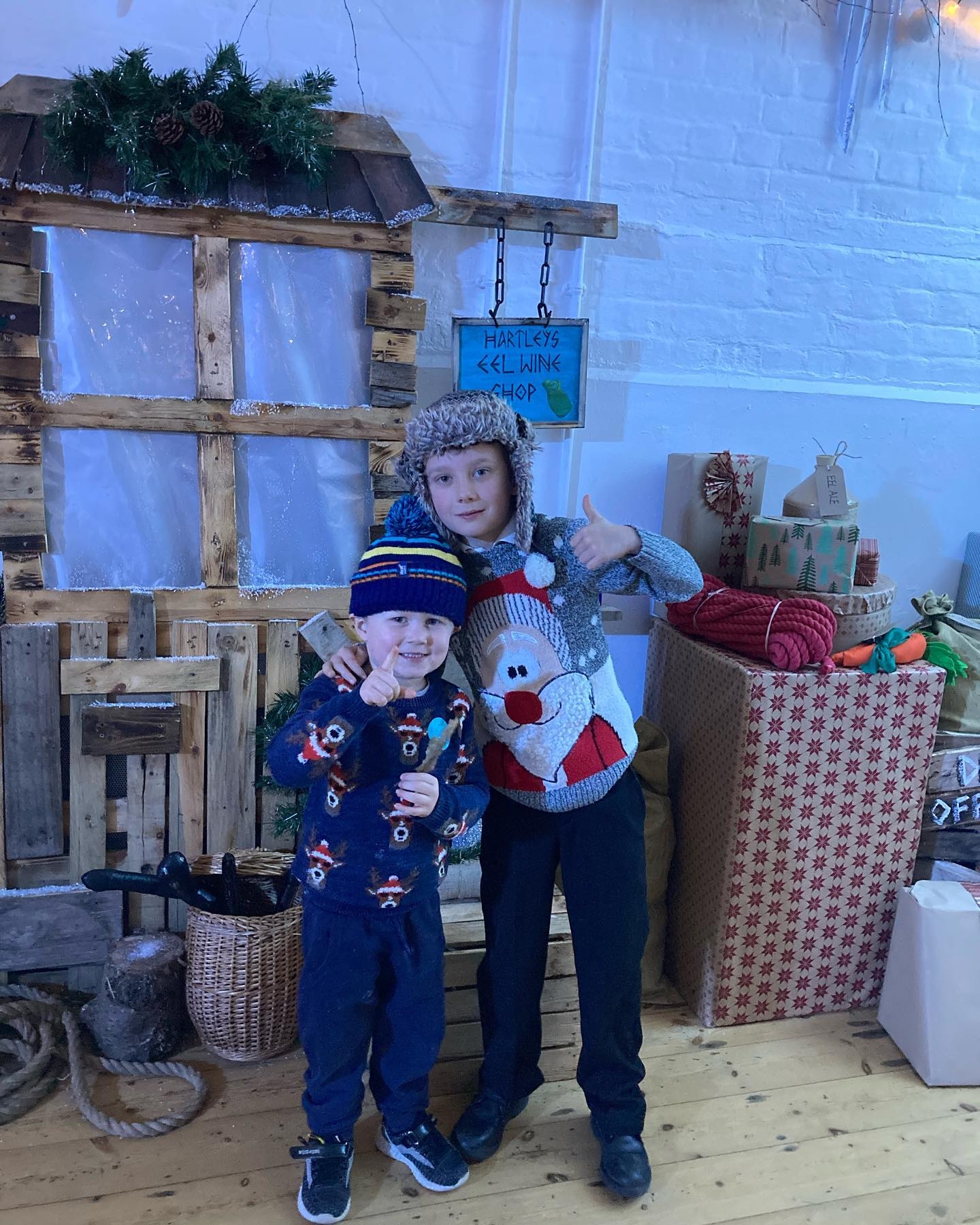 Kayleigh & the Boys.
XxxX