High School Musical Juniors by Cassana Performance Academy
(Photos courtesy of Dave Hadley Photography)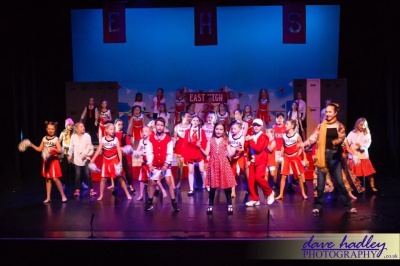 Yesterday we had the honour of being invited along to the last performance of High school musical Juniors by the Cassana Performance Academy at Hertford Theatre.
Cassana Performance Academy offer a wide and variety of performing arts classes to students, catering well to lots of interests. They encourage the love of performance whether they have the passion and talent to persue the performing arts as a career or simply for the love and enjoyment of attending weekly lessons and being part of fabulous shows!
Each year, during the summer holidays, CPA presents a fantastic summer school where students' can enjoy a packed week of rehearsals and training in singing, dancing and acting before putting on a full scale musical production at a local theatre. 2017 saw the first CPA summer school in the form of Disney's "Aladdin Junior" followed by "The Little Mermaid Junior" in August 2018 .
I was amazed when Cassana told me that some of the students were just 6 years old. Putting on a show at the Hertford Theatre is impressive enough when some of the cast are just 6! What is even more unimaginable is that this particular cast had learnt the entire show in less than a week!! That's dialogue, choreography, singing everything!!! A Week!!!!!
If I could use one word to sum up the experience it would be "Joy". When we arrived at the theatre there was a busy hub of students arriving with their proud parents. The atmosphere was electric and the children were all so excited as they hurried off back stage. Cassana herself was on hand to direct them where they needed to go and said a quick hello to us.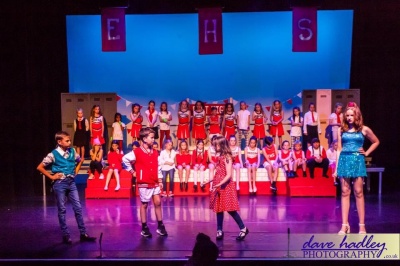 My Son (who is nearly 6) had never seen High School Musical before but was very excited. As the curtain lifted we were very impressed with the set design (which we later found out had been created by Cassana's Husband)!
The Show itself was a spectacular display of enthusiasm from all involved. With lively dance routines, great singing and remarkable acting abilities considering the ages of the students involved.
We are sure that they will be "flying" and "soaring" towards careers in the arts in the future.
Particular mention must go to the young lady who played Sharpay, she was hilarious and acted the part brilliantly and had a lovely voice.
The two sets of youngsters who played Gabriella and Troy were charm personified and did a truly great job. A joy to watch!
We also loved the dancer's during "Bop to the Top" ( a one handed hand cartwheel!?! Amazing!!!)
The whole cast and Cassana and her team should be very proud of themselves.
Upon leaving I asked my son what he liked best about the performance. He said "everything" which I feel sums this up so well. He's even informed me that next year (as he will be 6) he would like to take part himself!!
Thanks for inviting us along
Kayleigh & The Boys
XxX
If you'd like to find out more about Cassana Performance Academy you can do so here