Please be advised this blog post was written prior to Knebworth reopening their play areas and as a result the costs may be slightly different now.
Yesterday, on Fathers day, we embarked on our very first official post lockdown day out as a family.
Knebworth was one of the first leisure facilities which had opened and I had booked our tickets a number of weeks previously. Like many of you who had diligently been following the lockdown rules and socially distancing I was apprehensive of visiting a tourist attraction. However I also desperately wanted to have a nice family day out for fathers day, have some fun as a family and I was very mindful that sooner or later we would need to embrace this "new normal" as least for the foreseeable.
So with that in mind the decision was made and off to Knebworth we went!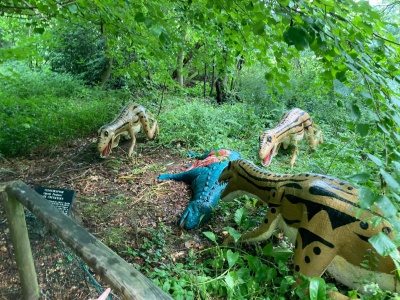 Like mentioned previously you must prebook tickets to Knebworth now and these can and will get booked up quickly especially for weekend slots. There are different time slots available. Weekday sessions - 11:00-13:30 and 13:30-16:00 Weekend sessions - 09:30-12:00, 12:00-14:30 and 14:30-17:00 (correct at time of publication). Paying customers are welcome to picnic in the grounds (not the formal gardens or trail ) outside of your booked hours. So you can arrive before your slot for a picnic for example or stay a little while afterwards. Tickets are £7pp or a family ticket for £25.
We were booked for the 09:30-12:00 slot on Sunday 21st June.
It took us around 20 minutes to drive from Hertford to Knebworth and upon arrival it was clearly signposted and easy to understand. We were delighted to see a family of deer as we drove up the drive (my eldest said it was like being on safari).
We showed our tickets to the booth on the drive and were permitted entry. We parked outside the main toilet block of Knebworth near entry to the grounds.
Please note that at present the house and the play areas (Fort Knebworth ) are closed, tickets are for the dinosaur trail and grounds only.
First stop was the toilet, the thing I was most dreading, but I need not have worried. Knebworth have attendants and cleaners strictly managing the queue, there were markers laid out to ensure families kept 2 metres apart and only one family was permitted into the toilet blocks at a time. There are now no separate male and female toilets. A family is permitted to enter one toilet block at a time which is cleaned frequently between uses. Even with these measures in place we waited no longer than 10 minutes at any point during the day, which was a huge relief.
As we made our way to the queue to enter the formal gardens and dinosaur trail we were pleasantly surprised to see the café was open for take away's, an ice cream van was in place and they had even moved some of the contents of the shop outside on a little stall in case you didn't want to go inside the shop (covid measures were in place.)
We were given a map and an information sheet and off we went. There isn't a one way system in place in Knebworth unlike in some other leisure facilities, however Knebworth is spacious enough for that not to be a problem as long as every one stays mindful of the situation.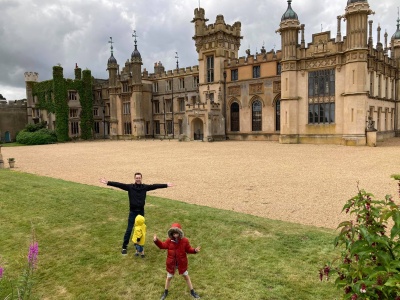 The Dinosaur trail entrance and exit were managed to control numbers and despite it being the busiest aspect of the day it really wasn't over crowded at all and we were able to socially distance throughout. The boys loved seeing the dinosaurs (whom appear to have had a makeover during lockdown) and the new additions of the awesome bug mansion and giants chair. We were then free to enjoy the rest of the grounds , a particular highlight for us was exploring the outside of the house, which we had to ourselves, and we had fun spotting the goblins on the house exterior. I also loved the rose garden.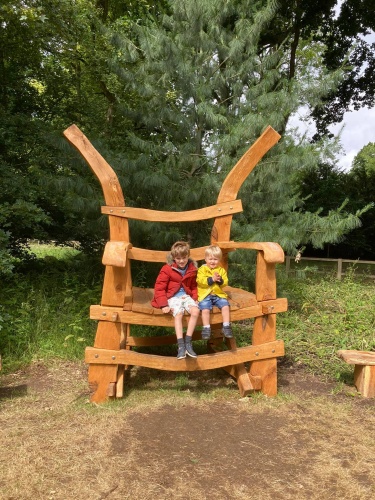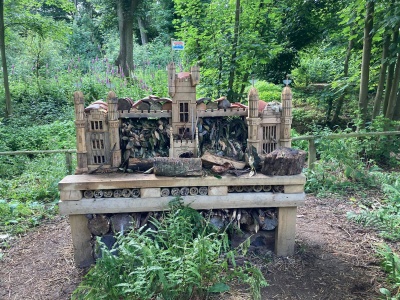 it was so nice to just be out and about enjoying the fresh air and sunshine somewhere different and I have to say Knebworth did a top job of keeping everyone safe.
Once our time slot had finished we went and sat on the grass by the carpark and enjoyed a picnic and flew a kite we had brought with us. It really was a wonderful day.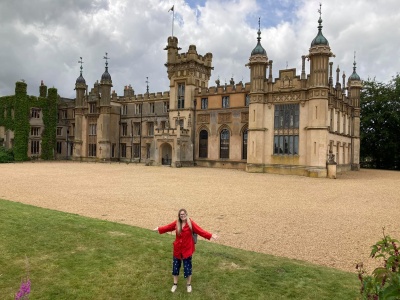 We aim to review a few more leisure attractions in the coming weeks and months which now have covid measures in place and hope that our findings will reassure any of you unsure about taking your first family trip post lockdown. If you have any specific questions I may have missed in this review please do feel free to email me here.
If you are interested in taking a trip to Knebworth yourself you can find more details here.
Thanks for reading
Lots of love
Kayleigh & the Boys