Covid update: Unfortuantely due to Tier 3 restricitons the 18th will be the last live showing of this show for December. However the show was recorded earlier in the week and so you can view it here.
On Tuesday 15th December we were invited along to review THE VERY HUNGRY CATERPILLAR CHRISTMAS FEATURING "DREAM SNOW" LIVE at Hertford Theatre.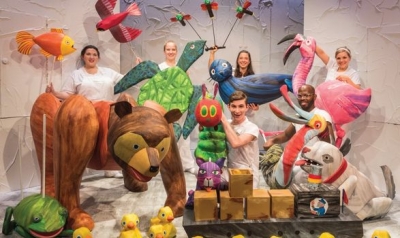 A theatrical recreation of Eric Carle's beautifully imaginative stories, The Very Hungry Caterpillar Show, features a menagerie of enchanting puppets during a magical 50-minute show that faithfully adapts four of Eric Carle's beloved books for the stage.
The production includes the fan favorites, Brown Bear, Brown Bear, 10 Little Rubber Ducks, the newly added Dream Snow and, of course, The Very Hungry Caterpillar.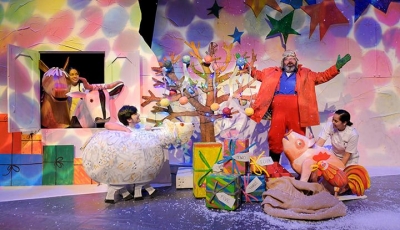 Hertford Theatre, like all theatres, had been forced to close its doors for much of the year and this is its first reemergence into LIVE theatre since the covid crisis. Hertford Theatre has been operating with covid secure measures since the summer as a cinema. These measures can be found here:
My two year old insisted on dressing as a caterpillar for the occassion much to the delight of passers by.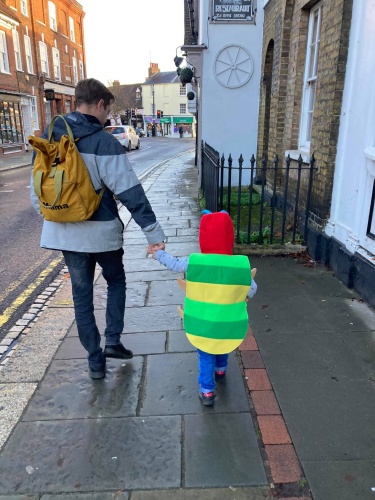 We were greeted at the door by Ben (The front of house manager) who scanned our tickets . We have been to the socially distanced cinema at Hertford Theatre several times since it reopened so we were familar with the measures in place. If you havent been to a cinema or theatre since lockdown I appreciate a first visit back may make you feel a little uncertain but I can assure you that the team at Hertford Theatre are brilliant and coupled with helpful volunteers and clear signage it genuinely is very easy to follow.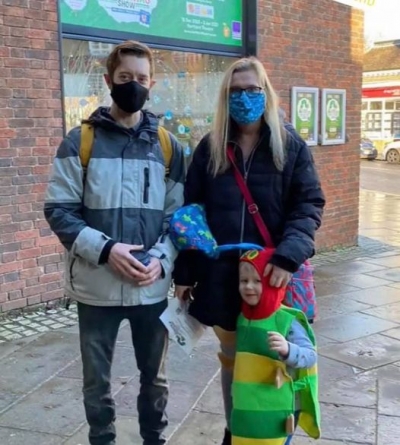 There is a one way system (separate queue to the merchandise) that leads you past some rather cool photo opportunities (including a huge Christmas Tree), to the toilets (if needed), past the cafe and into the auditorium. Every where is clean and adults must wear face masks throughout (unless eating or drinking or exempt). The seating plan has been designed with social distancing in mind meaning capacity has been reduced for your safety and tickets are now in various sized groups for you to choose from.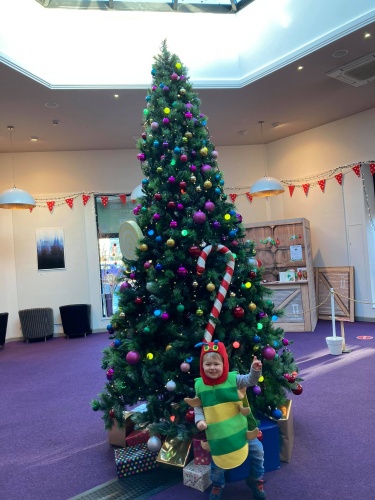 The set immediately captivated my little one and he was eger for the show to start. As explained above, the show features four well known Eric Carle stories with the finale being The Very Hungry Caterpillar. The puppetry is exquisite and the sound of excited children laughing throughout genuinely brought a tear to my eye. The show is (just like the books) enchanting and easy to follow, with the puppets being easily recognisable from the books. The show is approximately 50 minutes in length making it an ideal first theatre experience for even the smallest of Hungry Caterpillar Fans. My little boy gripped my hand throughout, giving it a little squeeze when his favourites came on stage and giggling to himself as the frog puppet hopped about. We ( as adults) enjoyed the show just as much as our littliest.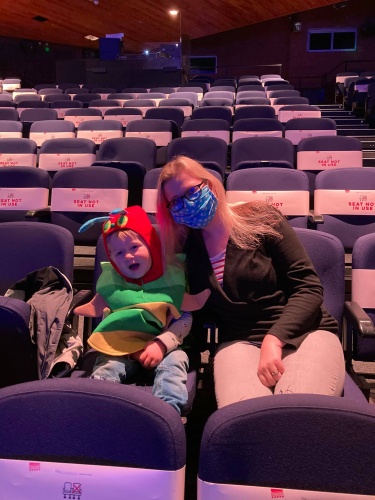 As a family we absolutely adore LIVE theatre and find it captivates the imagination of our small people in a way that a tv or computer screen just doesnt. Last night after the show my toddler found a butterfly puppet and sat himself down recreating the tale of The Very Hungry Caterpillar to his brother, we have read this book hundreds of times and yet something about seeing this show brought to life on stage inspired him in a way the book alone just hadnt before.
My husband was particularly moved by the whole experience noting how wonderful it was to have a little glimpse of normaility during these uncertain times.
The show concluded with a thank you to us, the audience, for coming along and supporting theatre and enabling Hertford Theatre to raise the curtain once more when really that thanks were all ours. Thank you for bringing some sparkle in these uncertain times a glimmer of hope for the future with normality (we hope) not very far away. If you are in need of some festive cheer you will find it at Hertford Theatre in bucketfulls.
There are still tickets avaliable to see The Very Hungry Caterpillar Show at Hertford Theatre and you can find information here.
Thanks for reading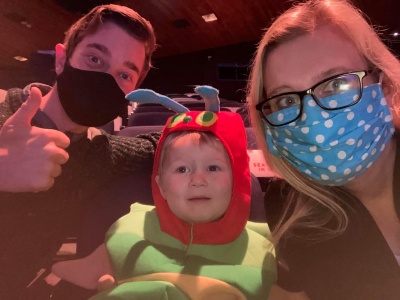 Kayleigh & The Boys
XxxX