When an invitation to the media preview of the newly refurbished The Red Lion in Welwyn pinged into our inbox it would be a lie to say we were not excited.
As a full time mummy who works from home, the prospect of a child free evening whilst sampling food and drink in the name of work, was music to my ears.
I decided to take along a second Hertford mummy (my friend Cat) as my wing woman for the evening and off we set for our 20 minute journey from Hertford to The Red Lion.
There is ample car parking available outside the pub and upon arrival we were greeted at the door by several happy and friendly staff including general manager Jennifer who gave us a tour.
The pub does now look very plush! The team involved have done an incredible job in just 8 days! Jennifer explained that they had hoped to create "a modern, open and stylish look and feel to the pub" which they have certainly achieved .
The pub was cosy and welcoming and the staff seemed genuinely excited to show what had been achieved . They are clearly very proud of their pub! And so they should be!
Everything was super sleek , from the light fittings (which I loved!!) to the carpets! With deep burgundy, teals and purples alongside nature inspired print giving a real sophisticated feel!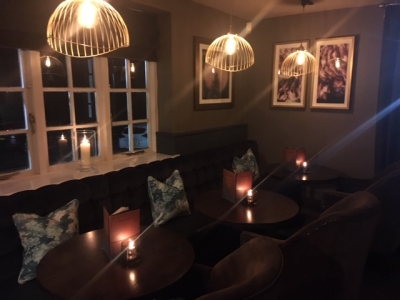 We grabbed some drinks (Gins of course!) and took a seat in the lounge area, with comfy seating and a roaring fire. The staff were very keen to point out that plush as they may be now, they are still a pub, and you can come in just for a drink and a warm up by the fire if you want to. Dogs are also welcome in the bar area! You do not need to eat in order to be welcomed with open arms.
They also have a large beer garden which would be lovely in the summer months.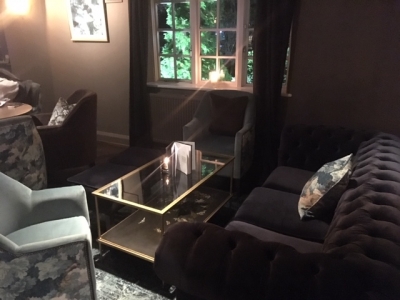 First on my list of questions was Just how family friendly was The Red Lion in Welwyn?
Baby change in toilets- tick
High chairs- tick (and plenty of them!)
Children's menu- Big Tick
The children's menu is fantastic and probably one of the best and most varied children's menus I have seen at a pub. Alongside what I like to call "safe bets" such as breaded cod goujons, pizza, mini beer burgers and Mac and cheese, they also had some wonderful different choices as well such as spiced coconut chicken curry and chicken breast strip with coconut tzatziki. Another big tick from us was that the kids meal mains were only £5.95 and all included at least one of your 5 a day! Puddings were also available for just £2.95 and roasts were available on Sundays starting from £6.95.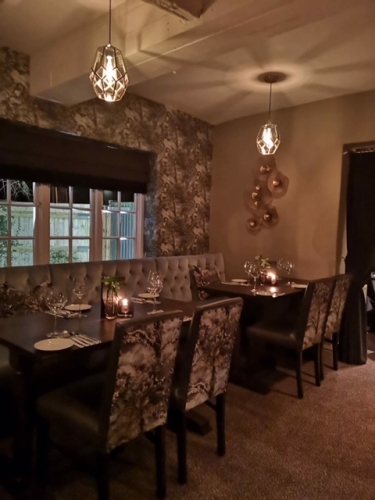 Now seated in the dining area (part of which was pictured above) we were ready to order, we were handed the main menu and the vegan menu (although we aren't vegan we thought it was a lovely touch to just be handed it without having to ask) and the options were plentiful.
We ordered the prawns and smoked salmon and falafel to start, the portions were a good size, service was quick, beautifully presented and most of all delicious. Starting in price from £6.50.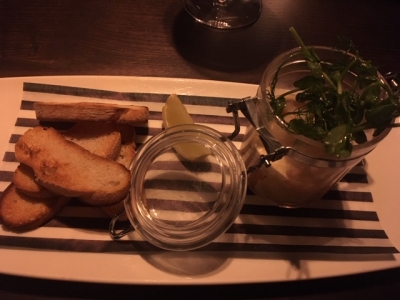 For mains we ordered the Panko Breaded Chicken Milanese and the Lamb Kofta salad both were huge portions, beautifully presented and delicious.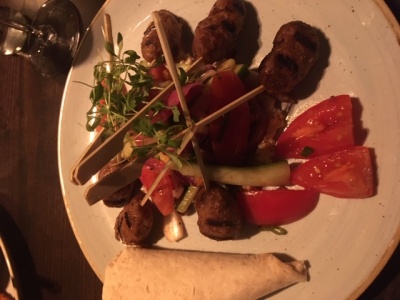 After finishing my main I called my husband and told him we were coming here for date night!!
We paused for more drinks before pudding (mostly because we were so full!!) The Red lion has a great range of wines, beers, spirits and cocktails as well as gin infusions. I was really pleased to see a great range of sin free drinks (alcohol free) including a G&T. One of the things I missed most when pregnant with my boys was having to resort to a boring orange juice , I would have loved one of these. Ideal for designated drivers too!
Finally we ordered pudding , I had the lemon meringue flamed Alaska and Cat has the chocolate brownie both were incredible! Then we ordered coffee to finished which also got the thumbs up from us.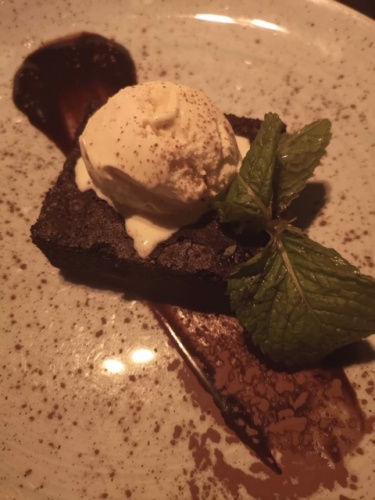 To summarise we absolutely loved our evening at The Red Lion.
Would I come again? 100%
Would I bring my children? Absolutely! and I'm sure they would be able to easily find something they would love from the children's menu. However Im also very keen to come back without them.
Why not combine a visit here with some local Welwyn tourist attractions such as Stanborough park or Gosling Sports Park?
Or do what we did get a baby sitter and come and enjoy some much needed adult time in super plush and luxury surroundings.
For more details on The Red Lion Welwyn click here.
Thanks for Reading
Kayleigh
XxX
Please note we were invited along to the evening by The Red Lion Welwyn and gifted free food and drink in exchange for an honest review. All words and opinions stated are my own and truthful.