The Royal Gunpowder Mills Reopened with a bang this weekend!
Rockets and Tractors and Trains (and gunpowder) Ooh My!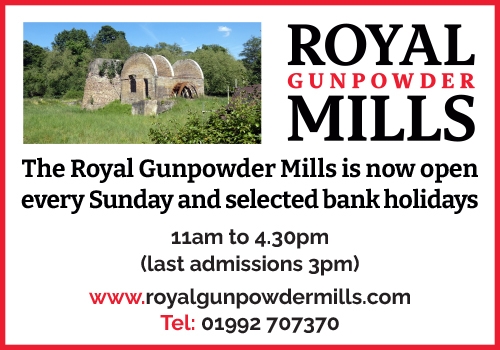 On Sunday 17th April we were invited along by one of our paid advertisers The Royal Gun Powder Mills to their opening day.
The Gun Powder Mills has been closed since the start of covid (minus a few open days), after so long a closure you would forgive some local parents for not knowing exactly what was on offer at the Gunpowder Mills. My friend Cat summed it up perfectly when she said it just wouldn't occur to her that this was somewhere that would be suitable for children. So we are here to help spread the word and to reassure you that not only is the Gunpowder Mills suitable for children , but that it is in fact a fabulously interactive explosion of fun, which my boys absolutely adored.
During my time as site manager of Mum's Guide to Hertford it is no word of a lie to say I have visited hundreds of attractions and local events (and blogged for many of them) however its very rare to find an attraction that the adults and children both enjoy in equal measure. Royal Gunpowder Mills is the perfect mix of entertainment for kids and adults alike. My husband and I genuinely had a great time and not just because our children were enjoying themselves either.
Tickets to The Royal Gunpowder Mills are really reasonable at just £10 for adults and £8 for concessions (prebook online). The Gunpowder Mills are based in Waltham Abbey so approximately a 15 minute drive from Hertford, there is free parking and attendents to help you find a space.
What struck me upon arrival most was the staff, many of which are volunteers, and their obvious delight to be reopened. Everyone was so incredibly friendly and helpful , keen to ensure we had a fabulous day. Probably one of the highest standards of customer service I have ever experienced.
Entry price includes either a tractor ride or a train ride, however if there is space you are allowed to ride on both. You are advised to book a space on this as soon as you arrive.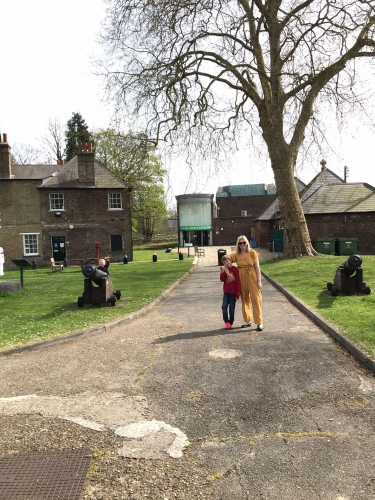 Our first port of call was the Armoury, Film and Exhibiton centre. Our last visit here was when my eldest was about 4 and I was heavily pregnant with my youngest (now also 4 incidentally) and although I remember that we loved it, my memory was a bit foggy as to what was on offer here. I certainly wasn't expecting it to be as engaging and interactive as it was , meaning my 2 boys immeadiately immersed themselves in the activities. My youngest had fun pushing and pulling on spades to reveal facts. My eldest set to work on the interactive screens, learning how to make gunpowder and I lost my husband numerous times as he also was fully engaged in the activities.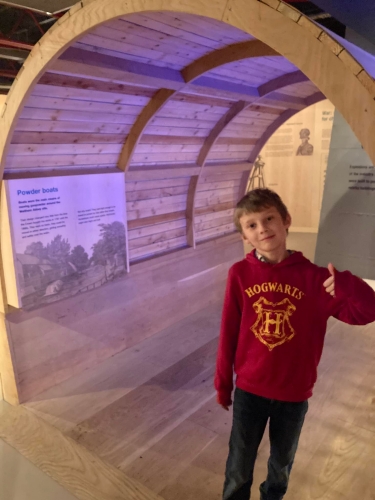 The boys also loved exploring the armoury and were able to handle some of the guns, I appreciate that an armoury may not appeal to everyone, but you could always avoid that bit if you wanted to.
There is also introductory film in this area (unfortunately it wasn't working on sunday but we look forward to watching it another time).
Outside of this area there is a small "Women in War" exhibition as well. My boys loved playing on the cannons as we made our way around the site and again we bumped into numerous staff who were keen to share their knowledge with us.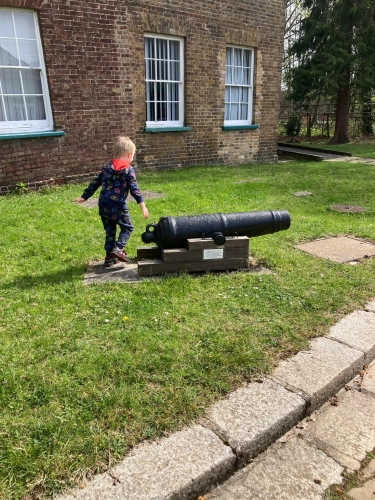 Next us was the tractor ride! This really was something very special indeed! We were lead on a 30 minute tractor ride by Martin, who told us he used to be a chemist on this site when it was fully operational. The ride takes you through the woodland past all the old (now sadly largely derelict) buildings. There was something rather extordinary about seeing nature reclaim the old buildings, with plants growing within and spilling out the doors and windows, we even spotted some fallow deer inside some of the ruins which was magical, almost like a lost world. My children were chilled and enjoying the ride and my husband and I learnt so much, it was genuinely fascinating.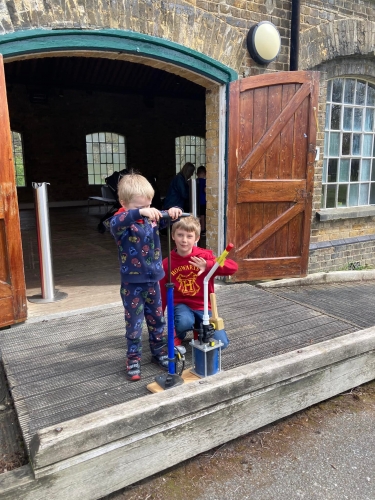 The boys had spotted a sign marked "Rocket Lab" and so that was where we headed next, in here we were told the boys could make their own mini rocket and launch it outside (what a treat), i nipped off to go and get some refreshments and returned to find my husband (again!) fully immersed in making the rockets and had to remind him it was for the children! The staff member in here was also lovely and she lead the boys outside to launch their rockets. This was so much fun. The boys had to use a foot pump to pump the air until it reached a certain level on the pressure gage and then release a lever to shoot the rocket. The boys went absolutely mental for this and did this over and over again until we literally had to drag them away to do something else (and they returned later as well for more rocket shooting!) They just loved it!!
You'll notice i said that i went to purchase some refreshments above, currently Gunpowder Mills are only serving hot and cold drinks, crisps and cakes and ice creams but there are plenty of places to picnic on site. I was so impressed with the price of the ice creams, the boys wanted rocket lollys which were only £1 each! (Bargain!) the cafe itself is light and airey (and was also used to film a Harry Styles music video i was informed!)
I forgot to mention them earlier but the toilets are also very clean (we used them numerous times and each time found them immaculate and there is a baby change on site too).
Next up was the Professor Nitrate show! This is an absolute must do, this man needs his own tv show. I do remember just how much we loved the professor nitrate show a few years back (I think this is a different Prof from back then? But he was equally hilarious!). The shows are currently taking place outside and the they are big bold, bright, funny and messy! They make science fun and everyone chuckle. Prof is absolutel bonkers and we blooming loved every second! There are two different shows on offer "Kaboom" and "Space Race" and i would recommend doing them both.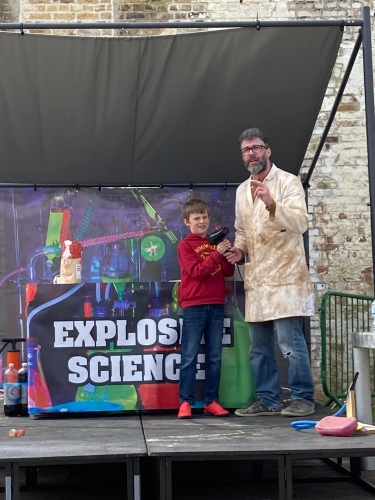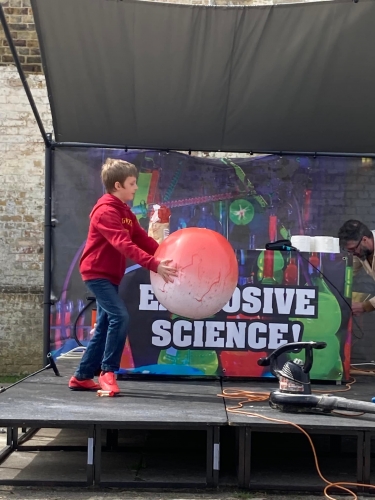 After this we had a ride on the Gunpowder Railway, this was fun, not quite as spectacular as the tractor ride (so if you have to pick pick the tractor ride!).
After this we headed to the Rocket Vault! Filled to the brim with Rockets and lots of cool facts about them, need I say more? The kids were in heaven!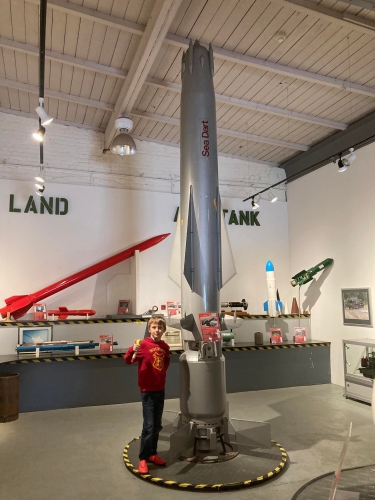 Then there was just enough time for a play in the play area and before we knew it a whole day had flown by.

Considering this was the first proper opening day in 2 years it was impeccably organised. The staff were fantastic and informative and I cannot rave about it enough! We can't wait to come back again soon. Just amazing!

They are open each Sunday now and occasional bank holiday Mondays , we would highly recommend a visit.
For more information and to book see here.
If you'd like to see more of our visit you can view our reel here.
Thanks for reading
Kayleigh & The Boys
XxxX