We've been a number of times to Summerfields' Miniature Railway over the years. Our 6 year old was hugely in to trains as a toddler, so he loved going to ride the trains and look at the miniature railway setups. There's something really special about Summerfields'- it's run by the Bedford Model Engineering Society- a group of like-minded people who are interested in engineering in miniature, from transport by road, rail, air and sea, as well as tools and machinery – in fact anything that falls within the broad boundaries of engineering. The Society's base is at the Summerfields' Miniature Railways system, which is located approximately half-way between Hitchin and Bedford. The railways (there are three track systems at the Summerfields' site) are a popular visitor destination for children and parents alike.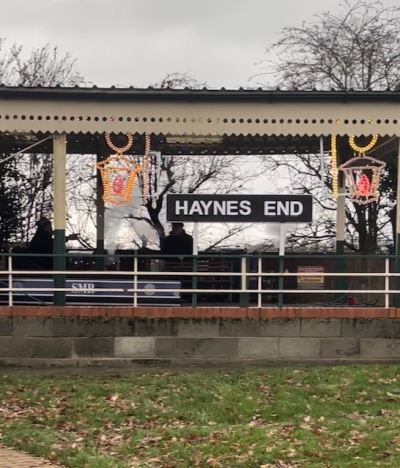 There are regular events throughout the year, but the highlight is their Santa Special- and this was our first time going along! They're a sell-out every year, so you need to snap those tickets up fast. On arrival, you need to check in at the Station Buffet - we forgot about this, and due to the rain and a sad snotty toddler, we waited in the car up until our train time. A very kind volunteer came to our car to check we were the Bell Family and to come along to the train. He even fetched our tickets for us. This is one of the great things about Summerfields'- run by volunteers, there's a really lovely feel to the experience- they simply want you to love the trains as much as they do. All the volunteers make a real effort with their Christmas attire and the station and trains are decorated with Christmas decorations and lights.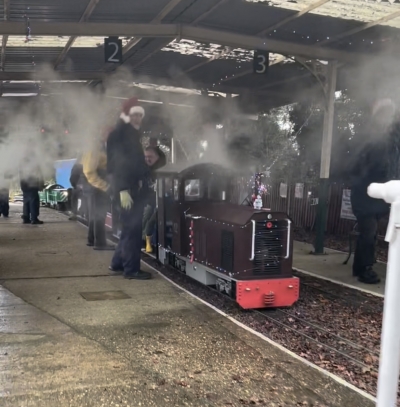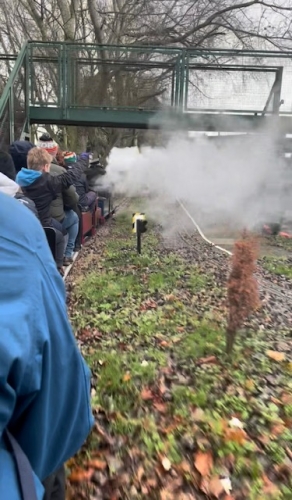 Boarding our train, we set off for Santa's Grotto. It was a very cold and drizzly day, so bear in mind you need to dress for the weather as the train is completely open. After a short train ride, we arrived at the station and were greeted by staff and some of Santa's Elves, who made a real fuss of the children and got them excited.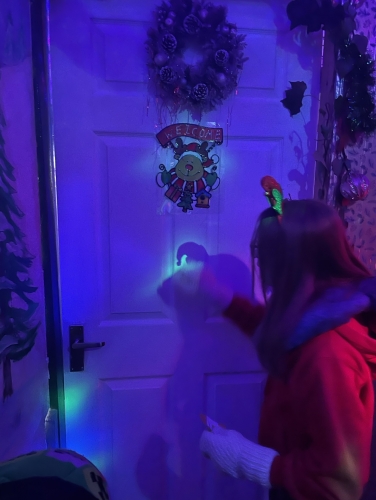 We were led in to the Grotto to meet Santa, who had a lovely chat with our 6 year old and made him feel really special. Our 2 year old was a bit shy, but managed a "bye bye Ho Ho Ho" as we left. They were each given a present by Father Christmas and we were able to take photos. Our 6 year old said it was the best time he'd met Santa!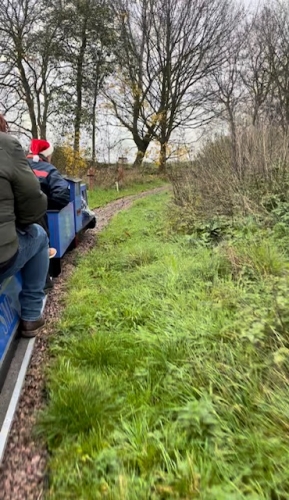 After a short wait, we boarded our return train and set off for Haynes station where we'd first boarded. We were then shown to the station Buffet where we were given a choice of tea, coffee or mulled wine (it's totally acceptable to have a mulled wine at 10:30am in December, right?!) and a mince pie; and juice and a cake for the children, which were included in our ticket price. Other refreshments and small gifts were also available to purchase.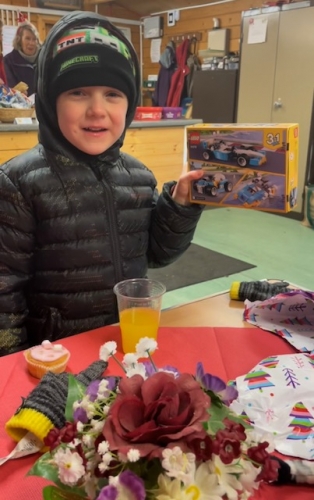 The children then opened their presents from Santa and were delighted with their gifts- they were the best gifts of any Grotto we've ever been to. Our eldest had a 3in1 Lego set and our 2 year old had a cuddly leopard, which he adored.

As I mentioned there are events throughout the year at Summerfields Miniature Railway, so do check their website for their next running day (they start in March) and follow them on Facebook to ensure you know when they release their Santa Specials next year!

There's also a Reel on my Instagram page.

*******************************************************************************************************
If you would like a Tried and Tested review for your attraction or event, please get in touch.