I've wanted to go to 'Victorians Live' at the British Schools Museum for a while now and finally got my chance a few weeks ago.
The museum is an absolute gem of an attraction right here in Hitchin and if you haven't yet been, then you're really missing out.
Having opened over 200 years ago as the first "Monitorial School" in Hertfordshire, the buildings stand proud on Queen Street. The furnished classrooms are open to the public and equipped to show the history of elementary education from pre-Victorian times to the late 1960s. There's also the Headmaster's house, set up just as it would have been when he lived there with his family. It really is a place where young and old can enjoy going back to school, to a place where "Learning Comes to Life".
At 'Victorians Live', the volunteers are dressed in Victorian attire, with many taking on characters, like the Head Mistress, Maid and Cook to show the children activities that they would have done around the school and Head Master's house.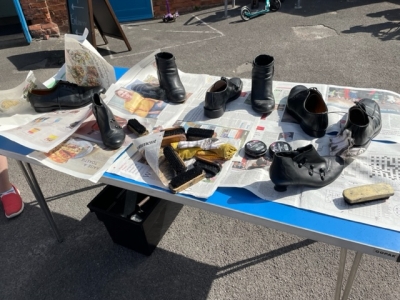 When we arrived, the children were invited to wear Victorian clothes to really get in to the spirit of the event- they absolutely loved that! There were a number of activities set up in the main courtyard, including carpet beating, brass cleaning, potato peeling and shoe shining, with a volunteer playing their part to encourage the children to get involved, try things and ask questions.