During our holiday in Norfolk, we were gifted tickets to review Holkham Estate- and what a day out we had!
Read the full review below, but you can also see a Reel of our day out on my Instagram page here.
The Coke family has lived at Holkham since the early 17th century. Holkham Hall, the Palladian style mansion, was built by Thomas Coke, the first Earl of Leicester, between 1734 and 1764. Since then, Holkham has been paving the way in agriculture and is now a thriving estate under the eighth Earl, with diverse businesses including farming, tourism and property. There's lots to see and do, and a wealth of history to learn about.
We were greeted at the visitor reception by a really friendly team who talked us through the attractions on the estate and, as one of our party needed accessibility support, they were absolutely brilliant at helping with that. You can find all the details regarding accessibility on their website. We borrowed a mobility scooter, which was free of charge and fully explained as to how to operate it, and how to access the different areas of the estate using it. I can't praise the staff enough here for their enthusiasm to ensure we had a good experience.

Tickets

There are a number of ticket options, so you can choose whether you want the full experience or you can simply pay for parking and enjoy the Adventure Playground and estate surroundings. We were gifted the Hall, Stories & Gardens tickets, so we could experience all the estate has to offer.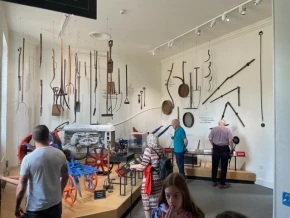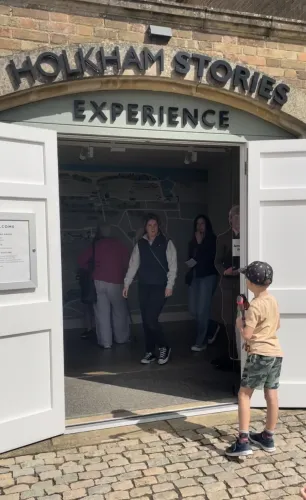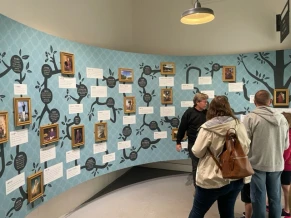 The Holkham Stories Experience

We started our visit at the Holkham Stories Experience, which celebrates the many stories of Holkham's rich, 400-year heritage and innovative future. You can learn all about how some of the foremost landscape designers of their day helped shape Holkham's setting over the years. Plus discover how the bricks used to build the Hall were made on the estate, and how influential the Coke family has been over the generations, from prosecuting the Gunpowder Plotters to playing a major part in the agricultural revolution. It's amazing to learn that the estate has remained in the same family for over 400 years!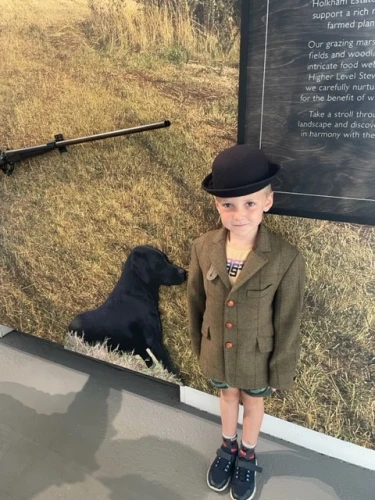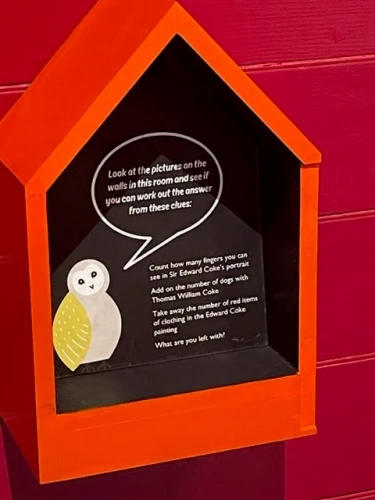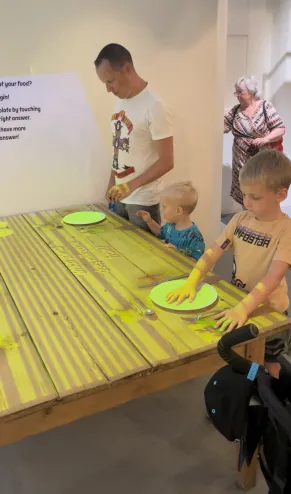 This was one of the most engaging exhibitions I've ever been to for children- they'd thought of so many ways to keep them entertained and enjoy the learning experience. There were challenges, dressing up, interactive games, a film - my two boys who get bored easily loved it!

It's also fascinating for adults to learn about the family ownership of the estate throughout the 300 year history, plus the 'Great Farm Project' will tell you about their vision for sustainable food production, and you'll find out how the estate is powered by its own renewable energy.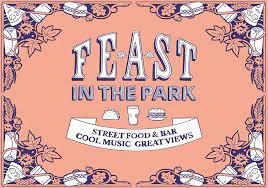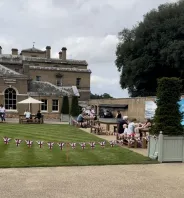 Feast in the Park

During our visit, there was also an event running called Feast in the Park, which is on until August 31st 2023, and free to attend. Bring a picnic blankest or chairs and relax and unwind in beautiful surroundings with mouth-watering street food and drinks from Norfolk's finest foodies. Plus, on selected weekends there's a selection of musicians, providing the soundtrack to your weekend! Full details can be found here.
We brought a picnic with us and enjoyed it on a bench overlooking the lake- it's such a beautiful setting with so many spots to enjoy the scenery.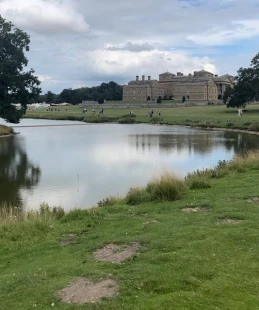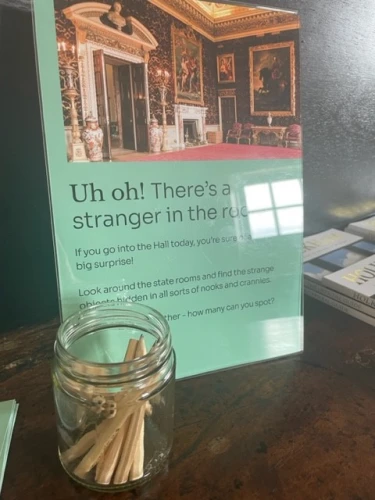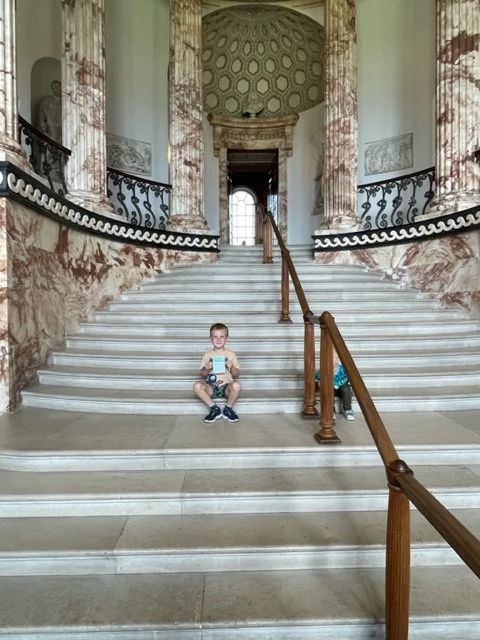 Holkham Hall

After lunch, we walked round to the main Hall to have a look round. It's worth noting that whilst the estate is open every day, the Hall is only open Sundays, Mondays and Thursdays. We were greeted by really friendly staff who gave us activity sheets for the children to complete- another brilliant way to keep them engaged in the tour of the house so we could enjoy it while they were entertained. The activity was called "Stranger in the Room" where the children had to find an unusual object in each room that doesn't belong- this could be anything from a blow up microphone to a packet of Frazzles- the kids loved it! There were many members of staff throughout the rooms- all friendly, welcoming and so knowledgeable. I have to say this one of the best places we've been for an amazing experience with the staff- every single person we encountered was so friendly and helpful- from the welcome staff helping with accessibility, to the staff within the Hall and throughout the estate- it really is a lovely place that you can tell has visitor enjoyment at its heart.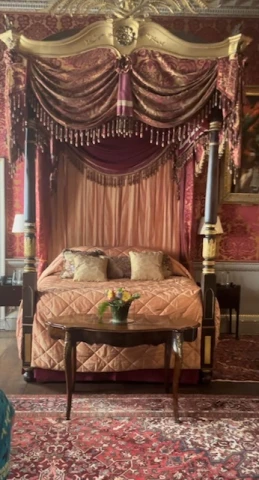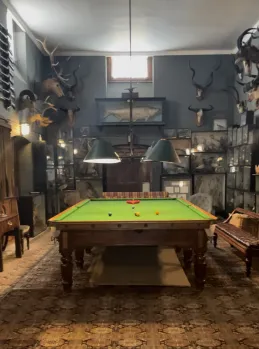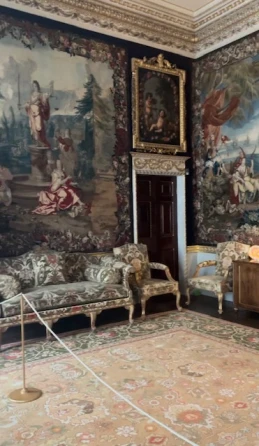 Holkham Hall is an 18th-century Palladian style house, based on designs by William Kent and built by Thomas Coke, 1st Earl of Leicester. The current Earl and his family live within the house still and it was amazing to be shown rooms that are often used, rather than just on display for visitors. The rooms within the house are stunning, with a new treasure round every corner!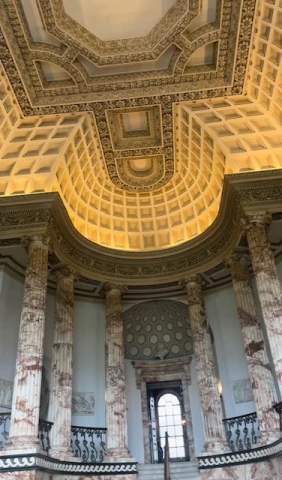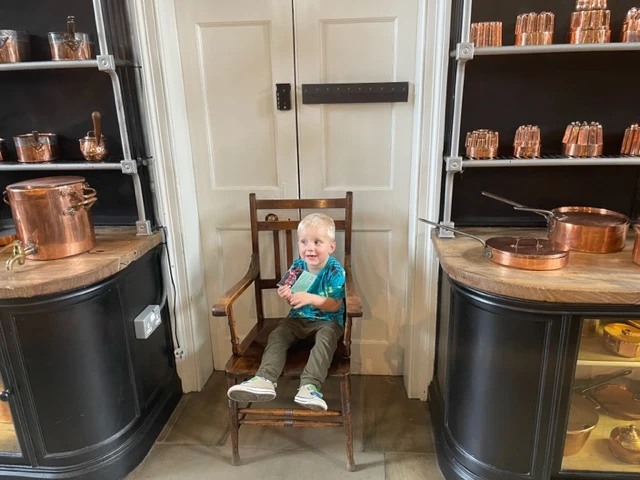 The entrance leads in to the Marble Hall, which is truly breath-taking with its impressive 50ft dome ceiling and elegant walls of English alabaster – not marble as the name suggests!
A grand staircase leads to a myriad of state rooms, from the Saloon with its rich, red velvet-lined walls, gilded coffering, and lofty ceiling; to many sumptuous bedchambers where royalty once lay; state dining rooms adorned with exquisite porcelain; galleries of statuary and art by the Old Masters; libraries bursting with books and manuscripts; and of course, the Old Kitchen with its rows of polished copper pots, pans and moulds.
Holkham has remained largely unchanged since the late-18th century, and much of what you will see is as Thomas Coke intended. Each generation has left a little something of themselves in the house, right up to the present day.
The Walled Garden

Our tickets also included access to the Walled Garden (there is an option to purchase this on its own), which is around a 10 minute walk from the Hall round the lake, and is a beautiful route. You can hire a boat to enjoy the lake- these can't be pre-booked, you need to head down to the jetty early to book (card only). More details about boat hire can be found here, along with other activities like horse riding, Ropes course and bike hire, which are all detailed here.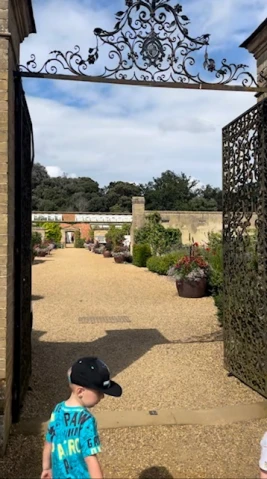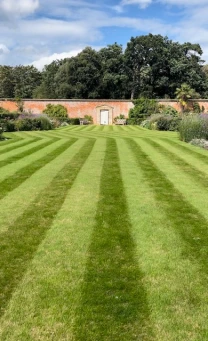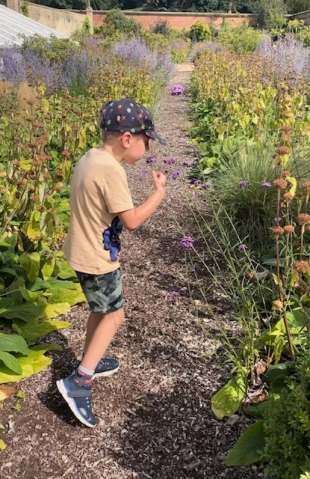 Back to The Walled Garden: step through the Venetian gates and you'll find yourself in a beautiful, tranquil and enchanting walled garden. There's currently a project underway to rejuvenate the six acres of walled garden which was originally laid out by Samuel Wyatt during the late 1700s. Discover a spectacular stand of Georgian and Victorian greenhouses and vineries, a formal ornamental garden, an established vineyard, a working kitchen garden that yields a plentiful crop feeding both the Coke family inside the Hall and visitors to The Victoria, the exotic garden with its large lawn, and lastly, the cutting garden with its beautiful array of blooms.

There was an icecream van and a refreshments van at the entrance so it was lovely to wander round with an icecream.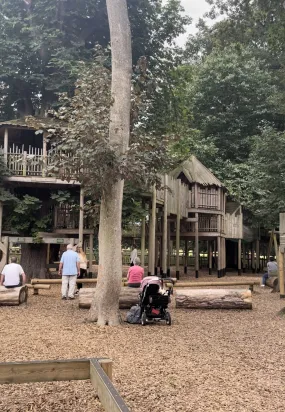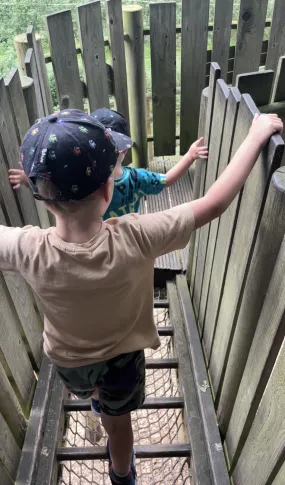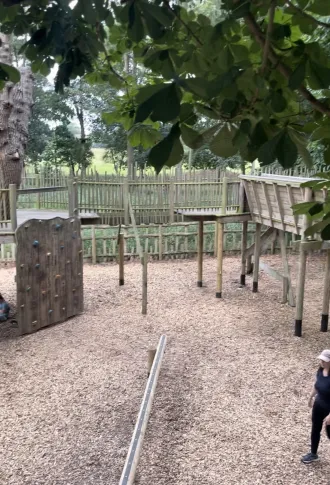 The Woodland Play Area

Now the pièce de résistance for the boys at Holkham is of course the Adventure Playground! We cycled to it from Wells last year (a lovely easy cycle with kids if you fancy it) and the boys loved it so were desperate to go back! It's open every day and entry is free, so you just need to pay the £5 parking fee to enjoy this fantastic play area- great for a quick trip on other days if you don't want to explore the whole estate or just want to burn off some energy.
The recommended age is 5-12, but our 3 year old was fine with us accompanying him as he met the minimum height requirement of 105cm, being surprisingly tall for his age. Children under these requirements can enjoy the toddlers' area.

Final Thoughts

The Holkham Estate website states "A visit to Holkham will exceed all expectations" and I honestly wholeheartedly agree. As a group of 4 adults and 2 children, we had a fantastic time and found there was so much to do see and do! Having been to Norfolk many times, we'd never done the full experience and are so glad we now have, as we could easily go back and do it again!

What's great is that you can do Holkham to suit every budget: pay just £5 and you can bring a picnic, enjoy the adventure playground, extensive grounds, café and courtyard entertainment (e.g. Feast in the Park which is on at moment); or pay to enjoy the Hall, Holkham Stories Experience and Walled Gardens- a family ticket is £50 and you get a full day's entertainment- we actually struggled to fit it all in and had two very happy exhausted boys at the end!

Our tickets were kindly gifted by Holkham Estate for us to review this attraction.

*******************************************************************************************************

If you would like a Tried and Tested review for your attraction or event, please get in touch.