Knebworth House, park and gardens was a staple summer holiday day out when I was little. We spent hours playing in the fort and whizzing down the slides, so it's somewhere I love taking the boys to se how they love it as much as I did.
We were invited to go and experience a day out there for a Tried and Tested review. A family day ticket (other options available) is currently £46 (£42 if bought online in advance) and includes the park, gardens, adventure playground and Dinosaur Trail. There are options to purchase tickets to see inside the house too- you can find all the information here.
The grounds are generally split in to two parts, so it's a good idea to decide where you'd like to visit first, then drive to the other part after (it's only a few minutes' drive, but it is quite a way on foot and you'll avoid the moaning little legs after a day of play!). At the top of the grounds, you'll find the House, Gardens and Dinosaur Trail, then the Adventure Playground area is back towards the entrance. The entrance is just off Junction 7 of the A1(M) so it's really easy to get to. Have your tickets/confirmation email to hand upon arrival as once you're through the gates, there are cabins you drive up to and show your tickets. Once through, we usually head up to the top of the grounds to do the Gardens and Dinosaur Trail. Keep your eyes peeled as you may spot some of the grazing herds of Red and Sika deer that have been at Knebworth for even longer than the Lytton family. There is plenty of parking up at the House and Gardens carpark, plus a lovely café and shop there too.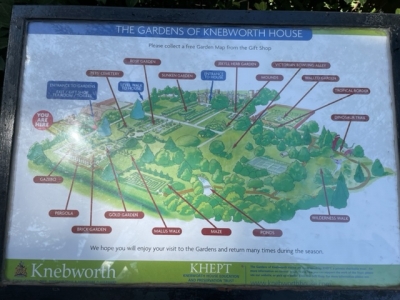 The 28 acre formal gardens include a maze, stunning flowers, trees, a hill the children love climbing, a beautiful view of the House and its front lawn, plus the main event for my boys- a wilderness area with an exciting Dinosaur Trail. It's important to point out that you can't picnic inside the gardens- there are plenty of benches around the Garden Terrace Tearoom which has daily specials, including fresh salads, delicious cakes and a variety of lunch options for the whole family, with plenty of indoor and outdoor seating. If you're a Knebworth House or HHA member, you can get 10% off.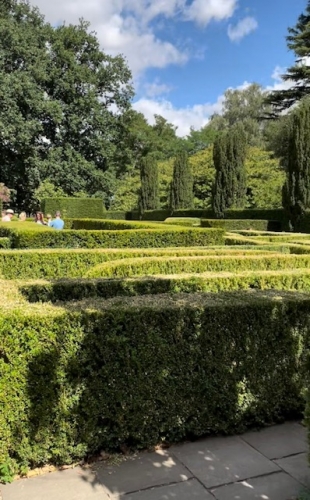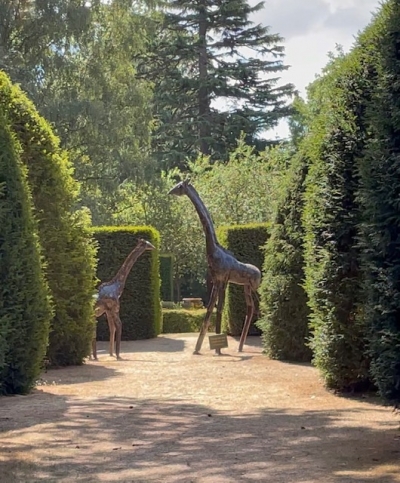 We headed straight to the maze which the boys and their friends love racing round to see who can find their way out first.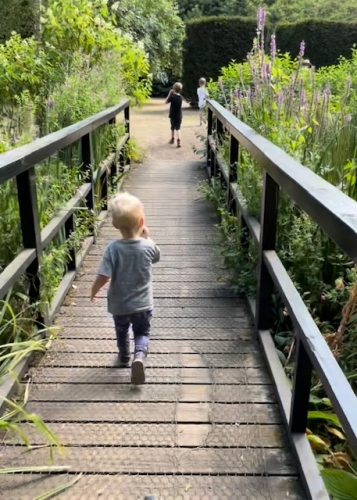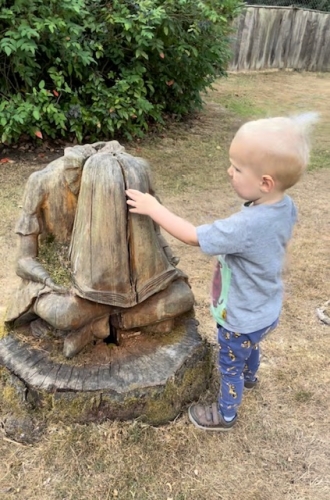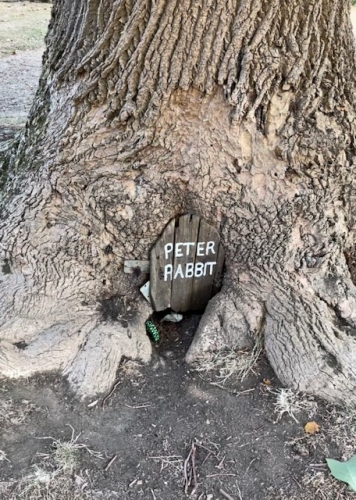 Dotted around the Gardens are lots of wood sculptures which are fun to explore, plus if you keep your eyes peeled, you'll find a little door in a tree for Peter Rabbit.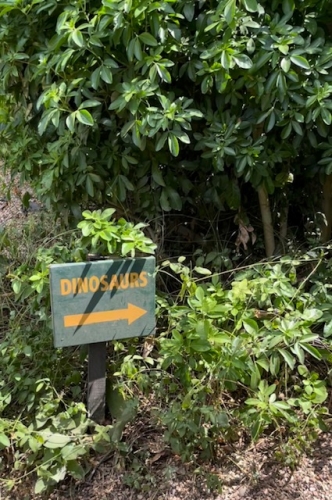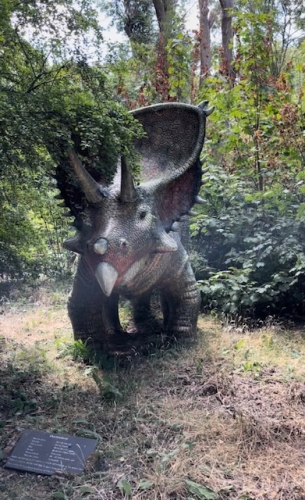 We made our way to the Dinosaur Trail area, which has 72 life-size dinosaurs and pre-historic creatures, which can be found grazing amongst the shrubbery. There are information boards throughout the Dinosaur Trail and a huge chalk board for creating your own 'cave-man drawings'.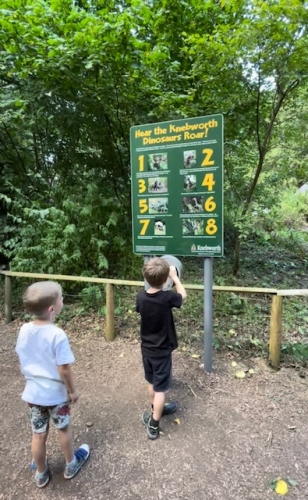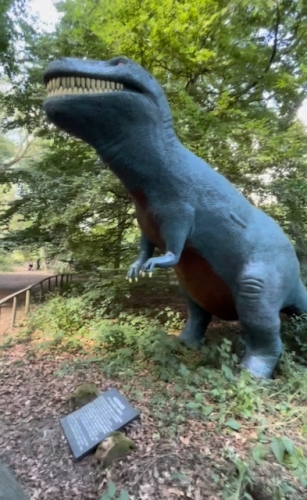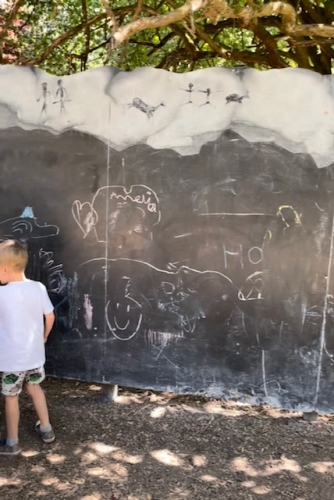 Look out for the wind-up sound box and make some dinosaur roars. Exploring the woodland paths, children can learn about the T-Rex, the Woolly Mammoth and other fascinating pre-historic creatures.
There's also a huge wooden armchair which is a great spot for a photo.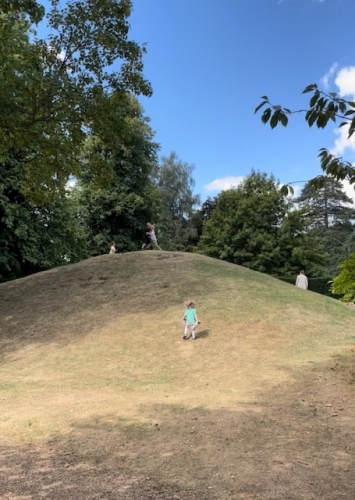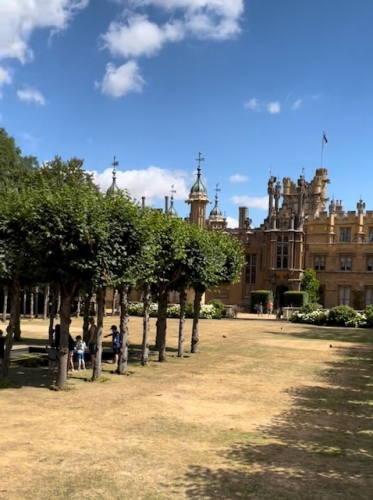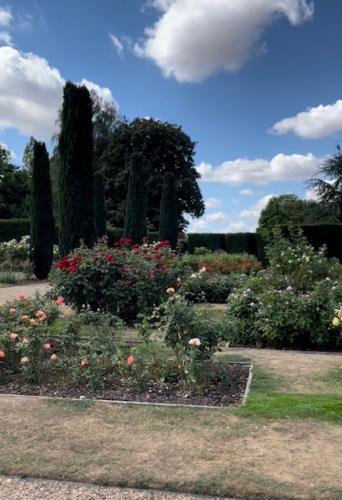 Once we'd explored all of the dinosaurs, we walked across the Gardens and the children loved climbing and rolling down the big hill on the way back to House. There's a beautiful garden area in front of the house with a small tree-lined pond, which they loved walking round.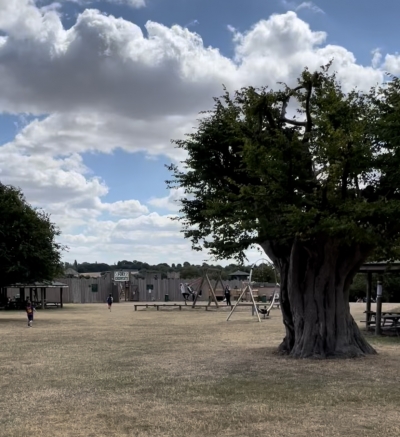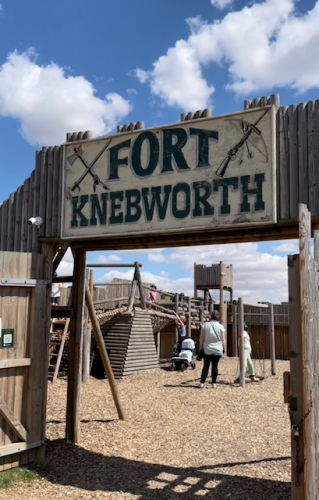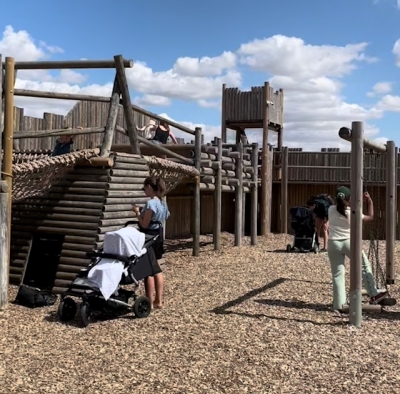 As it was lunchtime, we decided to head over to the adventure playground area for our picnic and a play. There are lots of picnic benches and shady spaces to lay a blanket, so it's easy to bring lunch with you. Once we'd eaten, we headed straight to the Fort as the older boys love climbing the wooden structure.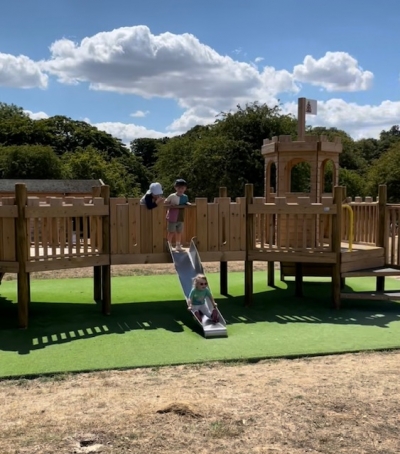 There's also a new 'Mini Fort' just outside the main Fort playground, which is great for toddlers.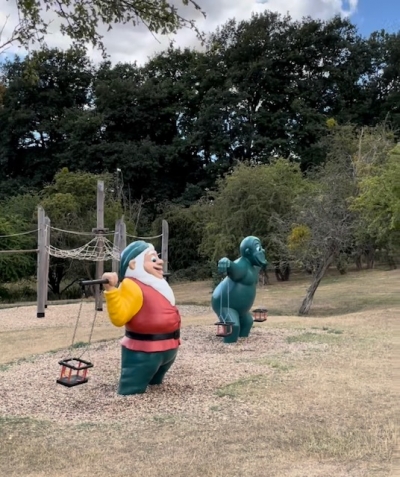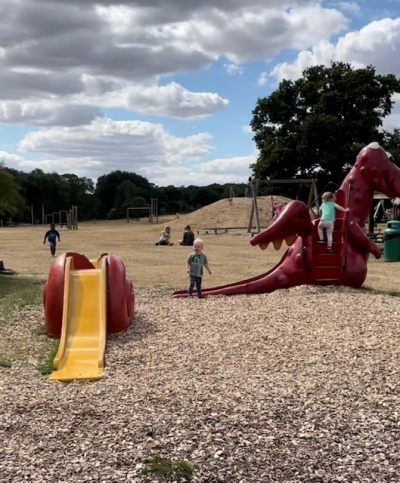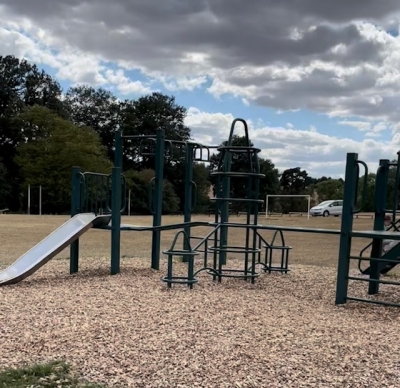 There are lots of different activities and play equipment dotted around the play area, so it's great to work your way round. From high ropes, to water play, climbing frames, slides, zip wires and little mushroom houses- there's something for every age.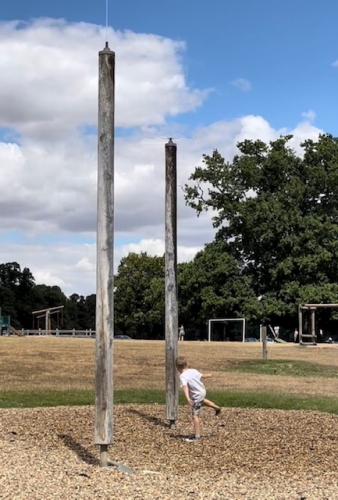 The water play was a particular hit, with the children having to work together to make the water spray out.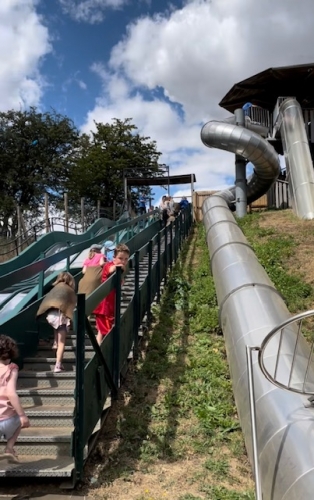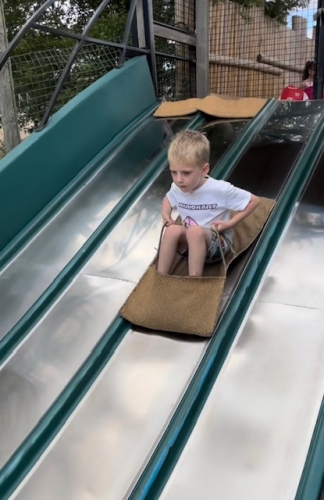 Beyond the Fort, there are also 3 slides, which I absolutely loved as a child. The Astroglide slide has 4 lanes and you slide down on a mat with handles which is great fun. Children under 1 metre must be accompanied by a responsible person over 16 years old on the same mat. This slide has no minimum height restriction (when accompanied by a responsible person) but all riders must be able to walk unaided to be able to take a turn. There is also a drop slide- children must be at least 1.2 metres and able to ride alone. Children under 1.2 metres can ride the curly slide only if they are accompanied by a responsible person over 16 years old on the same mat.
Just outside the fort there's a hut selling icecreams and refreshments, so we stopped for an ice cream before exploring more of the play areas.
We ended up spending all day at Knebworth- there's so much to do see and do, it's a great family day out and we can't wait to go back!
Opening times and prices can be found on the website here. Pre-booking isn't required, but there's a small online discount if you do book in advance. Given Knebworth runs lots of events, it's worth checking the website before you go as sometimes parts of the Park may be closed.
*******************************************************************************************************
If you would like a Tried and Tested review for your attraction or event, please get in touch.