Our first trip for the Easter holidays was one of my favourites- Audley End Miniature Railway! We've been a number of times now, having seen their Elves and Fairies, Easter and Christmas Events, and the place just gets better! You can find details of their Easter event here.
We were invited to review their Easter Special, so I roped Grandma in (she didn't take much convincing!), packed a picnic and headed off. It's about a 45 minute drive from Hitchin, so not far, with pretty villages to drive through as you approach Saffron Walden.
We were gifted tickets for the 10am train slot, so arrived at 9:15 and parked at the main car park which had an attendant to direct you and is just a couple of minutes' walk to the main entrance. It's a very popular attraction, so tickets should be booked in advance (you can chance arriving on the day, but it's not a risk I would take personally). Your ticket includes a train ride at the time you've booked, as well as full use of the facilities, which for this event included the Easter Trail (including treasure hunt activity booklet), adventure playground and Mat Hatter Show.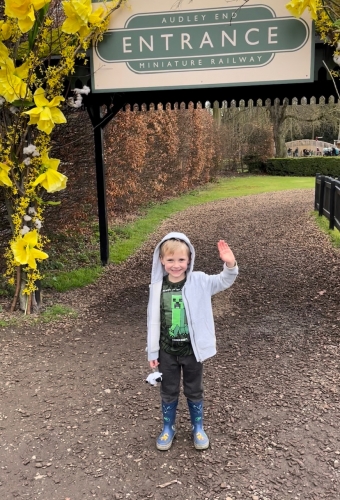 As advised, we arrived 30 minutes before our train time to allow for parking, entrance, dropping the buggy off at the buggy park and queuing for our train. Upon arrival we were greeted by a lovely man who answered any questions we had and then we checked in at the entrance booth, which is now also the gift shop. If you've been before, you'll remember there was a gift shop you walked through after disembarking the train, which inevitably ended in a barrage of toy requests as you tried to whisk your children through- the move being a welcome relief for many parents I'm sure, as you can now choose to visit the shop area at your leisure.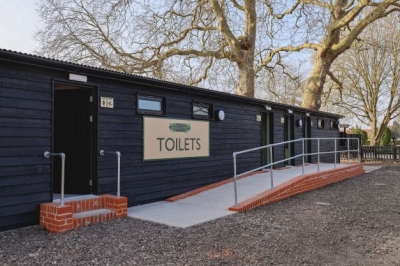 The previous gift shop area has now been replaced with a swanky new toilet block with female, male and accessible toilets with changing facilities- it only opened for the Easter holidays and as toilets go, I was very impressed!
After the excitement of checking out the new toilet block, we popped across the rail line to leave our pram in the buggy park which is just off to the left under cover, and where you disembark the train, so nice and convenient for the end of your journey. We then headed back to board our train. The Station Master cheerily greeted everyone, we were shown to our carriage, and then we were off!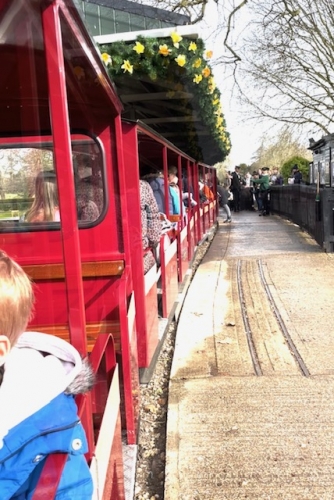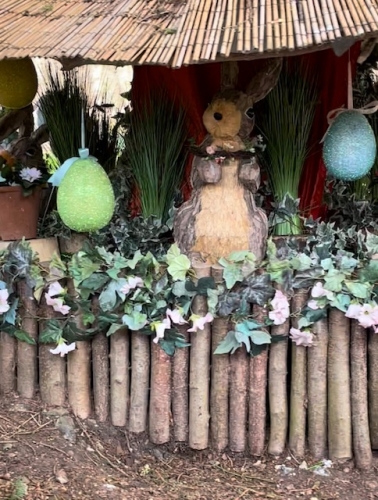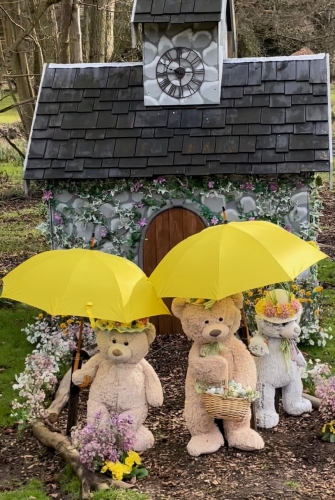 Chugging past the play area and in to the woodland, we chuffed past (I've read too much Thomas the Tank Engine, haven't I!) beautiful Easter scenes, through tunnels and finally in to the beautifully decorated Easter tent to meet Alice, the Easter Bunny and their friends.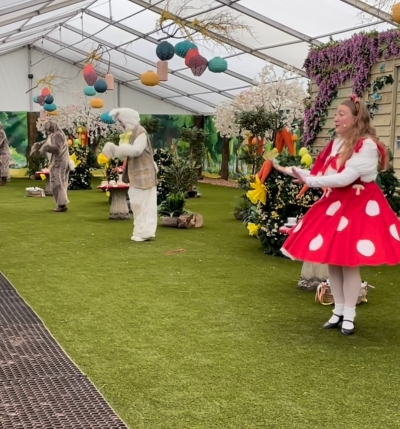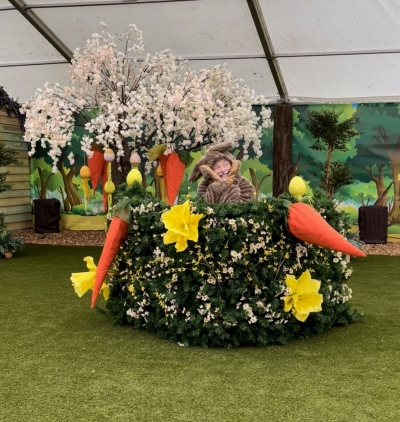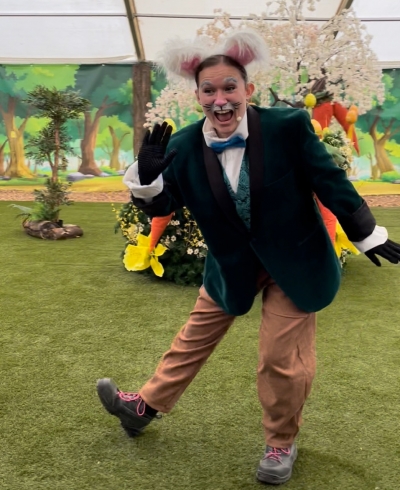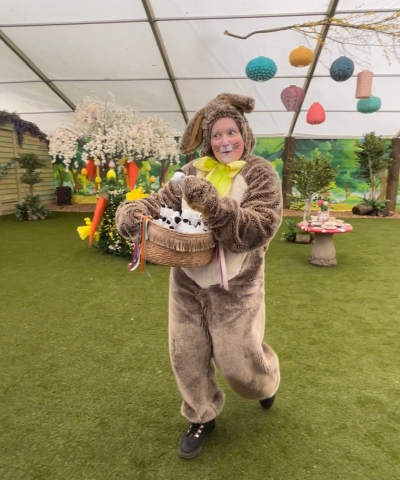 Here they entertained us with dancing and interacting with the children, who had a great time yelling whenever they saw a cheeky bunny pop up from its hiding place. It's a fantastically interactive experience where they ensure everybody feels special and even hand out a present to each child. Finally we were waved off and headed back in to the woodland, arriving back at the adventure playground area, where we were greeted by another station attendant and invited to either walk round the Easter Trail or head to the play area- my 5 year old had been eyeing up the playground since we arrived, so there was no question where we were headed!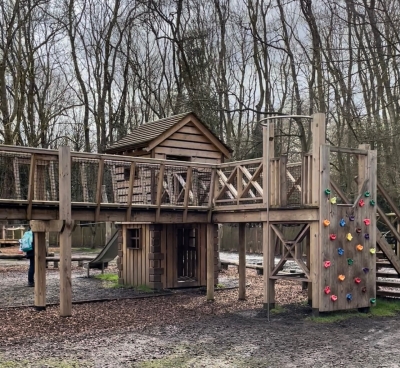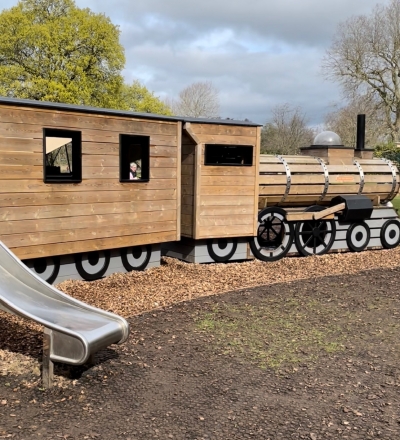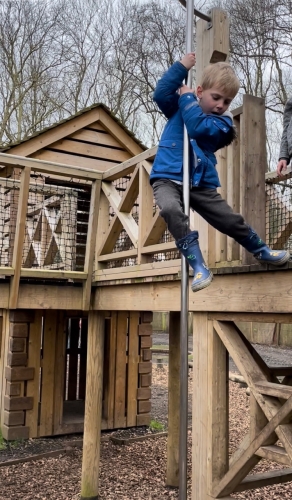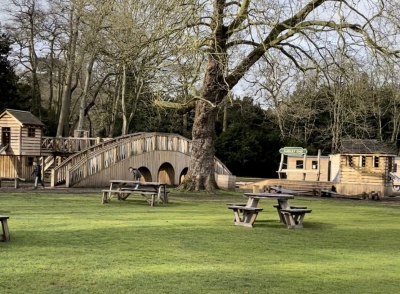 The playground is one of the best we've been to- with large forts, bridges, a big wooden train, swings, slides and areas to climb. We spent most of the rest of our time here as the boys loved it!
Along the side of the play area, there are 3 snack cabins, offering a wide selection of food and drinks, a handwash area, as well as plenty of seating, both outdoors and undercover, so it's great for grabbing a coffee while the kids play.
We then headed to watch The Mad Hatter Show, which was brilliant! Effortlessly entertaining both the adults and children, The Mad Hatter interacted with the children, played games and had us all in stitches. The show repeated throughout the day, so there was ample opportunity for everyone to see it and go as many times as they liked.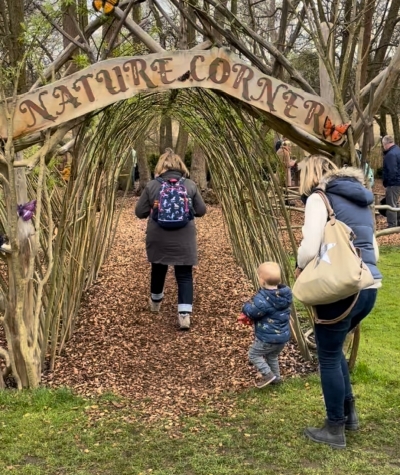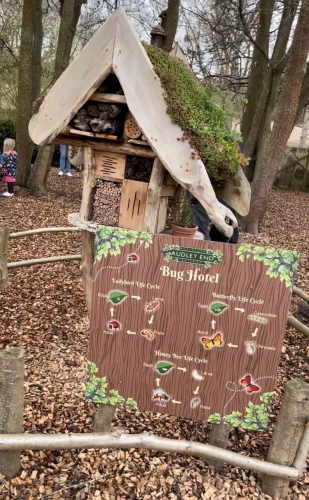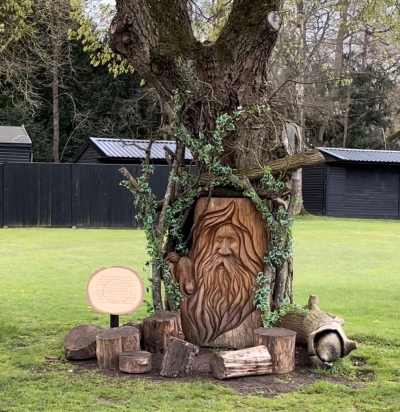 Next to the show area is Nature Corner, which has handmade bug hotels to explore and was also part of the Activity Pack where you tick off different things you've seen throughout the grounds in order to collect your completion sticker- a great way to keep the kids engaged (although Grandma was the competitive one here!)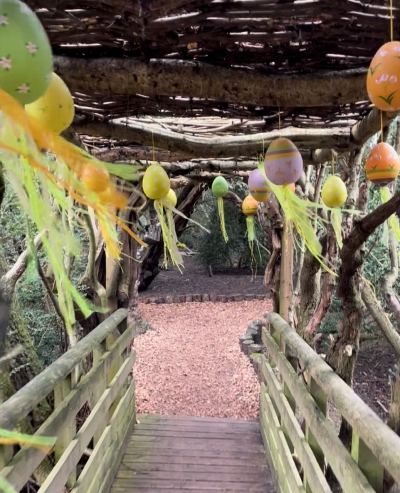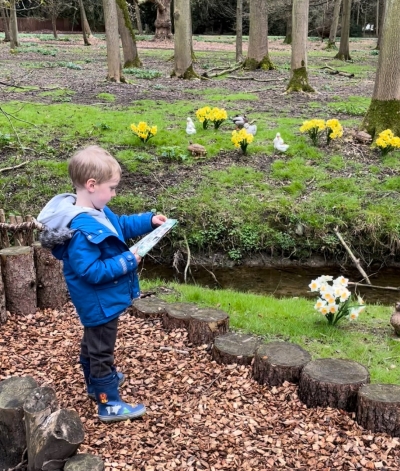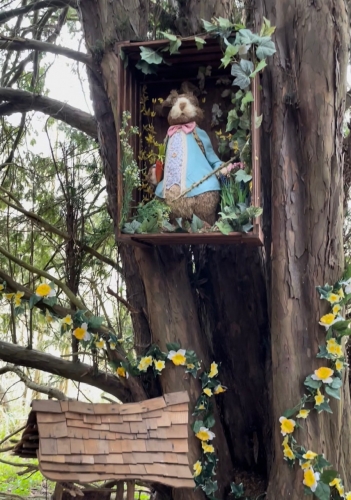 We then went round the Easter trail through the woods, where my 5 year old really enjoyed ticking off all the things to find in the activity booklet. We went round it again later when my toddler woke after his nap, and he loved looking at all the little woodland scenes- spotting squirrels, ducks and "baa baas".
We headed back to the car and saw the same car park attendant who'd greeted us on the way in and was keen to find out if we'd had an enjoyable day. My (very confident and chatty!) 5 year old was quick to tell him all about two cheeky bunnies who'd wiggled their bottoms at him during the train ride, which was not what he expected to hear, and had him in stitches. That's one thing that's really special about Audley End- the staff really make the experience with their enthusiasm and warmth.
It's worth bearing in mind that this is a predominantly outdoor attraction, so take your waterproofs if rain is forecast.
At the time of writing this review, there are still Easter tickets available, so if you're looking for a magical day out over the holidays, then check out the Audley End Miniature Railway listing here to book your tickets.
You can also find 3 reels on my Instagram page showing the Train Ride, Easter trail and Adventure Playground.
We can't wait to go back!