With rain forecast all day a couple of weeks ago, we spontaneously decided to head to the RAF Museum London- a pretty easy run by car at just 40 mins door to door down the A1.
Now, I say spontaneously, as our heads were clearly still in pre covid mode and we'd forgotten the whole "pre-book lifestyle" we now live in. Halfway there, I checked the website which showed you should pre-book and the system didn't allow us to book on the way there. While my husband suggested we turn around, the optimist (and immensely stubborn streak) in me said "no, let's try."
Upon arrival I ran in and spoke to a lovely man who said not to worry, you don't have to pre-book. Trip saved!
So, in summary, pre book to avoid panic on the drive there, but you can still take a chance on turning up if you wish (wouldn't recommend this on busy days though- we were there as soon as it opened)
Please check the website before you travel in case any information has changed, but here are the main things to highlight in Jan 2022.
Actually, first I just want to hold my hands up and say that I basically don't know one plane from another (honestly, whenever I was quizzed on what plane we were looking at, my answer generally was "a big one"), so apologies if I've got anything wrong. I have sense checked most references with the oracle of plane knowledge ("the husband"), but just wanted to be clear that my Mastermind expertise would be Friends episodes rather than planes, so this review is mainly focussed on how great the Museum was as a place for a family day out.
Right, back to it...
Entrance and cost:
The museum is currently open every day 10am - 5pm
Entry is free, but there are donation stations dotted around for voluntary donations that help support the museum and keep admission remaining free.
There are various additional attractions that have to be paid for, like flight simulators or sitting in a Spitfire, but in terms of value for money, you would struggle to find many places that offer a better value day out so close to London!
Parking:
Parking is chargeable and payable inside the museum when you leave :
0-3 Hours – £5.00 per vehicle
3-6 Hours – £7.00 per vehicle
Up to 9 Hours – £9.00 per vehicle
Getting there:
Address: RAF Museum London, Grahame Park Way, London NW9 5LL
For SATNAV use NW9 5QW
There's a great page on the museum's website about how to get there by car or public transport you can find here.
What's there?
Across four buildings they have six hangars, each dedicated to a different era, packed full of planes, helicopters and equipment.
There are lots of interactive displays, games and activities throughout the museum where you can get hands-on with RAF life throughout history.
Hangar 1 – RAF stories - The first hundred years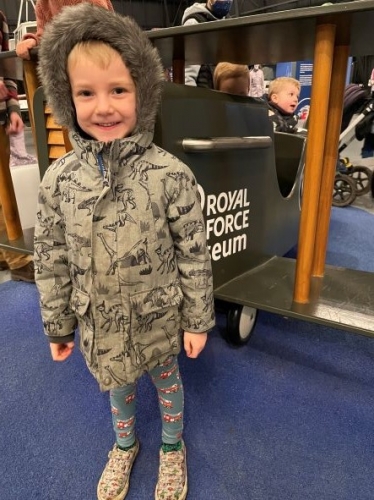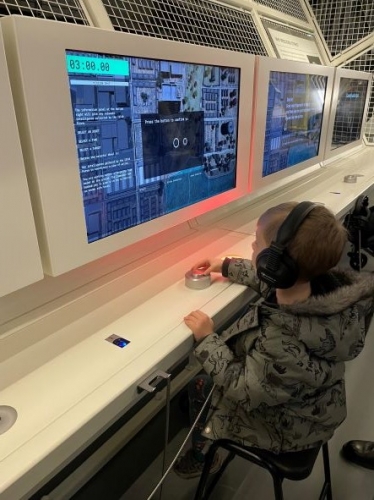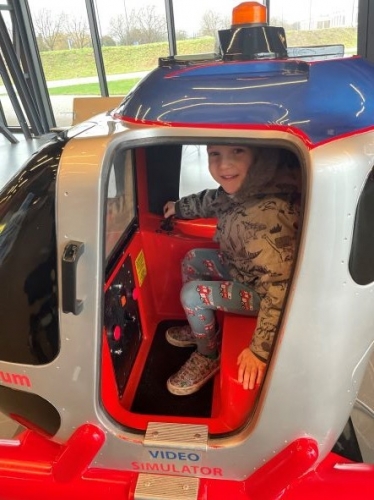 This was was a favourite with our boys as there were lots of planes and a (big hit with the kids!) yellow helicopter they could climb aboard, as well as interactive games, which were popular with our 5 year old. There's also a Short Sunderland seaplane you can walk through, which is an amazing experience. This hangar is also home to the gift shop as you exit here at the end of your visit.
Café
It wasn't long until there were moans of "I'm hungry" so, given our youngest needed to have a nap, we decided to head to the café for an early lunch. There are tables inside Hangar 1 where you can eat, as well as picnic benches outside if you want to bring a picnic (not the day for it on our visit!), but our last minute decision to head to the museum meant we needed to head to the café for lunch. There was a good selection of food in the café, including a kids' lunchbox as well as hot options, spacious seating and even a private booth! Still carrying a little "post Christmas holiday weight" (see, I told you Friends would be my Mastermind category!), we opted for jacket potatoes, but the other food looked delicious and freshly cooked. High chairs a-plenty too!
Hangar 2 – The First World War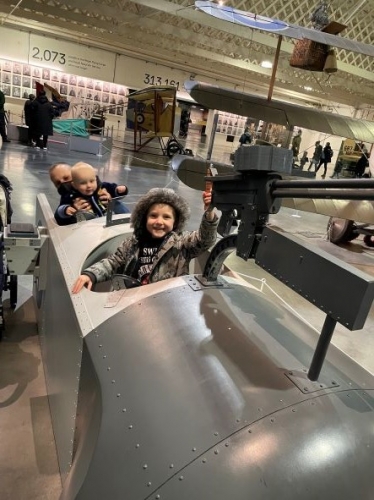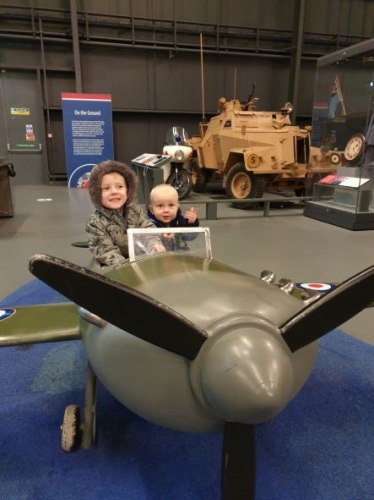 Amazing to see all the planes here- it's crazy to think how far we've come in less than a hundred years. The boys loved trying out the wooden flight simulator and watching the moving propeller, as well as sitting in various planes. There's a small lift at the back that will take you up to a floor that has a great view of the planes hanging from the ceiling of the hangar.

Hangars 3, 4 & 5; War in the air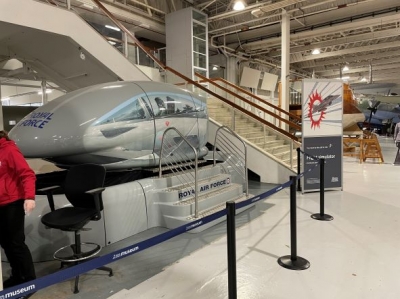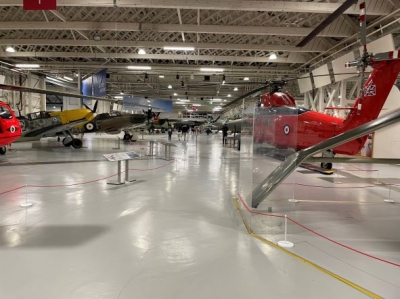 These three hangars are connected and cover the RAF during 1918-1980. There are an unbelievable number of planes to see here, including a Vulcan Bomber, where you can walk below the wing and look in to the open bomb bay.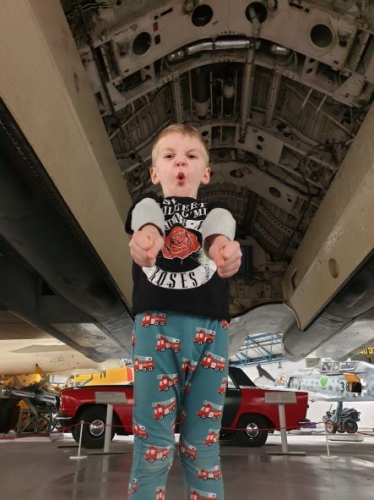 My personal favourite, due to its amazing story of how it came to be in the museum, was the Halifax Bomber, which had been found and recovered from the depths of a Norwegian lake following a crash in 1942.
Again, lots to see and do, and plenty of space to run around. One of the things I liked the most was that we rarely felt crowded because there is so much space- on a rainy Saturday at a free entry attraction, that's amazing!
Hangar 6 – The RAF in an age of uncertainty (1980 – present day)
This is the smallest hangar but still lots to see and do. There's a lift that will take you up several floors to a viewing platform, and on the way there are stop-off floors with activities (our eldest spent ages colouring- a monster, not even a plane!)
There's a timeline along the wall with recent important events that's even been updated to include covid- it does feel weird looking at our own recent experience as a key part of history!
There are a couple of planes that you can climb up to see the cockpit and there's the front of a helicopter where you can have a look inside too.
The park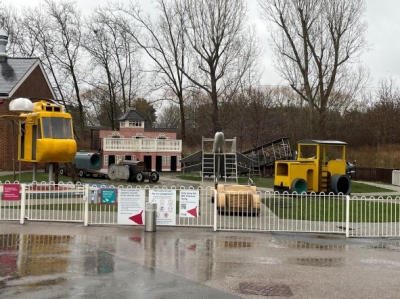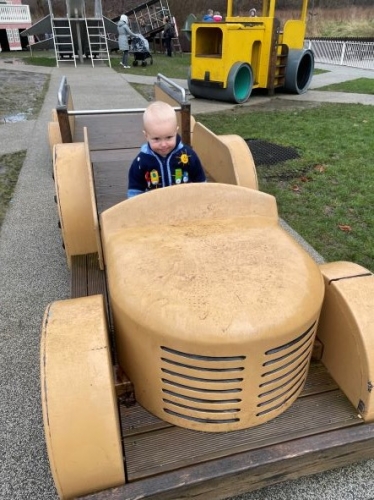 Aircraft attractions seem to have great parks and the RAF Museum did not disappoint! All aircraft-themed, our boys were desperate to play despite the rain. It was quite muddy, so on rainy days, I would recommend taking wellies and waterproofs (I'd left them in the car because everything was "indoors" but forgot about the park).
So, in summary, we had a brilliant day at the RAF Museum London and would highly recommend it as a great day out- we're planning to go back soon with the grandparents (and great nanny!) in tow.
I also have a Reel of our visit on my Instagram, so make sure you check that out too