There is something magical about playing in the same place as a real life (although deceased!) princess. Hatfield House Park is where fairytales are created. The childhood home of Queen Elizabeth I has something for all ages from babies through to grandparents.
On our visit, we started with the farm which provides a great introduction to livestock – goats, sheep, pigs, cows, donkeys, geese, ducks etc. Animal feed can be bought at the start and the children love to get their fingers licked by a friendly goat! The animals have large enclosures and are clearly happy which is always a concern of mine at commercial mini-farms. The tractor ride was perfectly slow and bumpy for the little ones to get a real thrill from the experience without being thrown around. I would only sit on the right-hand side though so you don't spend the journey looking at blackberry hedges or with a crick in your neck as you turn to see the animals!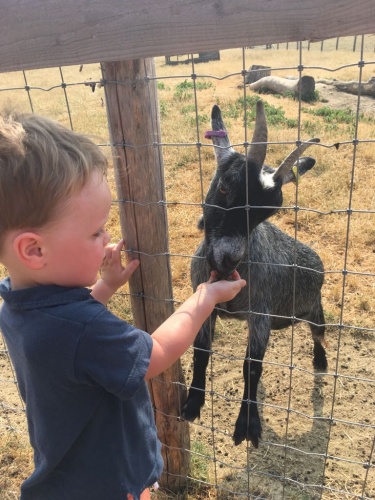 After a quick stop at the ice-cream van where I always have to remind myself that "it's what summers are made of" as I empty my wallet…and onto the Bloody Hollow.
A brilliant play area with a model Hatfield House for the children to clamber over and under, slide down and shimmy up. Rope bridges and basket swings, zipwire, play train – a huge range of play equipment to encourage wonderful imaginary play.
With exhausted happy children we headed home for a nap!
We took children aged: 7, 3, 2 years and a 10 month old. Perfect ages for the farm and playground. These can be visited separately from Hatfield House and you can also just visit the playground separately from the farm for a very small entrance fee.