Mascots Harry the Hornet and Rocky the Squirrel certainly got the children cheering as we arrived at the opening of Rock Up Watford. Mum's guide to Harpenden were invited to try out the 27 brand new climbing walls up to 8m high situated at the Intu shopping mall in Watford.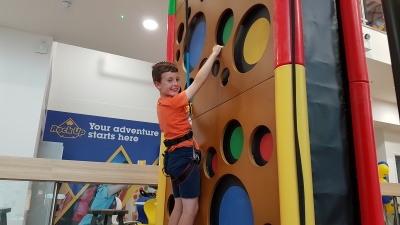 Rock Up Watford is the 5th location for the company and clearly their experience has meant they have thought of everything. We started with a tour of the facility with Mark, the mastermind behind this ingenious idea of putting climbing walls in a shopping centre and who also happened to be co-founder of Vue cinemas. We found out what they can provide for the community (more of that later) and then we headed to Base Camp where we were given a safety briefing and kitted out in our harnesses. You need to arrive 30 minutes before your session so that you don't miss any climbing time. I say this like I was actually going to join in but I'm petrified of heights, so I left the climbing to the boys – including the big boy who LOVES physical activity; you can watch his video below!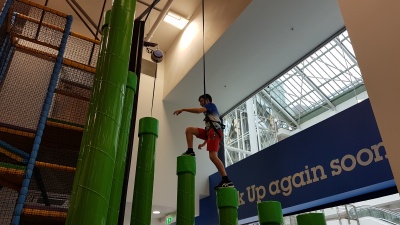 Briefed and ready to rock they entered the climbing arena and began tackling the 27 climbing walls. As only 18 people can climb during each hour's session the arena didn't feel at all busy and there was no waiting for walls. (Bear this in mind and make sure you book ahead.) The 38, 12 and 10-year olds rocketed up the walls at the beginning of the session with a quick decline in both muscle power and exertion! However, once realising this was about stamina and determination they all paced themselves except on the Face Off Climb; a Perspex wall with your component facing you in a bid to reach the top first, and they are all far too competitive to conserve their energy and whizzed up! The 7-year-old took a little while (about 5 minutes!) to build up his confidence of letting go at the top but once he realised it was a smooth, slow descent nothing was going to stop him. Each wall had a different idea for foot holes and hand holds so it was mentally and physically challenging. The boys agreed the hardest one was the Mario Bros tunnels (see photo) where there is nothing to hold onto as you get onto the higher tunnels and you've just got to balance and trust yourself! And then there's the Leap of Faith…(I don't want to give away all the surprises!)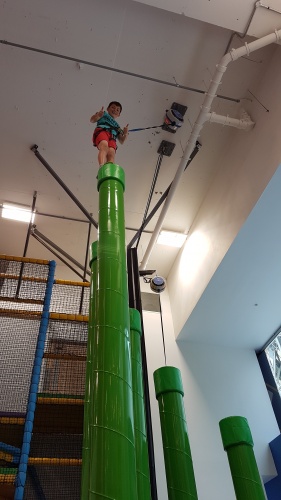 Whilst the big boys were having the time of their lives (I mean if you think back to when we were kids, climbing hay bales was about as exciting as it got!) the youngest explored the soft play facilities. This section was made up of two areas, 0-2year olds and 3-8 year olds. As a parent of 4 children the amount of venues we have been to that only cater for 0-5 OR 5+ years is astonishing and so you either have to entertain a baby/toddler at the café or have whinging older children who don't want to play on the "baby stuff"! NOT HERE! Everyone is catered for and I sat down; yes! I actually sat down with all children occupied and happy AND I could see them all from the café! The hour passed incredibly quickly – it always does when you're having fun, doesn't it? Then all the boys came bounding over, red-faced and excited to tell me everything they had tried.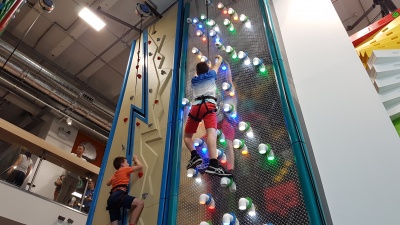 What else does the venue provide?
Well, top of my You're A Brilliant Place list is SEN sessions. As a parent of a couple of SEN children it is always wonderful to find venues that will put on quieter, less over-whelming sessions and acknowledge that we're all different.
They have discounted group sessions for schools, cadets, scouts, brownies, youth groups, sports groups etc
You can even hire the whole venue for up to 32 people; I'm thinking class parties or maybe a milestone birthday that's coming up in a couple of years…!
Café decked out in blue, white and yellow furniture which was a nice nod to the mountains.
Fantastically friendly and helpful staff. I know it was the first day and everyone was very excited but you really did feel like they wanted you to have the best experience possible.
A party room that had a divider to split the room in two.
Two viewing floors for those not brave enough to climb, or should I say taking one for the team and looking after the younger members of the family?!
Free lockers to store your valuables.
We will definitely be returning to Rock Up Watford, sooner possibly than I anticipated, as the 7-year-old is turning 8 and he has asked (so sweetly!) to go there with his friends. You can hear what the children thought on their vlogs (after my take on the venue!)...