You've no doubt heard of Warner Bros Studio Tour - The Making of Harry Potter. If not, where have you been? Located only 30 minutes away at Leavesden this is a great day out whether you're a diehard fan (aka a Potterhead) like my son or just someone who has enjoyed the books and movies. This is a big-ticket attraction, so when we visited this week it was a special end of holiday treat. We had been before about 6 years ago, but my son was only 6 then, just starting out on his journey as a Potter fan and doesn't remember much of it. Plus there were several new features added since our last visit so it was worth the return trip and something we were both really looking forward to - and it didn't disappoint. You have to book in advance and usually quite far in advance, I booked a few months ahead.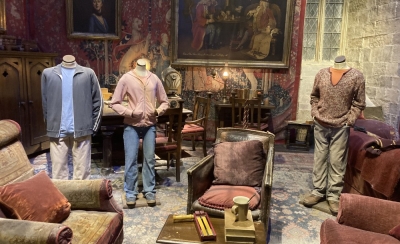 First things first - this is not a theme park, there are no rides. It's all about the sets, the props, the costumes, make-up, effects, creatures, design, production - everything that went into making the movies what they were and it is brilliant. Seeing the original sets and props and the level of detail, artistry and expertise that went into it all, and even being able to walk through some of them is fascinating and thrilling. I loved the focus on the people and the teams behind it all and their work and dedication - it is really a celebration of them and their craft.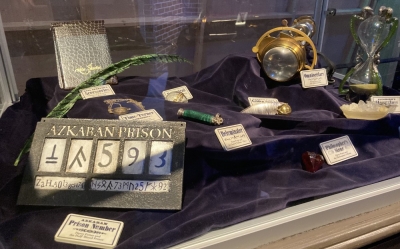 Everything is perfectly labelled with just the right amount information and snippets of backstage info and "secrets" of production. You can also hire a digital audio guide (additional charges apply) to take you through the tour. We didn't bother as I had my own little "Potterpedia" with me so I can't comment on how much extra information the audio tour gives you over and above what's labelled. You can also pick up a free Activity Passport for younger children to complete and collect stamps on the way round. Also if you are a member of the Harry Potter Fan Club (it's free to join so you might want to do this before you go) and you download the app there are other special features you can unlock. When we were there it was a special Celebration of Slytherin going on and there was an additional trail with a quiz you could unlock in the app by scanning keys on special Slyhtherin exhibits. Details of how to find the right place in the app are here. (It took us a while! The "Discover" tab is the globe symbol at the bottom of the screen and then the key was top right).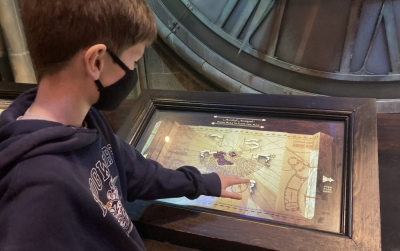 As we said this is not a theme park it is a self-guided tour so its all walking - something to bear in mind if you are taking younger children. There are some interactive exhibits - you can swipe buttons on exhibits to make "magic" happen; there are some touch screens (don't worry, there was no shortage of hand sanitising stations around); there's the green screen broomstick experience - be warned this has a long queue - where you can "fly" on a broomstick and you have the opportunity to buy the video/photos (you can't take your own photos here); and you can do wand training. And there were so many photo/video opportunities throughout so make sure your phone or camera is fully charged!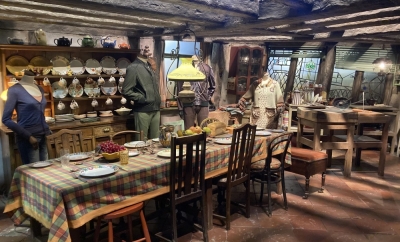 Apart from the cafes before you enter the tour (the chocolate cafe, the food hall and the hub are all situated in the entrance foyer) the only opportunity to eat in the tour itself is at the backlot cafe. I would advise making sure you have something to drink with you in case you get thirsty (you are not allowed to eat during the four) as it takes at least 2 to 2.5 hours to get to this point. Depending on timing (we reached the backlot at the peak of lunchtime) then you can expect to queue for food. We queued for about half an hour, and we were visiting at time when there is still reduced capacity due to covid. It's quicker if you only want drinks (including butterbeer) as there's a separate queue for drinks-only. Or you can skip the queue completely and just bring your own picnic to eat either in the backlot cafe or in the food hall at the entrance. The food was standard fare for attractions like this - burgers, hot dogs, sandwiches etc. It was perfectly nice, I had a tuna sandwich and my son had a burger, but as you would expect there is a mark-up on the prices. Seating was plentiful and we had no problems finding a table. It's a shame that the only option to buy butterbeer is in a souvenir tankard, which of course makes it pretty pricey at £6.95! We had tried it before so we skipped on that.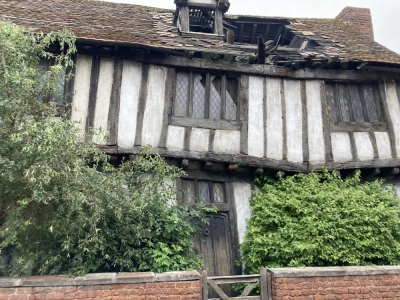 After the cafe, when you are wondering what there could possibly be left to see, you'll find even more! All in we spent almost 5 hours there and that was without queuing for the broomstick ride and the wand training, which we had done before. As I mentioned it's still running at a slightly reduced capacity for covid-safety, which I have to say was really nice when moving through the studio as we had no problem getting to see everything up close and being able to take photos and videos with no-one else in the background.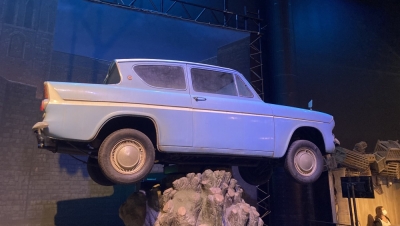 Be prepared for the shop at the end. You can't avoid it and it is huge, with every possible Harry Potter-themed item you could think of. It would be almost impossible to leave without buying something!

As you will have gathered this is not a cheap day out, this most definitely a one-off treat but it is definitely worth it. The last word has to go to my 12-year old son…
"Amazing! An experience that allows you to dive straight into the world of Harry Potter. I loved it!"