I checked our What's On page last weekend as we had a rare Saturday afternoon free with just the two little ones (aged 6 & 2) – the big two were off bowling for a treat. The words Halloween mice jumped out and I thought that sounded cute and we don't often do cute! We headed to Wardown House situated in Wardown Park, Luton, to find some mice.
As my friends will tell you, because I haven't stopped going on about it, that it was fascinating. The house has been renovated and turned into a totally interactive museum reflecting the wealthy Scargill family's life in Victorian Luton and the history of the town, which was once just a tiny pretty village, over the past 300 years. It was the best museum I've been to in years. It wasn't over-whelming making it ideal for the family. It was enthralling being able to touch and explore the stories of the house and its inhabitants; from the touch screen billiards table downstairs to the talking hairbrush in the bedroom! Sitting comfortably, the armchairs not only gave you a rest but told you the games Lilian Scargill played in the house as a little girl in the Victorian era. The portraits moved Harry Potter style, which the children found exhilarating. You could digitally read newspapers from the 1800s – a glimpse into the world our great-great-grandparents would have known.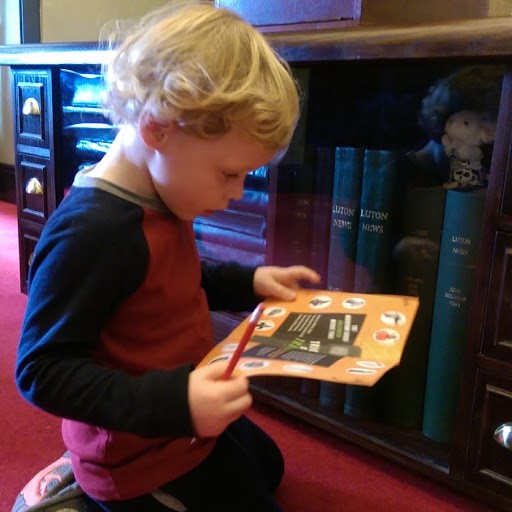 As a musician I was very excited to see an advert from a local newspaper from 1862 by a chap who, like me, had studied at the Royal Academy of Music and was offering piano lessons and sales of music and instruments. He must have been over 150 years older than me! It was written so eloquently. I would love to return to a time when people wore beautiful hats and the door was held open for you. (Remember, as an idealist I am choosing the nice bits from the olden days, not wishing the children to go back to the workhouses. Although, actually….!)
Set in the stunning Wardown Park which has a boating lake, a great playground for running off being well-behaved in the house and a short circular walk suitable for all ages and paved, this makes a lovely family afternoon out. And, I've saved the best bit until last – it's all completely free, even the parking!