No, this isn't a bad pun with a terrible punchline! Footgolf is the latest sport for all the family to enjoy. If you can kick a ball, you can have a go at footgolf.
Where and when footgolf originated is somewhat uncertain, but it seems to have emerged in several countries around 10 years ago and as the name suggests combines football and golf. Like golf, the idea is to get your ball (a size 5 football) into the hole in as few shots as possible and each shot is taken by kicking the ball. There are of course rules to the game, and even a dress code.
There are several locations offering footgolf locally, including Stockwood Park Golf Centre in Luton and Abbey View Golf Course in St Albans. Neither requires membership and neither enforce the footgolf dress code, all that's required is a pair of trainers. Stockwood Park is turn up and play. Abbey View offers advance booking and recommends it during busy periods to avoid queueing. On this occasion we tried out Stockwood Park where footgolf is played on their 9-hole Academy Golf course.
Each hole has two sets of flags - one marking the traditional golf hole and one for footgolf - and a seperate par-rating for golf and footgolf (i.e. how many shots it should take to complete the hole). You can bring along your own footballs (size 5 if you have them) or hire for £1 each (At Abbey View it's a £5 returnable deposit), and you get a scorecard to keep score.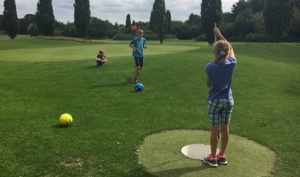 With four of us taking part (1 adult and 3 children aged 8, 11 and 13) it took us about an hour and a quarter to complete 9 holes and it was a lot of fun. Having some skills with a football does give an initial advantage if you can kick-off (the footgolf equivalent of tee-off) the ball a decent distance with some level of accuracy, but once the slopes, bumps, hills and rough come into play it can be anyone's game. With the over-sized ball and no club to worry about it felt more accessible to all ages and abilities than a round of golf or 'pitch & put', with no previous experience or tuition necessary, and definitely an activity to consider to entertain older children/teens. For us was something a bit different to fill a summer afternoon and we'll definitely be back in the future.
Have a look at the UK Footgolf website for more information about the game and more locations where you can play.