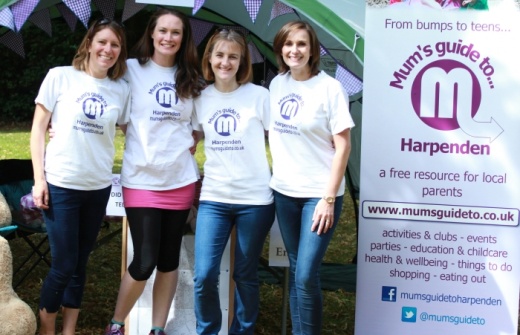 We are Carol, Katie, Alison and Angela. We love tea, biscuits, prosecco and chocolate and we run Mum's guide to Harpenden!
Back in 2012, with 12 children between us (now expanded to 13), we had spent our fair share of time scouring the internet to find everything from activity classes and places to visit, to details of local facilities and services, and all had the same experience - that the information available was difficult to find. In fact, often a bit of luck and word-of-mouth seemed to be the best way to find things out. We decided to fix this ourselves and create a single website to provide all this information in one place! Cue lots of late nights of researching and website-building and too many meetings to count (accompanied of course, by the aforementioned tea and biscuits... and chocolate... and maybe the occasional glass or two of prosecco).
Our philosophy was and remains to this day quite simple:
The site focuses primarily on Harpenden and surrounding villages (though we will include things from further afield that are relevant and of interest).
It covers children of all ages from bumps to teens.
It's as comprehensive as possible for our town in our key areas - activities and things to do, family-friendly events, parties, local facilities, services and child-friendly businesses.
We are pro-active about seeking out new businesses and keeping the information up-to-date.
It's free for every business to list with us, so no-one is excluded.
In the process of putting together and running this site over the years we have discovered so many things that we didn't know about the area and met some wonderful local people.
Since we launched in June 2012 the website has gone from strength to strength with tens of thousands of visitors every year, thousands of followers on social media, and hundreds of local businesses choosing us for their advertising over the years. We were very pleased in 2013 to be selected as finalists for the Archant Herts Business Awards in the category of Best New Business as well as being short-listed for the Judge's Award, and in 2014 we were finalists in the FSB Herts Business Awards for Best New Business and were finalists in the category of Best New Business in the St Albans Chamber of Commerce Community Business Awards.
We were also very proud to feature in the November 2014 edition of Hertfordshire Life Magazine in an article about women making a difference in the Harpenden Community! You can read the article here.
In 2017 we expanded the business and launched Mum's guide to UK to enable other parents to launch Mum's guide to sites for their towns starting with Bournemouth and Romford in the summer of 2017 and joined by St Albans and Hertford in 2018, then Hemel Hempstead in 2019, and Welwyn and St Neots in 2020.
We were delighted to be named 'Family Help Directory of the Year 2020/21' in the Corporate Livewire London & South East Prestige Awards.
Amongst all this though we still continue to provide the same comprehensive resource for parents in and around Harpenden!
Alison, Angela, Carol & Katie
The Mum's guide to Harpenden Team