Updated April 2023 to reflect changes to admission charges.
When thinking of things to do and places to go it's easy to forget what's on right in front of us and assume it's just for the tourists. Verulamium Museum in St Albans is a perfect example and is worth a visit. It's a fascinating museum and the admission charge is reduced for residents of the district (proof required).
Built on the site of 2000-year-old Roman city of Verulamium the museum is packed with amazing artefacts uncovered during the excavation of the area and tells the story of what life would have been like at that time.
The museum isn't huge, but it is very well laid out in sections covering all aspects of Roman life with informative displays and clearly labelled exhibits. There are also some hands-on activities such as looking at coins under microscopes, making mosaics and having a go at a Roman board game. It's probably worth knowing that the "Death and burial" section includes some skeletons in coffins - in case that's not you or your child's thing!
It could be hard to entertain very small children here for an extended period, but the museum run a Tots Tales session for ages 2-4 on a Wednesday morning, and with Verulamium Park right outside you can combine the two for a day out with something for everyone.
There are more Roman ruins to be found in the park too. You can see part of the wall that would have surrounded the city and the remains of a Roman villa where you can learn about Roman central heating and see a fantastically preserved mosaic floor.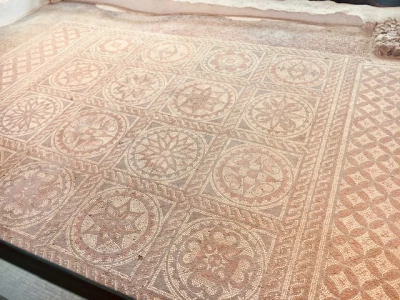 During the school holidays and at weekends the museum puts on a variety of activities for children ranging from drop-in crafts to more in-depth workshops that require booking. Keep an eye on our What's On page for details of these and why not add Verulamium to your list of things to do next school holiday.