Wow! Heads up Harpenden! The Old Cock Inn is all NEW. What a transformation. Someone with a vision has definitely just ticked all the boxes.
With light flooding the back of the building through the new wall-to-wall bi-fold doors, an open kitchen, trendy décor and passionate staff I think we have just found ourselves a new, classy hangout. And I haven't even mentioned the food or boutique bedrooms…
Let me walk you through…
Firstly, they had organised the weather to show off the splendour of their position; with St Nick's as the backdrop to the landscaped garden terrace and a small car park. If you look onto the back of the building all the character of this 16th century pub has been retained and glorified with glass and wood oozing a contemporary style. Head in through the pub and see the interior designer's sumptuous ideas of colour, comfort and craftiness! I love to see chefs at work through an open kitchen, no longer workers hidden away but people allowed to show off their skill. And when the weather isn't good enough to throw the aforementioned doors open wide, you'll be able to stay cosy inside by the wood-burning stove.
Secondly, we were taken upstairs to see the refurbished en-suite bedrooms. We were all ready to hand over our money for a night away without even asking the price. Stylish, thoughtful, modern yet traditional, each bedroom felt like a picture from a magazine and left us all inspired to go home and get decorating.
Thirdly, and possibly saving the best 'til last, the food and drink. We felt spoiled for choice with the à la carte menu, but were helped out by the lunchtime set menu, which offered a selection of the former at a very reasonable £13.50 for 2 courses. Homemade Soup of the Day, Roasted Red Pepper & Sweetcorn Croquettes, Malaysian Style Vegetable and Lime Leaf Curry with Coconut Rice and the Fusilli Pasta with Wild Garlic Pesto, Courgette & Crushed Walnuts were all beautifully presented and bursting with flavour. You could be forgiven for thinking that we are all vegetarian (we're not) but be assured there were plenty of meat and fish options (all the menus are available to browse on their website). Special dietary requirements are also well taken care of with nut-free, gluten-free and vegan options clearly marked on the menus.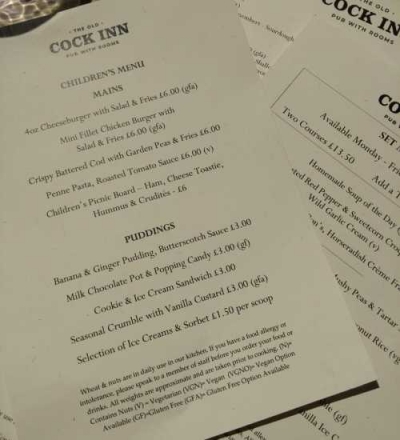 To accompany our food our waiter recommended a Chenin Blanc with a slight sparkle that didn't disappoint. And to round it all off the Seasonal Crumble with Custard made the perfect ending. If you don't have space for a full dessert you can opt for a coffee with a sample of the pudding of day on the side.
We didn't have children with us on this occasion, but there is a children's menu (and highchairs), with a nice selection of kids favourites, and a dessert selection that includes proper puddings for those who don't just want a scoop of ice cream (and ice cream for those who do)!
As if all that wasn't enough, there's a Sunday Menu featuring the traditional roast, and a Brunch Menu served 9am – 12pm on the weekends, offering everything from the Full English or eggs any which way you like, to Porridge or Pancakes.
The Old Cock Inn makes a fantastic addition to Harpenden's culinary scene and looks set to be a popular destination for diners all year round so you might want to get your bookings in now!