The summer holidays may be coming to an end but there are still a few days left and plenty of weekends coming up which will hopefully involve the sun! (And I bet the October half term will be here before we know it. Eeeek!) So, for research purposes we embarked on another family day out, this time a day trip which is nice and accessible from Harpenden – Aldenham Country Park.
It's an easy drive along the M1 and takes only half an hour. My Sat Nav took me straight there – always a relief! It is also very close to central London (only 12 miles) so possibly a good location to meet up with friends from London. There is plenty of parking, but be warned that it does cost. It's £4.50 on the day (get a token from the education centre reception or from the farm shop) or £4 if you book online in advance. (Wish I'd done my research and known that!) It is also a little bit confusing for a first time visitor as you don't quite know where to start from the carpark. At the furthest end of the car park is the Farm, farm shop, a picnic area, little playground and a woodland play area. There is also a kiosk selling snacks and drinks. At the other end of the carpark, where you drive in, is the big playground, education centre, café and pony zone on one side, and the 100 Aker Wood next to the lake on the other side.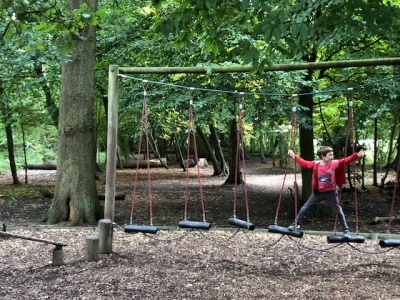 We started at the big playground you see as you drive up the drive. The kids had spotted it and wanted to go there straight away. However, I think in future I would suggest overruling them and starting at the Farm area. This is because my kids are a bit older and were happy with the free woodland play area by the farm. The bigger playground is a wonderful new purpose built adventure playground which costs £3 per child. It is designed to be an inclusive facility and includes specialist sensory play facilities. Inside the building are changing rooms, toilets, indoor play areas and specialist sensory rooms for those with special needs. My kids had fun in the adventure playground and the equipment is brilliant, especially for younger kids and those with special needs.
Having been a very lazy mummy in the morning we then bought lunch at the Farm Kitchen. (However, it would have been very easy to find a lovely spot to picnic and save a bit of money!) The Farm Kitchen offered a good selection of food including hot children's meals, and delicious cakes and cookies for pudding as well.
After lunch we headed over to the Farm. We had been offered tickets to go along and experience the farm, but normally entry is £4.50 for 2's and over and £5 for adults. We discovered that the price included access to an indoor play barn with a bouncy castle and a Snug room in which I could make myself a cup of tea (suggested donation of £1) and the kids could play air hockey, pool and table football. Both great if you were to find yourself caught out by the English weather!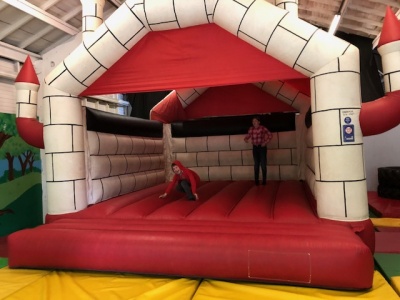 On entering the farm we paid for food to feed some of the birds and animals as we went around. The kids loved doing that, especially the goats who always seemed to be hungry. We were also lucky enough to be there when there was a session allowing the children to pet some of the animals. (We didn't do it but for an extra charge you can also join the farmer in collecting eggs.) On the way out of the farm we even met Pooh Bear on a little walk around!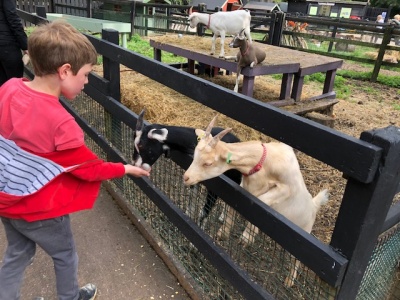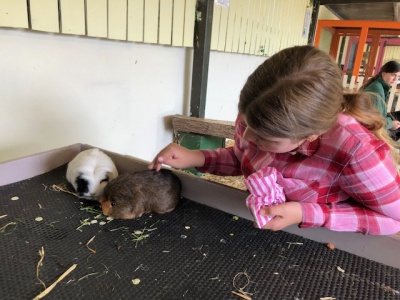 Next up was the wooden play area just outside the farm, and then we headed over to the 100 Aker Wood. It's a flat and easy stroll to get to it and once there you can enjoy a game of Pooh Sticks on Pooh Bridge, see all the various animal houses and generally enjoy all things Pooh Bear!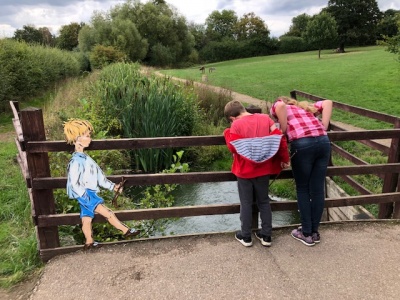 Finally I treated my son to a pony ride because he claimed his sisters had tried it but he never had! (I am a sucker for equality!) Once again it is an optional extra which costs and can easily be avoided, but if you did go for it you need to book. We booked at the Farm shop as we entered the farm for just a bit later in the day. I imagine on busier days you may need to book before arriving. After a lovely 15 minute guided pony ride it was time to head home.
In conclusion a lovely day out for all the family!