Most children associate 5th November with fireworks but do they know why we celebrate this event?
Who was Guy Fawkes?
We all probably know that he was planning to blow up parliament but there is a bit more to the story than just that. For a quick lesson on what it was all about and why we celebrate this event every year, visit BBC Bitesize and read the story. There is also a short animated clip.
Fireworks
There are lots of organised firework displays happening again this year. Scroll down for a list of events! We know that many families may take this opportunity to purchase fireworks to use at home. Please do take time to plan this carefully and to be sure you know how to do this safely. It's not always as easy as it looks! You can get advice here from the London Fire Brigade website.
Sparklers are always popular at this time of year. Did you know that a sparkler can get five times as hot as cooking oil? I have to admit they still make me nervous now but there is lots of advice available on how to use them safely.
Make sure you have a bucket of water to hand and drop the used sparkler into it to put them out. The remain hot even after they have gone out.
Stick the end of the sparkler into a carrot to give the holder something easier to grip.
Light one at a time and hold sparklers at arms length all the time.
Never give sparklers to under 5s.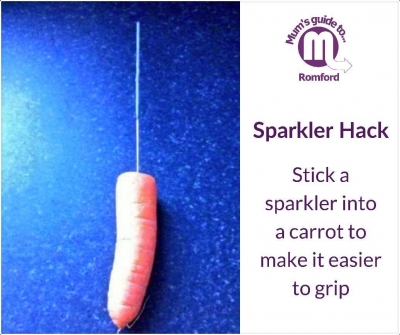 For a completely safe option, why not have some fun in the garden or indoors with the lights off using with glow sticks - all kids love them and they are very versatile! Make shapes, stick them to clothing to create a body outline or make patterns with them.
Firework Displays
Fireworks at Marshall's Park Academy - Romford RM1 4EH
Thursday 4th November 6-9pm
Mitchell's Magnificent Fireworks Display - Berwick Manor Hotel RM13 9EL
Sunday 7th November from 5pm
Harold Wood Primary PTA Fireworks Event - Harold Wood RM3 0TH
Friday 5th November
Harrow Lodge Primary PTA Fireworks Display - Hornchurch RM12 4BP
Thursday 4th November
Upminster Infant School Fireworks Night - Upminster RM14 3BS
Saturday 6th November
St Mary's PTA Musical Firework Extravaganza - Hornchurch RM12 4TL
Sunday 7th November
Coopers' Company & Coborn School Fireworks Display - Upminster RM14 3HS
Saturday 13th November
Drive in Toddler Fireworks - Barleylands CM11 2UD
4th, 5th, 6th, 7th November
Limited availability
Ingatestone Primary School Fireworks - Ingatestone CM4 0DF
Sunday 7th November
Chelmsford Round Table Fireworks - Admirals Park, Chelmsford CM1 2PD
Saturday 6th November
Drive In Fireworks - Willows Activity Farm AL4 0PF
5th & 6th November
Low bang fireworks
Limited available - selling fast!
Family Fireworks - Marsh Farm CM3 5WP
4th, 5th & 6th November
Drive In Fireworks Display - Chelmsford CM1 3PJ
5th & 6th November
Pre booked tickets only, no tickets at the gate
FREE Seafront Fireworks - Southend SS1 2ER
Every Saturday for 10 weeks from 2nd October
Chigwell Hall - High Road, Chigwell IG7 6BD
5th & 6th November
Clacton Pier - Clacton CO15 1QX
6th November
FREE display
If you know of any other displays within an hour of Romford, let us know and we can add them to the list.