A trail can be great fun to do on it's own, or it can be an added activity on a walk or while exploring somewhere new. They are also a great budget activity as maps are usually cheap and cheerful too. We have put together a list of trails so that you're never stuck for ideas!
Gruffalo Trail - Thorndon Park North, CM13 3RZ
Everyone's favourite! This trail has good paths and can be accessed by buggies and wheelchairs with relative ease. There is lots to explore and lost of space for picnics. Access is 7 days per week. Maps are available to buy for £1. Opening hours: 10am – 4pm, 1 November – 10 February; 10am – 5pm, 11 February – 31 October. There are parking charges and if you are going to be a regular visitor you can buy a season ticket.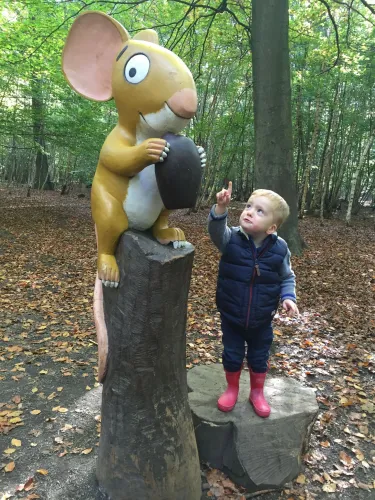 Peter Rabbit Trail - Langdon Nature Discovery Park, SS16 6EJ
Take a selfie with Jemima Puddle-Duck, Mrs Tiggy-Winkle and the rest of the crew. You can purchase a Beatrix Potter Trail Map from the Visitor Centre for £1. Opening hours: 10am – 4pm, 1 November – 10 February; 10am – 5pm, 11 February – 31 October. Open 7 days a week with free parking.
Stickman Trail - Weald Country Park, CM14 5QS
A great park for seeing deer and for following the all new Stickman trail. You will find the Stick Man tree, squirrel, swan, rabbit and frog. There are two play areas at the park. The Café is open from 9.30am-4.30pm, 7 days per week. The park is open 7 days per week. Car parking charges apply.
Wind in the Willows Trail - Hanningfield Reservoir Nature Discovery Centre, CM11 1WT
This beautiful trail around Hanningfield Reservoir has wooden sculptures of the characters from the stories and you can borrow a crayon at the visitor centre to do some brass rubbings as you explore. Maps are also available for £1. Paths around the trail are wheelchair/pushchair friendly. The park is open 7 days a week. Opening hours: 10am – 4pm, 1 November – 10 February; 10am – 5pm, 11 February - 31 October. Parking is free.
A Walk on The Wild Side - The Brewery Romford, RM1 1AU
This is a really fun trail around The Brewery Shopping Centre. Download the free app and find the murals. The 10 paintings are animated when you direct your camera phone at the QR codes (within the app). Parking charges apply although on Sundays parking is free.
Brambly Hedge Trail - Abberton Reservoir Nature Discovery Park, CO2 0EU
This one is a little further away but if you are in the Colchester area it's worth a visit. Can you find Primrose and Lord & Lady Woodmouse or will you need to get a map from the visitor centre? There is a wildlife quiz as you follow the trail with lots of information about mice. The trail is open daily and paths are wheelchair and buggy friendly. Opening hours: 10am – 4pm, 1 November – 10 February; 10am – 5pm, 11 February – 31 October. There is a visitor centre and cafe area on site with accessible toilets and baby changing facilities. Large free carpark on site.
Zog Trail - Thames Chase, RM14 3NS
Thames Chase is one of our favourite places. There is so much here including bike hire to suit all abilities and ages, a play park and the Zog Trail. Download the app before setting off or you can buy a map and activity park for £4 from the shop in the visitor centre. Unfortunately, the cafe has closed but you are welcome to bring a picnic and use the facilities inside or outside. There are accessible toilets and baby changing. Most paths are accessible. Parking costs just £1 in winter and £2 in summer.
Stubbers Discovery Trail - Stubbers Adventure Centre, RM14 2TY
Stubbers has lots to offer but we love the Discovery Trail. Follow the paths and you'll find all sorts of creations and things to explore. I won't spoil the fun by giving too much away. Perfect for school age children. There is a general admission fee to Stubbers but there is a lot to do once you are there (including a huge play area and a mini beach!). Parking is free.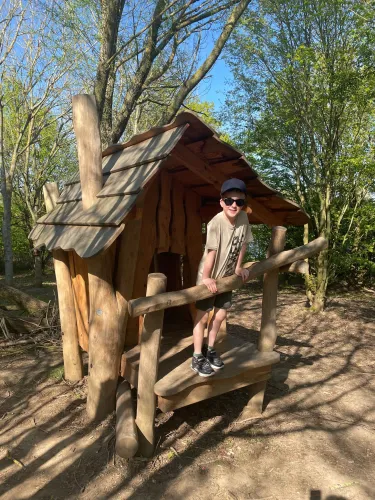 Lee Valley Sculpture Trail - Lee Valley, EN2 9HG
There are 16 sculptures to find. Each one is a different style and material. The kids will love trying to find them all. There's one that uses different woods of size and density to create a xylophone that can be jumped on, another that looks like a giant chair and one that shows two beetles on a large log. The is no cafe but parking is free.
Wat Tyler Sculpture Trail - Wat Tyler Country Park, SS16 4UH
This is one of the more unusual sculpture trails we have found. It includes interactive sound pods, huge crawling creatures, whispering dishes and art you can sit on to get a different view of the world. There is a new children's play area, cafe and refreshments available including the well known Piccadilly Whip! Car parking is free.
Arty's Sculpture Trail - Eastbrookend Country Park, RM7 OSS
This huge park is often overlooked and yet it is right on our doorstep. There is lots of space to explore and now Arty's Sculpture Trail. Arty the Turtle and his friends are scattered around the site and you can purchase a map and activity pack from the visitor centre which will help keep everyone on track! There is a lovely cafe on site and parking is free.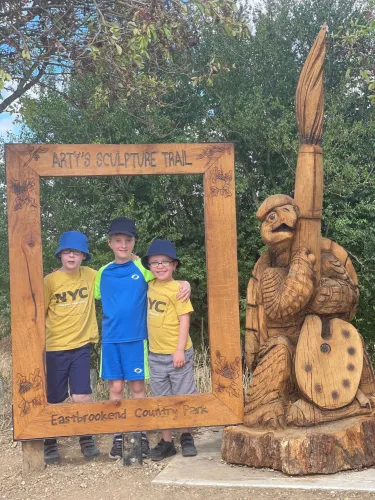 Great Notley Play Trail - Great Notley Country Park, CM77 7FS
There is so much to see and do at Great Notley and it is famous for hosting the longest children's play trail in Essex. There is 1.2km of giant seesaws, swing scales, rope climbers, slides, forts and a large sand play area. There is also the fantastic Sky Ropes course for those who feel brave enough! Open 9.30am to 5pm in the summer and 9.30am to 4pm in winter. Parking charges apply. Skylark Café is currently only open on weekends from 9.00am-3.30pm
Pages Wood Sculpture Trail - Pages Wood, RM14 1TT
We found this trail by accident during lockdown while out for a walk. There are several wooden sculptures of woodland animals to find. Some are a little off the beaten track so may not be suitable for pushchair/wheelchair users. There are no facilities at Pages Wood and there is a small free carpark.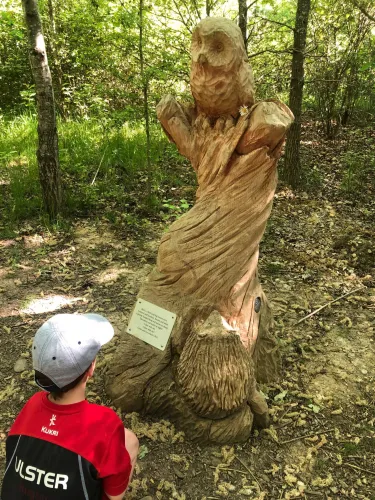 All details correct at the time of publication