A beach day with kids can be a huge success or a complete fiasco depending on lots of factors. While we can't control the weather, there are some things we can do to make the day go as smoothly as possible.
If you are staying local we have a great list of beaches here.
As with everything we do with the kids in tow, it's all about being prepared! These are my tips to help make those beach days be as enjoyable as possible for everyone.
The Essentials
1. Timing
Go early or go late. Avoid peak times and crowded areas. It's also a good idea to check tide times for the beach you are going to.
2. Protection
Hats and sun screen are the order of the day! I find it easier to apply sun cream on my son before we get to the beach as there are less distractions. Wear hats at all times and set a timer on your phone to remind you to reapply the cream. Be aware that some creams are not waterproof and will need to be applied after being in the water.
3. Stay hydrated
Take lots of reusable water bottles with you - keeping everyone hydrated is essential but bottles of water are also really useful for rinsing off things that have been dropped in the sand. We always try and take a couple of bottles of frozen water too as this helps keep the snacks cold and also gives cool water to drink later in the day.
4. Snacks
Even if you plan to buy lunch at a local cafe (we are keen to support local businesses where possible) we all know that taking snacks on any day out is essential. Think of snacks that can be rescued if they fall in the sand - apples, grapes and berries can be washed. Cut sandwiches small so if one is dropped then it's not the end of the world.
5. Spare bags
Make sure you have a spare bag to put wet items in and also a bag to collect all your rubbish. Please take all your rubbish home with you.
6. Baby powder
This is one of THE best things to have in your beach bag. Dusting the kids with talc before trying to brush off the sand makes it so much easier.
7. The fitted sheet trick
This might seem like an odd addition to our list, but if you take a double fitted sheet to the beach and use a bag in each corner to keep it in place, the sides will help keep your area sand free.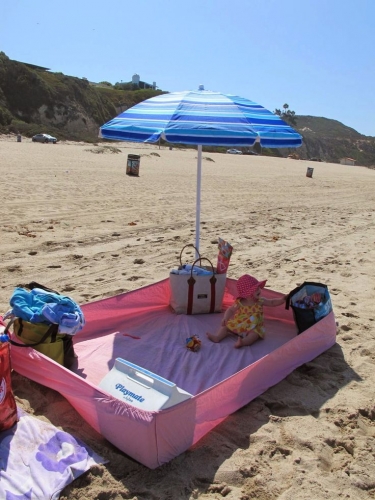 Image from Pinterest.com
8. Beach Shoes
Think about investing in some water shoes or similar (they are usually just a few pounds) as a way to protect little feet from hot sand, stepping on broken shells or other sharp things. Most of these have grips on the soles too which is useful if children are playing in rock pools.
9. Towels
These are so bulky to carry around but a few years ago we invested in some camping towels from a sports shop. They come in all sizes, roll up really small and dry really quickly. A great purchase.
10. First aid kit
No one wants to think about accidents happening BUT it's a good idea to always have a few essentials to hand. We usually have antiseptic wipes/moist wipes, some antiseptic cream, some antihistamine, bite or sting spray, an instant ice pack and some plasters.
11. Beach toys
Take a few bits and pieces with you - buckets and spades, rakes, sand moulds etc. Be wary of blow up beach balls and inflatable toys as these can easily drift out to sea or become caught in a current.
12. A change of clothes
Have a change of clothes ready - no one wants to go home in wet sandy clothes. Don't forget clean underwear!
The Extras
None of these are essential but if you are planning to be regulars at the beach then these items could be worth considering.
1. Shade
A pop up tent, sun shade or parasol can be invaluable. These fold up small and aren't too bulky to carry/store.
2. Paddling pool
This might seem like an odd thing to take to the beach but if you have a baby or toddler it's a great way to provide a bit of water play in a safe environment right next to the area you've chosen to sit. There are lots of small pools which pop up or are easy to blow up available.
3. A wind break
Great for protecting against the wind but also for giving the family some privacy.
4. Sand repelling mats/blankets
Sand repelling blankets and mats are great as the sand falls through small holes rather than collecting on top. The mats are very cheap and available at most beach shops.
5. Wetsuits
These are now available in lots of shops and not too expensive. They are perfect for water babies who don't want to be held back by the British weather!
6. Beach Trolley
These are not cheap but if you have several kids and you've packed everything but the kitchen sink for your day out, they could be a worthy investment. It's on my list of things I want to buy as I think they would be really useful for picnics too!
7. Hire a beach hut
This can be a great idea especially if you are getting together with another family. They provide a great base, somewhere to leave your things, somewhere to come back to for snacks or to get changed and a nice base away from the hustle and bustle of a busy beach.
Safety
Would your children know what to do if they got lost at the beach? Southend on Sea Borough Council have some safety advice when using their beaches. The Visit Southend Child Safety Scheme offers your children a free water-proof and tear-proof wristband that you can write your contact details on, should they become separated from you. Get one at the Visitor Information Centre located at the Pier entrance.
Many beaches have RNLI Lifeguards on duty. If you are holidaying in the UK this year you can find a beach with RNLI lifeguards here.
There is some great beach safety advice here from the RNLI.
My Top Tip
I keep a bag in the boot of the car all summer. It's the 'just in case' bag! It has some essentials just in case we stop at a beach while we are out and about. We have used it for years and it has come in so handy. Sometimes an impromptu beach visit can be just as much fun as a planned day out!

We created a tick list that you can print off or save on your phone to help you plan for a beach day! Click here for FREE download link.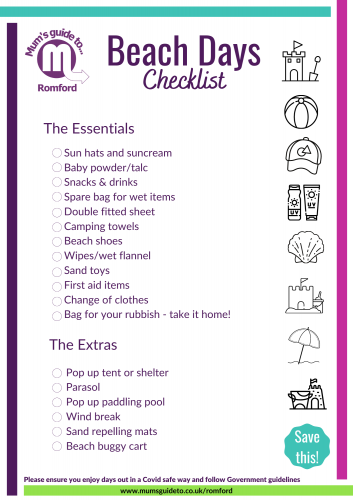 If you can think of anything we have missed, drop us a line and let us know!
Wherever you go, whatever you do, stay safe!