Updated 22nd March 2021
There are so many ideas to help you keep things interesting over the Easter holidays. I have included lots of links to make it easier to get more information about some activities and some links are direct downloads to FREE printables.
This page is being updated regularly as I keep finding new ideas to include!
Have fun!

The Mum's guide to Romford Easter Egg Trail
Put an Easter Egg in your window for everyone to spot while they are out on their walks. Let's fill Havering's windows with colourful eggs! We have created some images for you or you can create your own. Click here to download our images.
Minute to Win It
There are lots of ideas for this type of game. All you need is a timer and some small prizes.
Fill a bowl with chocolate mini eggs. Using only a straw, move all the eggs to another bowl!
Still using chocolate mini eggs, move all the eggs from one bowl to another with kitchen tongs.
Using the plastic eggs that you can place items inside, separate and spread them out - how many can you match and pair up in a minute
How many small words can you spell using the letters in Easter Bunny in a minute.
Easter Egg Hunt
Let's face it, you can't beat an Easter Egg hunt, whether it's inside the house or in your garden. You don't have to buy a lot of eggs for this - there are lots of multi packs available in the shops with smaller individually wrapped eggs to hunt for! If you have children who don't like chocolate (not totally unheard of, I have one!), buy the little refillable eggs in the pound shop and fill them with random bits and pieces instead of chocolate. Check out our Instagram Reels for some ideas on what to include! You could hide small toys or jigsaw pieces as well. Anything to create the fun of the hunt!
Easter Word Search
You can download our Easter themed word search here or of you have older kids they might like to create their own word search, a template for this is available here.
Secret Coded Messages
Why not send a coded message to a friend or family member and post it! Don't forget to send them the code so they can decipher it!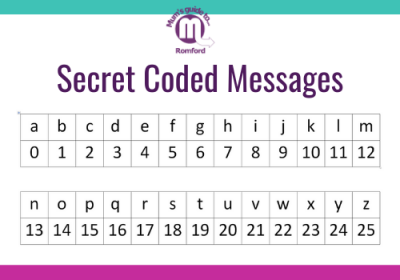 3 of a Kind
We have created some 5 minute downloads for the kids to do on a wet day or just to keep them busy. There are 3 to choose from so far and you can download them in the links below.
3 of a Kind - Food Edition
3 of a Kind - Outside Edition
3 of a Kind - Home Edition
Easter Egg Mosaic
This is so easy to do! Use an outline of an egg shape and either cutting or tearing pieces of paper and sticking them on the outline to make a fabulous design - a great rainy day activity!
Make a Treasure Map
Bored? Why not make your own treasure map - download our template here and challenge a friend or family member to find your buried treasure!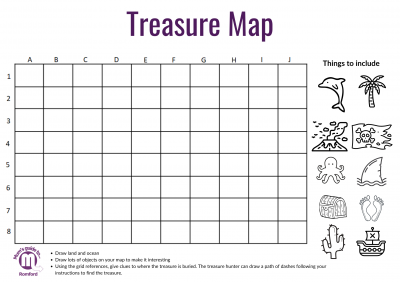 Easter Bonnets
Children may make Easter Bonnets in school but this year why not have a go at making something at home. You can have a zoom call with school friends to show off the creations if you are unable to see them face to face.
Easter Bunny Hands
Draw round your hand and cut the shape out. Then cut off the middle finger, fold in the thumb and little finger for bunny 'arms'. Decorate as a rabbit - see image below!
Chicks from curled paper
Create two strips of paper and stick to make a ring, one smaller than the other. Stick the smaller ring on top of the larger ring and add eyes. Make wings and feet with scraps of paper and add eyes.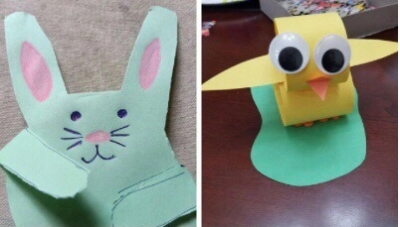 Images from Pinterest
Decorate hard boiled eggs
This is an old favourite which generations of children and adults have enjoyed. Decorate them, paint them, dye them – just make sure you hard boil them first! This is great for all ages - even the adults can have fun with it.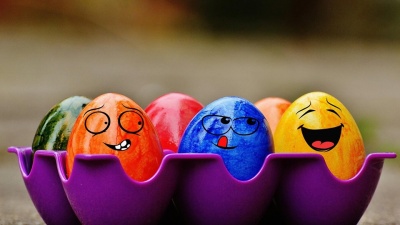 Image from Pinterest
Pasta eggs
Cut out an egg shape from cardboard. Use pasta shapes to decorate and paint to finish!
Chalk art
This one is for everyone. Colour the paving stones, make patterns or write messages. The rain will wash it all away so no one will mind.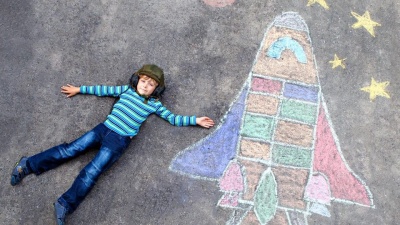 Image from Pinterest
Assault course
These are always fun and can be either indoors (space depending) or outside in the garden. They don't have to be complicated but children will enjoy seeing who can complete the course the fastest, or beating their own personal best! If you don't like the idea of moving things around indoors you could use string or ribbon to create a Mission Impossible style course.
Stop Motion
Got an animation fan in the house? Download a free stop motion app from the app store. Children can have a go at creating their own stop motion film using their toys. This can keep them busy for hours but they may need help depending on their age and ability.
Make your own weather station
There are lots of ideas on the Met Office website and instructions how to make a weather vane, a rain gauge and a thermometer box. Most of the equipment needed can be found around your home. This is a good activity for older children or to do with an adult.
Science Experiments
It's always good to have some ideas that can be done indoors on a wet day - the British weather can't really be relied upon! Have a look at Sciencefun.org for some really great experiments that can easily be done at home.
Printables
As always there are lots of printables available online. We like Activity Village as its complete FREE!
The Woodland Trust
You'll find lots of ideas on this website for activities that can be completed outside when the weather is good or indoors on a rainy day.

Geocashing
Geocaching is basically something that you can do while out for your daily walk, but with the added elements of using the GPS on your phone or device and searching for something hidden. It is a good way for the kids (and adults!) to learn how to use coordinates and how to follow instructions. It's a high tech treasure hunt! For complete beginners, like me, you'll find useful info here. I have downloaded an app (free) from the app store to my phone which has shown me that there are so many around our area.
Signs of Spring Scavenger Hunt
We designed this scavenger hunt as our Halloween and Winter scavenger hunts were so popular. You can save the image here and use it from your phone or you can print it!
Bug Hunt
Go on a bug hunt in your garden or at the local park. Looking under stones, in the undergrowth and under branches and fallen tree trunks to find lots of bugs and creepy crawlies!
Build a Bird Bath or a Hedgehog Cafe
You'll find instructions on how to do this and lots of other fun outdoors activities on the RSPB website.
Camping
Do you have a tent and room to pitch it in your garden? Why not spend a night under the stars. The kids will enjoy planning for it, packing what they need, prepping their snacks and telling spooky stories in the dark later!
Trails
The Gruffalo Trail at Thorndon and The Stick Man Trail at Weald are always popular. During lockdown all local parks have been very busy so it's a good idea to check before setting off as sometimes these venues close their carparks.
Bike Rides
Whether you have kids who are very competent cyclists or they are just finding their feet with it, there are places in and around Essex where they can ride off road, away from traffic. You could consider Hainault Country Park, Epping Forest or Rainham Marshes. Click here for links to cycle routes around Essex.

Why not book a door step visit from a local party provider? There are lots of options and all are following the strict Covid restrictions. Here are a selection...
Party with Jelly Jade - The Easter Doorstep Show - bookings being taken for Easter weekend 2nd, 3rd, 4th & 5th April
Ricknroll Mascots - over 40 mascots to choose from!
Yippidoo Events - Easter Bunny visits!
The Party Shack - doorstep visits from a variety of characters!
Froggle Parties - name your character, they've got it. Magic shows, balloon modelling, characters and more
For a full list of Party Providers click here

We all love a movie night or a wet afternoon in front of the TV with snacks and a blanket! These movies will be available on various streaming services - some even have an Easter theme! (Sorry but there are not many kids films with a strong link to Easter so we may have included a few others with bunnies and chicks!)
Hop
Peter Rabbit
Wallace & Gromitt: The Curse of the Were Rabbit
Winnie the Poo - Springtime with Roo
Ice Age: The Great Egg-scapade
The Rise of the Guardians
Here Comes Peter Cottontail
Zootopia
Charlotte's Web
An Easter Bunny Puppy
Bugs Bunny Easter Funnies
Duck Duck Goose
Alice in Wonderland
Space Jam
Curious George: Egg Hunting
Over The Moon
Fantastic Mr Fox
Easter Bunny Adventure
It's the Easter Beagle, Charlie Brown
The Dog Who Saved Easter
Yogi the Easter Bear

Easter Baking
Kids love to get involved in baking and the BBC Good Food website has some great ideas for kids Easter themed bakes.
You don't have to be very creative or great in the kitchen to make some of these.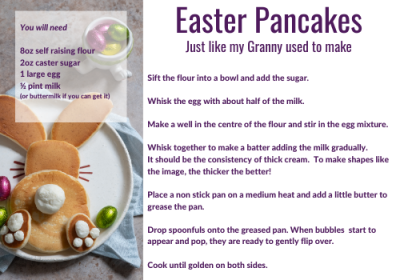 Easter biscuits

- use an Easter cutter to make and a simple biscuit recipe with some icing to decorate. A great way to spend a wet afternoon.

Coconut nests

- very simple and just 3 ingredients. Desiccated coconut (toasted), melted chocolate & mini eggs.

Strawberry carrots

- Melt some white chocolate and add some orange food colouring, dip with strawberries in the chocolate until fully coated. Remember to leave the stalks on. Allow chocolate to set. To add more to it, you could add more colouring to a little chocolate and drizzle over the top. See image below.

Dippy fried egg in toast

- using an Easter shaped cutter, cut a shape from the middle of the toast. Add the toast to the frying pan and crack an egg into the shaped hole. Fry until cooked.

Easter kebabs

- use cutters to make some cute fruit kebabs or shaped cheese and pineapple skewers!

Tortilla crisps

- use Easter cutters to cut tortilla wraps into shapes, bush lightly with a little oil and bake in the oven until crispy. Leave plain or add various seasonings to flavour. We love this to have with humus or salsa dip. Delicious!

Hot Cross Buns

- we can't talk about Easter themed treats and not mention these! Who doesn't love a hot cross bun, toasted with butter! How do you eat yours?


Images from Pinterest
Picnic Time
Whether it's inside or out, this is a great fun activity for everyone. All you need is a blanket to sit on but why not get creative and create a den, tent or fort to have your picnic in. It can be adapted for all weathers and the children could plan a different picnic theme or idea each day. You'll find lots of ideas for picnics here.
Biscuit Decorating
All you need are rich tea or plain digestives, some icing sugar and some small sweets. If you happen to have food colouring in the cupboard this can make things more interesting. The bonus of this activity is they get to eat their creations!
I hope this this article will help you find a few things to do with the children over the next few weeks. If you have ideas you would like to share with us please do get in touch.

Don't forget we already have a huge selection of activities already featuring on our website.
We hope you all stay safe and have a lovely Easter.
Jane x