*Updated 25th January 2021
Are you looking for somewhere local to go with the kids, somewhere to go for a quiet walk by yourself or somewhere to enjoy as a family?
In Havering we are so lucky to have so many green spaces to enjoy. There are parks which we know about and some which are a well-kept secret! Sixteen of our local parks have been awarded Green Flag status which is judged on a range of criteria including being a healthy, safe and secure environment, being clean and well maintained, conservation and heritage, community involvement and sustainability.
Here are just a few of our favourite parks
Bedford's Park is one of Havering's largest parks and is home to a herd of captive red deer. You can take some carrots and feed the deer through the fence! Essex Wildlife Trust run the visitors center which has lots of information, a café and a shop. There are amazing panoramic views across the borough to London on a clear day. You might also see some of the herd of Red Poll cattle grazing in the meadows. The cattle have a gentle temperament and are in the park until October, when they are moved for winter. They return each spring. It has been a Green Flag park since 2009. Car parking is free.
Cotton's Park is an urban park on the edge of Romford town center. It achieved Green Flag status in 2009. There are some interesting wildlife to see around the boarders and the meadow area. Cotton's Park has a play park, multi-use ball games court, skate/BMX park and outdoor gym. There is a small car park but it is within walking distance of the town centre car parks.
Harold Wood Park is vast and caters for so many activities. There is a free visitors car park, a large play park for children, a ball court, an outdoor gym, a skate/BMX park, tennis courts, a football area, cricket field a conservation area and a river area. There is lot's to do and it's a great place for an afternoon in the sun, or a picnic with friends. The grass meadow area is huge and there is plenty of space to run around and have fun. This is another Green Flag park! Free parking.
Hyland's Park is an urban park situated in the middle of residential housing which can be a little tricky to find – watch out for the cream pillars on Osborn Road! It has held Green Flag status since 2008. It has a circular tree lined pathway around the boundary which is perfect for children learning to ride a bike or scooting. There are lots of benches to sit and enjoy the views or to watch the children play. It has a play park with all the expected equipment, a multi-use ball court, outdoor gym and tennis courts. The resident club uses the park for cricket and football. Free parking.
***Children can add decorated stones to The Covid Cobra***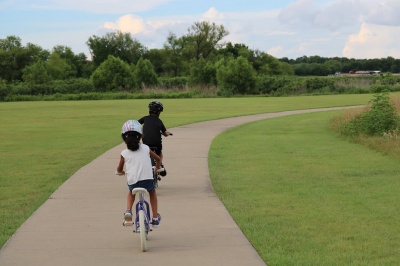 Lawns Park in Collier Row is well known for its scenic views of the countryside. London can be seen on a clear day too. It's a great place for walks. This park is in an urban area however there is a huge meadow with lots of nature to experience. There are plenty of paths and picnic tables making it an excellent place to take the kids. Children of all ages can enjoy the varied play area with inclusive play equipment, including a multi-use games ball court and outdoor gym. A Green Flag park since 2010.
Pot Kiln Wood in Cranham is part of Thames Chase. It is mainly grassland, scrub and young woodland. It is accessible by footpaths from Front Lane, Bird Lane and Stour Way, Cranham.
Lodge Farm Park can be found just off Main Road in Romford and has been a Green Flag park since 2008. There is a car park where parking is very cheap (20p for 3 hours I think) and another off Carlton Road. You'll find lots of butterflies and bees in the boarders. The park has also been awarded a 'Silver Gilt' in the Best Park category for London in Bloom. The paths are perfect for pushchairs, bikes and scooters. There is a play area with all the usual play equipment and some picnic benches, an outdoor gym and tennis courts. It also hosts a miniature railway which operates on certain dates throughout the year.
Raphael Park was awarded Green Flag status in 2015. It is a large landscaped park, consisting of a lake, sports facilities, cafe, public toilets and large play park. The play area has all the usual play equipment plus a popular zipwire! It is the site of the annual open air theatre as well as host to various music events held at the bandstand. It's a great place to feed the ducks and geese, go for a run, a cycle or just take a leisurely walk. The paths are great for buggies and pushchairs. There is a special area where visitors can visit Percy The Park Keeper and investigate a Bug Hotel. There is so much to see, and lots of wildlife to spot. It has a mixture of landscaped areas and more nature habitats. It is also home to lots of squirrels! Parking off Main Road (20p for 3 hours) or free street parking on Parkway near the children's play area.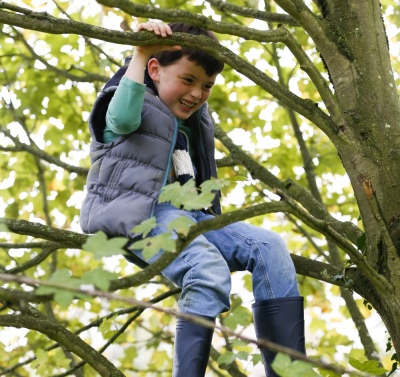 St Andrews can be found on the edge of Hornchurch there are great views of St Andrews Church. For an urban park there is a good amount of wildlife with varied habitats in the borders and meadows. There is plenty to keep visitors occupied with a children's play area with inclusive play equipment and cycle track, multi-use games ball court and outdoor gym. A Green Flag park since 2010. Free street parking.
Upminster Park can be found right in the middle of Upminster itself. It achieved Green Flag status in 2017 - our most recent park to win the accolade. It's a beautifully landscaped area with tree lined pathways and plenty of seating. There is a play park with a nearby refreshment kiosk. The park is well used by local schools for various sporting activities as well as by sports clubs for football, cricket and hockey. There are tennis courts, a multi-use games ball court, table tennis and an outdoor gym.
Harold Court Wood has easy walking with great paths which connects to some of the other woodland listed here. You can walk to Tylers Wood and Pages Wood. The car park is free and can be found on Harold Court Road.
The Chase Nature Reserve is an ideal spot if you are interested in seeing lots of wildlife. There is everything from horse grazed pastures to woodland and wetland. You will find shallow pools which attract numerous waterfowl and long-legged wading birds. It is a popular area for bird watchers as there have been over 190 species of bird recorded over a 50 year period. There is a visitor centre (Millennium Centre) and there is access to Eastbrookend Country Park and Beam Country Park. Car parking access is from Upper Rainham Road.
Tylers Wood has amazing views. From the top of the grassland hilltop you can see right across Docklands to the City. You can see the 'Gherkin' and other London landmarks. Parking is off Nags Head Lane.
Central Park in Harold Hill is a huge parkland of open fields and rolling woodland – perfect for walks and birdwatching. The park forms part of the route for the Ingrebourne Way cycling and pedestrian path from Dagnam Park Drive to Petersfield Avenue. Its cricket pitch is in regular use by the resident club. There are 11 football pitches, 2 rugby pitches, 3 seven a side pitches and many other sporting facilities. There is also a large play park and trim trail for children. In 2014 a new skate park opened and there will soon be a BMX track as well. This park also has Green Flag status.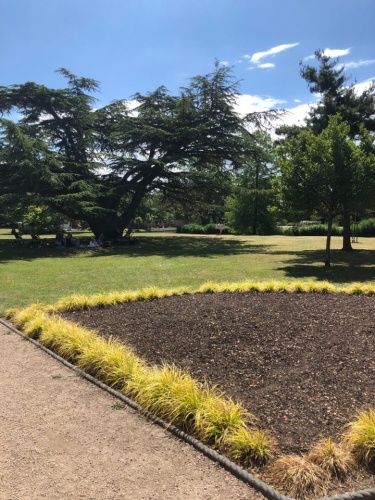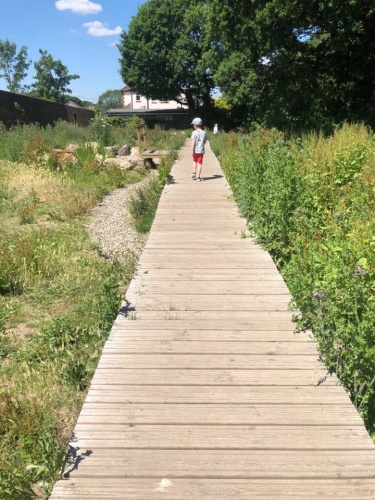 Langtons Gardens, the beautiful gardens at our Registry Offices are open to the public. There are mature gardens and a lake. Lots of space for quiet contemplation or for families to enjoy. The formal gardens lead on to a more rustic area where there is a children's play park. This is a Green Flag park. The paths led on to the local cricket field. For parking see local carparks in the area (Sainsburys have a 2 hour limit and a no return on the same day).
Rise Park is a pleasant area of grassland, with football pitches and a children's play park with inclusive play equipment and an outdoor gym. There is a summer meadow and stream running through the park which provides pleasant woodland walks. Another Green Flag venue!
Thames Chase Community Forest covers a vast acreage. The main Broadfields site has a visitors centre with a cafe and toilet facilities and a large car park. There are bicycle hire facilities during the summer months and it is possible to hire bikes and trikes for all ages and abilities. There is sprawling woodland, great paths suitable for walking, scooting and cycling. There is a recently refurbished play area for children near the visitor centre. (this may be closed due to Covid restrictions) The site has several picnic areas. Parking is £2 all day during the summer months and £1 all day during winter months.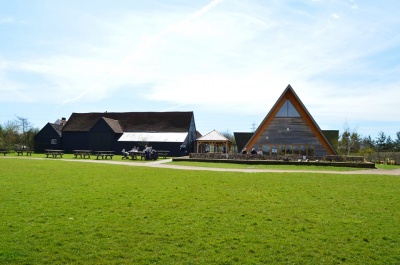 Pages Wood is between Harold Wood and Upminster. It has well maintained paths and lots of man made paths thorough the woodland. You can find lots of wooden sculptures at various locations and its a great habitat for small animals. For a longer walk you can connect to Harold Court Woods, Tylers Wood and Tylers Common. There is a small car park which is free.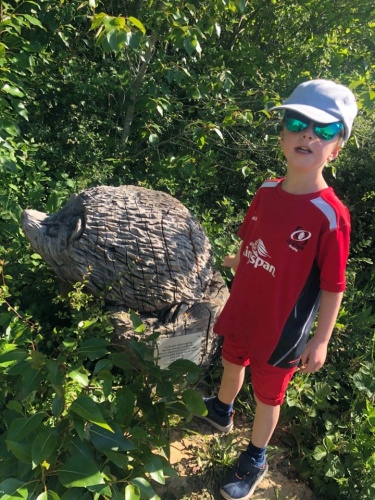 Bonnetts Wood is an 80 acre site on the outskirts of Upminster. There is parking on Parklands off Park Farm Road. The site is quiet and perfect for quiet walks.
Berwick Woods in Rainham is privately owned site but has been open to the public since 1999. There is woodland and meadow to explore.
King George's Playing Fields runs alongside the River Rom and is a flat area of grassland. Walks can be taken along the river and children of all ages can use the play equipment, multi-use games ball court, skate/BMX equipment and outdoor gym. There is also a cafe which is adjacent to the free car park that serves food and drinks and also has public toilets. During the winter months, the majority of the site is marked up for football pitches for local clubs.
Haynes Park is a large urban park with lots of facilities including a children's play site with inclusive play equipment, multi-use games ball court and tennis courts. Local teams can also hire football pitches. There are two car parks located off Slewins Lane and Northumberland Drive.
Rainham Marshes Nature Reserve is an ancient marshland with evidence that it was used by the Celts and the Saxons to graze their animals. There is a wealth of wildlife to see and explore including some rare plants. There are two car parks accessible from Coldharbour Lane.
Hainault Forest Country Park is technically not in Havering but its so close to Romford! The vast space is great to explore and there is a boating lake where you can hire small rowing boats during the summer (£15 per hour) or just enjoy the wildlife. Take a walk around the lake or play on the large meadow areas. There is a small farm onsite which is free to visit (currently closed), nature trails and plenty of paths and tracks for walks. Parking is paid via Ringo.
Clockhouse Gardens is a beautiful spot ridden away in the middle of Upminster known by some as the Secret Garden! There is a small lake which is often visited by Canada Geese and Swans. Some tree stumps have been carved into figures, animals and seats. There is a small car park on site which is free but it is easy to walk to from Upminster itself. (just past Waitrose!)
Hornchurch Country Park is a conservation area with marshland, meadows and paths suitable for walking and cycling. There is a visitors centre and children's play area. There are car parks at Squadrons Approach (free) in Hornchurch and Southend Road in South Hornchurch. Hornchurch Country Park has also achieved Green Flag status.
Parklands Open Space in Corbets Tey is a beautiful space with a well stocked lake suitable for fishing. It is a quiet space used mainly by local residents. There is a free car park off Park Farm Road.
Berwick Glades is accessed from Berwick Woods has wildflower meadows and woodland. The paths are well maintained and perfect for walking and cycling.
Harrow Lodge Park is the biggest urban park in Havering. There are over 130 acres to explore and enjoy right in the heart of Hornchurch. The park has a large lake in the middle which has lots of wildlife. You'll see ducks, geese and swans swimming in the lake and roaming around the grassy areas near the lakeside. There is also a cafe with outside seating by the side of the lake and pedal boats for hire in summer! The park has 2 play areas, multi use ball courts, tennis courts and skate area. There is also a parkour area to the north side of the park. Parking is free at all 3 entrances - Upper Rainham Road, Warren Drive and Hornchurch Road. There is a weekly park run here Saturday mornings (currently suspended due to Covid-19).
Havering Country Park, one of the largest parks in the borough, has woodland and meadows to explore. The bridleways are used by local horse riders! There are 4 entrances in the Collier Row and Havering-atta-Bower areas. There is free on street parking on St John's Road, Collier Row.
The Manor Nature Reserve in Harold Hill covers a vast area that includes Hatters Wood, Fir Wood, Duck Wood and Dagnam Park. This is a stunning area teaming with wildlife. There is lots for everyone to enjoy including wildflower meadows, woodland, ponds and scrub. There are hard pathways with provide access for pushchairs, wheelchairs, scooters and bicycles and the main car park can be accessed just off Settle Road.
Belhus Woods Country Park in Aveley is a really great space to spend some time. There are vast green areas suitable for picnics, playing ball games or other games. Belhus has a fantastic new wooden play area for children which includes climbing equipment and a sand pit. There is a large car park which charges an hourly rate.

Thorndon Countryside Park is in Brentwood so technically not local, but it's just a 15/20 minute drive from Romford. Here you'll find expansive woodland and the famous Gruffalo Trail which is a favourite of all children! There are lots of paths for exploring the park and you may even see some grazing sheep, goats or cattle. Parking is charged at an hourly rate.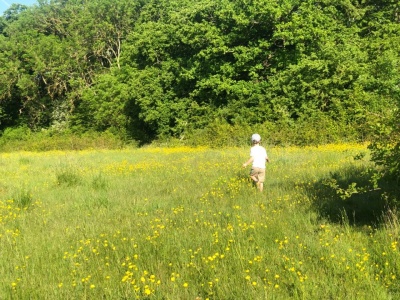 There are many more green spaces in the Havering are but hopefully we have given you some ideas for places you can visit on a sunny day. For a few more ideas, have a look at the 'Out & About' section of our website!