Mum's guide to Romford is a FREE resource and is THE go-to information site for mums, dads and other carers in and around Romford, so we are the perfect place to get your business noticed by local parents.
Don't just take our word for it, just look at what some of our advertisers and followers have said.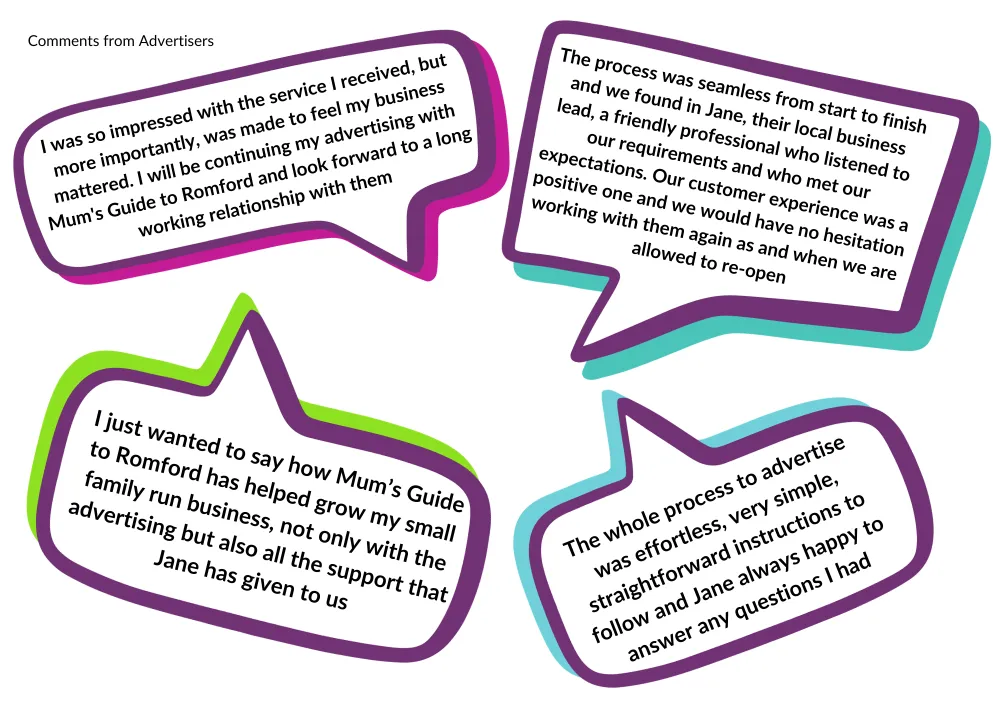 Some reviews from our followers:
"It's great for keeping up to date with what's going on and connecting with other mums and local businesses."
"This guide is the first place I check when I'm stuck for somewhere to go!"
"Brilliant site that really helped me plan out my summer with my 2 girls. Will continue to use it over the years."
"A fantastically detailed guide for events in and around Romford and the local area. This is a must for any mums looking for activities for their family!"
"This is my go to website when I'm looking for ideas for things to do with the kids! The website is regularly updated and has a brilliant range of activities and ideas for things to do. I don't bother looking anywhere else now!"
"Whenever I'm looking for something local, Mum's guide to Romford is always my first place to checkout what's happening. A great compilation of what is going on in Romford."


Don't miss your chance to be seen by our ever growing audience. We offer several different ways to promote your business and you can be sure there is something to suit every budget!
Business Listings
List your business or organisation in one, or more, of our 9 categories (Basic listings are free). Complete our online listing form to add your details to the website.
Banner Advertising
Make your business stand out with your own banner in one of our advertising spaces. Spaces can be booked for as little as 1 month.
Homepage Feature
We have two Feature spots available on our homepage where you can promote a campaign or an event in more detail than a banner ad might allow with an accompanying logo or image.

Article
If you want space to say more about your products or services or you have some news you want to share then an Article is probably the right option for you. Articles can be booked by the week and will be linked from the homepage.
Event Listing
Add the details of your forthcoming event to our What's On page for free by completing our on-line form. Events must be suitable for children/teenagers or families.
We will also include adult-only events in aid of a local charity or a charity for children.

Download our Advertiser's Pack for full details


of all our advertising and listing options and prices.
Contact us to book
If you require any further information or if you would like to make a booking, please contact us and we can help you to get your listing or advertisement organised as soon as possible**.
Link back to Mum's guide to Romford
If you are already listed here a link back to Mum's guide to Romford from your own website would be much appreciated. We have created some images that you can use.
Update your listing
If you are already listed you can contact us any time to update your listing.

**We reserve the right to refuse listings, banner advertising, features, events and notices for any reason, including for being inappropriate or incompatible with the website.